7 Surefire Ways to Leave an Impression During a Work Lunch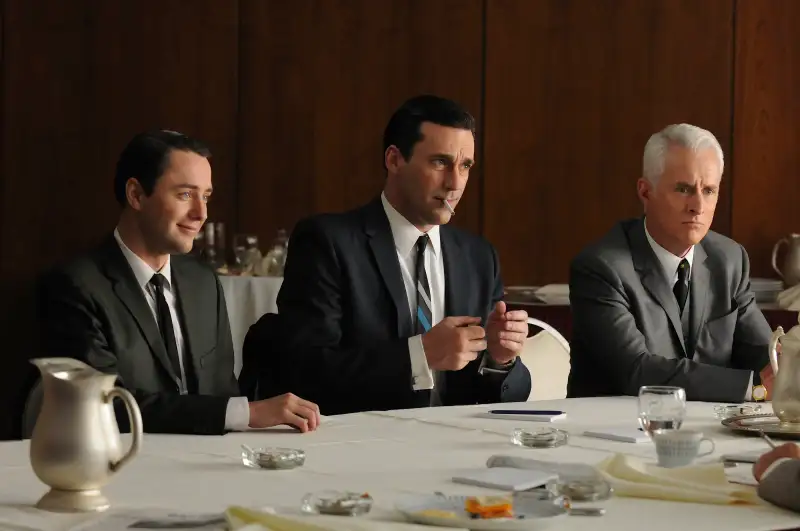 Courtesy of Michael Yarish/AMC
The professional lunch is supposed to be a pleasant break from the office, but it can be fraught with pressure. If you're sitting across the table from a higher-up, you may wonder: What to order so I get that raise? Or if you happen to be organizing said offsite meeting: Which restaurant will make everyone like me?
It helps to remember that work lunches, after all, are supposed to be somewhat relaxed affairs. So don't overthink them. They're not boardroom meetings. But simple guidelines can help make sure you're sending the appropriate message. And learning the art of picking the right venue and dishes at the right price can make all the difference. Here are tips on how to impress at your next work lunch.
1. The restaurant should be nice, but not too nice
Whether you're footing the bill or it's on the company's tab, a business lunch should project a certain level of seriousness. Aim for a restaurant that's on the higher end, but not inaccessibly pricy or stuffy, which can alienate either your reports or managers. Any place with rules about substitutions or requiring a translator is out. So is a $100-plus tasting menu. American and Italian food are always crowd-pleasers, but so are Asian and Mexican cuisine, as reporting shows. Just be sure the setting and menu deliver. Steakhouses are stereotypical, but the right one, like Keens in New York City or Chicago Chop House, rarely fails.
2. Always think about comfort
Just as sophistication matters, so do the simpler pleasures. Like comfortable chairs and ample elbow room. A relaxing venue will do a lot to ease nerves and add to a convivial atmosphere. The point, after all, is to get people to open up so you can share ideas and connect, which will ultimately improve your standing in the office. Large restaurants, old-school restaurants, or restaurants with cozy booths and back rooms tend to work best. But don't blow your expense account on private space for a small gathering.
Similarly, make sure you have a reservation, unless you know it's unnecessary. It doesn't get much more awkward than standing around and waiting for a table with coworkers. Some places are relatively empty at lunchtime, while others are packed with fellow work crowds.
3. Read the room before ordering an alcoholic drink
Yes, the days of Roger Sterling-style martini-soaked lunches are indeed dead. In today's work world, getting sloppily drunk in the middle of the workday is seen as highly unprofessional, not to mention unproductive. But a round of drinks can help lubricate conversation and get spirits up. If you're a senior member of the team assembled, it's fine to start off by ordering a beer or a glass of wine and encouraging others to do the same if they would like to. If you're lower in the pecking order, wait to get a signal from the boss. If the lunch is a celebratory occasion, booze is all but guaranteed. And don't order a drink for yourself that's over $15, unless you want to be judged as cost-ineffective.
4. Get something for the table
The people you work with ultimately want to feel heard, and the people above you want to be flattered, though not too obviously. There's no easier way to bond at a business lunch than by coolly asking what people like, and suggesting possible starters to share. Oysters and other items from a raw bar are luxurious, as long as people aren't squeamish. Antipasti like salami and cheeses at an Italian joint will get everyone talking and satisfied during the wait for the main courses. (Just avoid heaping platters or caviar staircases that will cost more than the rest of the lunch.) If you can get everyone smiling at the start of the meal, you've already won.
5. But skip sharing entrees
While communal-style tables and shared plates have never been more widely accepted in American dining, they're casual in nature and better left for friends, family, and dates. Plus, distributing food among a large group can get awkward. No one wants to be the person who cut off the biggest piece of a $50 pork roast. Stick to safe, one-person entrees.
6. Don't order the most expensive thing. Also don't order the cheapest thing
The rule for drinking applies to the food, too: This isn't the time to get indulgent. While perusing the menu, strenuously avoid anything that seems over-the-top, like the heaviest dry-aged steak or whole lobster. Sandwiches and salads are wise choices. But don't be too frugal by picking at a small salad or an appetizer as your main, which can appear standoffish. If you're not very hungry, it's fine to take leftovers back to the office fridge for later. Burgers are universally beloved for a reason: They're delicious, filling, and rarely cost a lot. And with a plate of piping-hot fries, it'll suddenly be easier to get through any conversation.
7. Stay away from anything messy
As on a first date, you don't want to distract at an event like this with your eating or any food liable to get stuck on your face. So no chunky soups, ribs, crabs you have to break apart, overstuffed sandwiches, burritos, pizza, long pastas like spaghetti and linguine, or the like. Yes, they're tasty and often affordable, but it's not the place. Unless, that is, you're feeling really comfortable with your coworkers.