We Made Millions Selling Companies to BuzzFeed and Twitter. Here's How
Money is not a client of any investment adviser featured on this page. The information provided on this page is for educational purposes only and is not intended as investment advice. Money does not offer advisory services.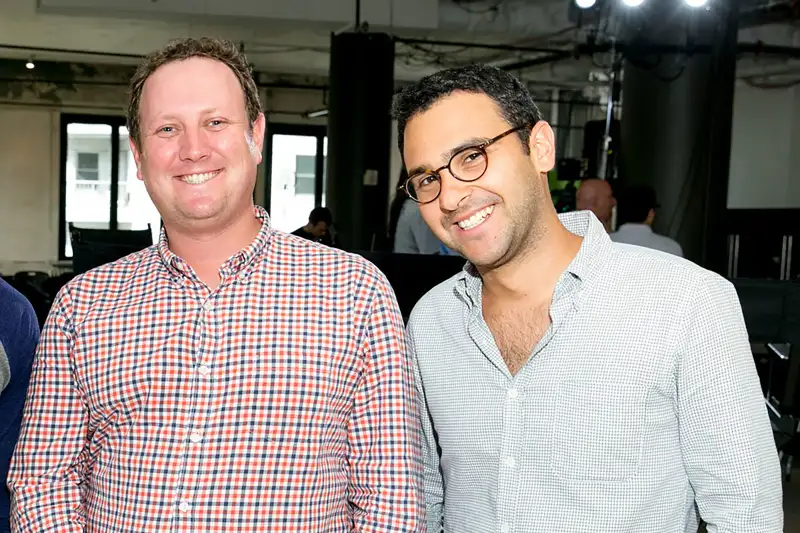 Rob Fishman, 31, and Darren Lachtman, 36, seem far too young to the be the moguls behind not one but several startups they've sold to major technology companies.
The two met while working for Bedrocket, a digital media company, and had an idea for a totally new venture. That turned into Niche, launched in 2013, which connects advertisers to social-media stars (who then still comprised a fledgling world). In 2015, they sold it to Twitter for in the neighborhood of $30 to $60 million. Fishman landed on Forbes' 30 Under 30 list the same year.
They're collaborating again on Brat, named after John Hughes' regular group of actors known as the Brat Pack in movies like The Breakfast Club. Brat aims to shake up traditional film and TV production by putting high-profile online teen personalities in scripted YouTube shows. "Each one of these shows features one or several of the most well-known Gen Z talent in the world," Fishman says. Brat, which works on small budgets relative to Hollywood, has one certified hit in Chicken Girls, starring Annie LeBlanc and Hayden Summerall. The franchise's debut episode has more than 10 million views, and it secured a movie deal with Lionsgate. According to Fishman, Brat pulls in about 50 million views on YouTube every month.
We talked to Fishman and Lachtman about their unlikely rise, what you need to succeed at startups, and how to get millions in funding for a clever concept—even from stars like Kevin Durant.
If you can't get a fancy tech job, don't fret
Both Fishman and Lachtman gravitated toward technology early in their careers, but that's not how they started. Fishman, a graduate of Columbia University's journalism school, took a job at Huffington Post where he moved up on the social media side, leading relationships with Facebook and Twitter.
Lachtman, who earned a master's degree at Northwestern, spent seven years in sports marketing in Chicago before he transitioned to Bedrocket in New York City. "I missed a big chunk of the tech window," he says. He tried to land a job at one of the major Silicon Valley companies—Facebook, Twitter, Google—"but it's really hard unless you went to Stanford or one of the Ivys. I wasn't able to do that."
Lachtman's job at Bedrocket provided him with an entrance into the tech world, and a connection to Fishman. Soon they talked about the emerging realm of YouTube and Vine stars. Lachtman, having already specialized in digital video at Bedrocket, realized how little path to monetization there was in that sphere. That conversation turned into Niche.
"We said, 'Screw it, let's get started,'" Fishman says. "We were sitting together in Soho [in Manhattan] and emailed the top six Vine stars. Within a few hours, all six of them replied saying they'd love to do it, and make money, believe it or not."
Soon they signed their first client, CBS Films, and business expanded. A year later, they had $10 million in Niche's coffers. And Lachtman, who previously couldn't get hired at Twitter, was suddenly in a position to sell his work to the social-media company for a lucrative sum.
"It's a nice underdog story. I'm very fortunate and grew up with a privileged background," Lachtman explains, but he didn't always go to the fanciest schools (he earned his bachelor's degree at Denison University). "I think for us it's nice to prove what we did in the business world."
Make mistakes—and learn from them quickly
Fishman's first startup, Kingfish Labs, resulted from his relationship with Lerer Ventures through his work at Huffington Post. A company taking advantage of Facebook data, it started a Tinder-like dating app on the platform called Yoke, which was "not a great success," in Fishman's words. It never really gathered enough interest among users.
Nevertheless, Kingfish's tech was "valuable," and BuzzFeed bought the company. "It was a good first learning experience," Fishman adds. "Even if you have a keen understanding of where the market is, if you don't execute it in the right way, you're not going to take off."
Refine your idea early, and with little money
"Too many people, before figuring out a company's purpose, hire engineers and go through insane branding exercises," Fishman says. "The way we start is the two of us in a room with a laptop. It's about proving out a thesis even at a low price point." In other words, experiment early and affordably so you don't end up with a pricey product no one wants.
Brat evolved from a barebones operation, sending out a few people with cameras and eventually showing that it had a sizable audience. "Be scrappy and get something started." Fishman says. "Once you find the demand, then scale up."
Even if you have the right idea at the right time, however, only the collaborators around you can carry it through. "What drives success is the people you hire and partner with," Lachtman says. At Niche, he and Fishman emphasized creating a culture of teamwork, and they have repeatedly tied themselves to the same investors, including Shari Redstone.
The money will come if you do it right
Fishman and Lachtman never wait around for rich investors to be impressed by their latest idea.
"One thing venture capitalists respond to is success," Fishman says. "There's a sort of Silicon Valley myth that they're trying to back stuff in your garage. But actually when you get to market, what investors are really looking for is something that has shown traction."
While Brat may have started lean, it's accumulated $12.5 million in two rounds of funding, including from NBA star Kevin Durant—not a bad celebrity name to have on one's resume. Of course, Fishman and Lachtman's past relationships didn't hurt.
"We have a few big-name investors, and you see more athletes and actors getting into the space," Fishman says. "It's always great to work with the best people in the business. I think it sends a strong signal to platforms, partners, and advertisers that your investors are people who started massive companies, who have the best track record."
But everyone, he insists, must start from the same premise. "I don't think it's very easy to raise money for a good idea, especially if you haven't done it before. So my recommendation is always: Get started with whatever resources you have available to you, and show there's a market there, and you'll have people knocking down your door to invest in it."