This 29-Year-Old Makes Up to $2,000 a Month Selling T-shirts Online. Here's Her Fascinating Strategy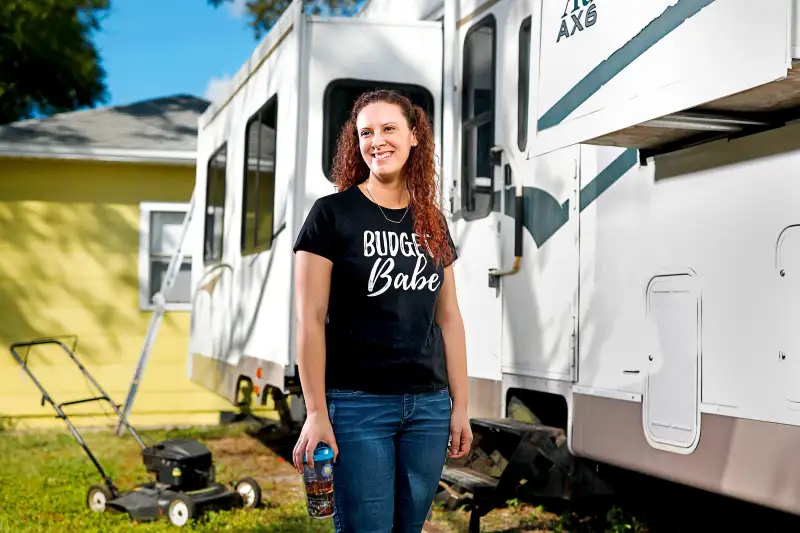 Photograph by Edward Linsmier for Money
While some people count down the days until Christmas, Jen Smith's calendar revolves around Halloween and Mother's Day. It's not because she's obsessed with trick-or-treating or brunching with her mom — October and May are the busiest times of the year for her online T-shirt business.
Smith, a 29-year-old who lives in St. Petersburg, Florida, rakes in as much as $2,000 during those two months. And that's on top of her day job, monetized blog and the hundreds in royalties she pockets during the other 10.
Smith pulls it off because she's an expert in passive income, in which a person does a little bit of work once and then receives dividends from it in perpetuity. Specifically, Smith is making money from print on demand, an increasingly popular model that enables entrepreneurs to sell tons of T-shirts without ever touching fabric.
"It's totally worth it, because they handle the customers and shipping and printing," Smith tells Money. "All you do is design a shirt, upload it, and you're done."
Becoming a Budget Babe
As the owner of a website called Saving with Spunk, Smith is well-acquainted with a frugal lifestyle. She and her husband, Travis, recently paid off nearly $78,000 of debt in less than two years, which they achieved by working side gigs, reducing their utility bills, meal planning and driving old cars, among other methods. (She even got her engagement ring from a pawn shop.)
Those efforts to scrimp led her to passive income. Smith began self-publishing finance books and renting out a room on AirBnb, and soon she expanded into print on demand.
She applied for Merch by Amazon, one of the largest print-on-demand platforms, in May 2017. At first, Smith uploaded a couple of shirts that she could promote on her blog — ones with slogans like "Budget Babe." Then she released a few "random designs" she made using the program Canva.
Merch by Amazon uses tiers to manage sellers. People start out at tier 10, meaning they can only have 10 designs up on the site until they sell 10 products. Then they can move up to tier 25, followed by tier 100, 500, et cetera.
For Smith, progress was slow at first.
"I started out with $11. Then I made $39, and then I started jumping up," Smith says. "By the time I got to the 100 tier, I was able to make $450 and $700. I designed a few Halloween shirts the last year that just exploded, and I went from $700 to $2,000."
Simple Sells
If a shirt sells at least once in the first 180 days it's on Amazon, it can stay there forever. As customers began buying Smith's items, she continued to build her catalogue — while still pocketing royalties from her old designs.
Because Merch by Amazon is becoming a crowded market, sellers like Smith have to be smart about where they concentrate their efforts. Even paying attention to what types of shirts are climbing the charts can be dangerous.
"You don't necessarily want to look at what's the hottest selling thing," Smith says. "If you can see it's hot, somebody else has, as well."
Her strategy revolves around keywords, which she researches and puts in interesting fonts. Smith has found success with parenting, holiday, and birthday-themed products in particular. If they're on black, it's even better.
"I'm very analytical more than super artistic. I see what people want, and then I interpret how I can make a shirt that's cute and simple that the person searching for that keyword would be drawn to," she adds.
Losing, and Using, Merch Money
It's not all easy: Smith did hit a roadblock earlier this year when her account was terminated by Amazon for trademark infringement. Though she used it as an opportunity to broaden her brand, she also learned a lesson.
"Amazon is just playing on their own field, so you have to tread lightly and be overly cautious," she says.
Smith was overjoyed when her Merch by Amazon account was reinstated in early November. That's because when print on demand works, it really works.
Smith says her Amazon and Etsy shirts have earned her thousands of dollars — much of which she and her husband used to buy an RV to flip to resell. The rest is in an emergency fund for the future.
The T-shirt money might go toward upgrading her car, or it might help her take time off when she starts a family.
"My goal is to keep building passive income, so when that day comes, I have that option and I don't have to worry," she says.