'Tip Creep': Why You're Being Prompted to Tip More Often, With Bigger Amounts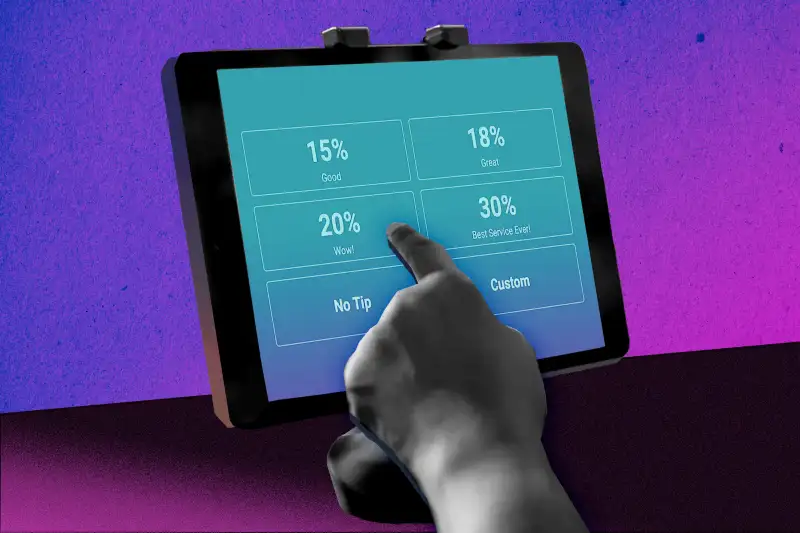 Eddie Lee / Money; Getty images
You swing by your favorite convenience store and grab a Coke and snack. That soda is already more expensive than it used to be thanks to inflation, and now — as your smiling cashier looks on — the payment screen nudges you to add a 20% tip on top.
Confusing, pressure-filled situations like that are becoming more and more common, and social media is filled with stories of being asked to tip everywhere from airport kiosks to fast casual restaurants. It's all leading to a particular kind of modern-day frustration, sometimes dubbed as "tip fatigue," "tipping rage," "tipflation" or "tip creep." The subject has even made is way into the famous cartoons of the New Yorker.
In a June study by Capterra, a software service firm, half of consumers reported feeling "manipulated" into tipping on a tablet during checkout over the previous year. The same portion of people also said they'd encountered new tip screens at businesses that didn't previously ask for tips.
So do you really have to shell out that extra dollar or two (or even 35%, as some payment system pages now prompt) on transactions in which gratuities were never expected in the past? Here's what you need to know — including when it's OK to not add a tip.
Why Americans are tipping more
Myka Meier, etiquette expert and founder of Beaumont Etiquette, tells Money that the COVID-19 pandemic ushered in a "new expectation of higher tipping and more frequent tipping." Some of that change came from wanting to thank workers in higher risk, higher contact service jobs. Cost of living inflation has been another factor.
Meier points to recent data from payments platform Toast showing that about half of people added a tip to their bill at fast service restaurants in the last quarter of 2022 — an 11% increase from before the pandemic.
Who should you always tip? When is it OK not to tip?
It's easy to feel guilty about skipping that tip when you buy something quick. But Meier says you don't need to. "It will not be mandatory at any kiosk to leave a tip," she tells Money. "It's up to the discretion of the customer," and it's not strictly necessary to tip in a fast food or quick service restaurant.
That's very different from service at a sit-down restaurant, she notes, where the expectation is still that patrons should leave a tip of between 15% and 20% of their bill.
This is generally the expectation for a few other types of service jobs (like hairdressers), and you can expect to leave a smaller tip for takeout from sit-down restaurants and food delivery, whether it's DoorDash or your local pizza place. The Emily Post Institute recommends tipping between 10% and 15% on those, for instance.
When deciding whether to leave a tip, some experts suggest considering whether a worker relies on tips for income. In the case of a cashier, they might not. Baristas and bartenders, on the other hand, often rely on tips as a significant portion of their paychecks.
When it comes to the former, "we, as consumers, should use our own judgment" when it comes to workers whose income isn't based on tips, Eric Plam, founder and CEO of tipping startup Uptip, recently told CNBC.
And despite all the recent headlines, there are some services where you definitely don't need to tip at all. You certainly don't need to tip your landlord, for instance, or your plumber or a flight attendant.
When should you leave a big tip?
When it comes to the latter — workers who do rely on gratuities for income — Sylvia Allegretto, an economist at the Center for Economic and Policy Research, recently described tips as a "wage subsidy to the employer … people don't understand that." That's something to keep in mind at the register.
It's also important to consider tips as part of your budget. "This is something you should factor into what you're doing," says Emerald Mills, owner of Turning Tables restaurant in Milwaukee. That's true whether you can afford to tip the standard 20% or not, she says.
And at the end of the day, it's also important to keep in mind what a tip was originally intended to convey: appreciation for service, even if you're dealing with a fast casual restaurant or kiosk.
"If someone goes above and beyond to give you exceptional service," Meier says — like taking time to prepare something special for you or being extra friendly during a busy time — "you may wish to leave a tip!"
More from Money:
California Has the Worst Tippers in America, According to a New Ranking
Rejection Rates for Credit Cards, Auto Loans and More Hit Historically High Levels
Which Cities Have the Highest Sales Tax?
Rates are subject to change. All information provided here is accurate as of the publish date.