Here's How Much Money Tom Brady Has Made Playing in 9 Super Bowls — and It's Not as Much as You'd Think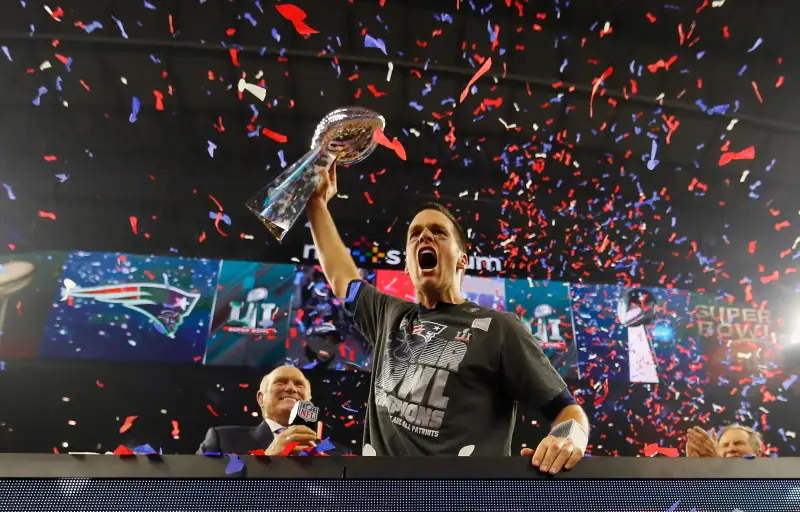 Kevin C. Cox—Getty Images
Every NFL player dreams of winning the Super Bowl. But beyond the glory of being a Super Bowl champion, there's a financial incentive for the New England Patriots and Los Angeles Rams to try to win the 2019 title: A Super Bowl bonus is paid to every NFL player participating in the big game on Super Bowl Sunday, and the winners get more money.
For Super Bowl 2019 on Sunday, February 3, each player on the winning team gets a $118,000 bonus, which is double what the Super Bowl losers make ($59,000). Super Bowl bonus money may seem paltry compared to the multimillion dollar salaries awarded to the NFL's highest-paid players, but the earnings can add up if you make it to the Super Bowl several times — like New England Patriots quarterback Tom Brady has.
Tom Brady's Super Bowl history is already legendary — and the legend will grow on Super Bowl Sunday 2019. Even before the 41-year-old quarterback led the New England Patriots to the 2019 Super Bowl by beating the Kansas City Chiefs in overtime, Brady had played in a record-high eight Super Bowls and won five championships.
Tom Brady is playing in his ninth Super Bowl on Sunday, February 3, and if the Patriots defeat the Los Angeles Rams, Brady will set another Super Bowl record — for most NFL championships by a player. (Right now, Brady is tied with defensive end Charles Haley, who won five Super Bowls playing for a combination of the Dallas Cowboys and San Francisco 49ers.)
How much money has Tom Brady made just in Super Bowl appearances? Let's add Brady's bonus money up, starting with his first Super Bowl back in 2002 when a 24-year-old Brady — whose base salary was only $375,000 at the time — led the Patriots to an upset win over the St. Louis Rams.
• 2002 Super Bowl Bonus for Tom Brady: $63,000 (Patriots win)
• 2004 Super Bowl Bonus Money: $68,000 (win)
• 2005 Super Bowl Bonus Money: $68,000 (win)
• 2008 Super Bowl Bonus Money: $40,000 (loss)
• 2012 Super Bowl Bonus Money: $44,000 (loss)
• 2015 Super Bowl Bonus Money: $97,000 (win)
• 2017 Super Bowl Bonus Money: $107,000 (win)
• 2018 Super Bowl Bonus Money: $56,000 (loss)
Tallied up, Tom Brady's Super Bowl bonus earnings, tracked from various sources over the years, come to a total of $543,000 through Super Bowl 2018.
By the time Super Bowl 2019 ends, Brady will add another $59,000 (for losers) or $118,000 (for winners) to his total, pushing him over $600,000 — easily the record high in Super Bowl bonus money for any NFL player in history.
That sum represents only a fraction of what Tom Brady has earned in the course of winning Super Bowls, however. Brady was named Super Bowl MVP four times, and it's tradition for MVP recipients to be awarded a luxury car in addition to a trophy. After getting the 2004 Super Bowl MVP, for example, Brady picked a Cadillac Escalade ESV as his bonus prize. (Brady actually gave away the cars he received as Super Bowl MVP.)
What's more, NFL players receive bonuses for wins in every round of the postseason leading up to the Super Bowl. During the current postseason, every player on the Rams and Patriots teams have earned $83,0000 in bonus money in the process of getting to the 2019 Super Bowl — when another pay day awaits.
When you add up the value of the postseason and Super Bowl bonus earnings by Tom Brady, along with the value of the cars he won as Super Bowl MVP, the total comes to somewhere around $1 million.
Again, that may seem like a tiny amount compared to the $25 million to $50 million earned annually in salary, bonuses, and endorsements by the NFL's highest-paid players, including Tom Brady.
But it's proof that Tom Brady is the GOAT (greatest of all time) in at least one way: He's definitely been the NFL's best ever at earning postseason and Super Bowl bonus money.