This Couple Launched a $25 Million Gender-Inclusive Underwear Company — Without Any Fashion Experience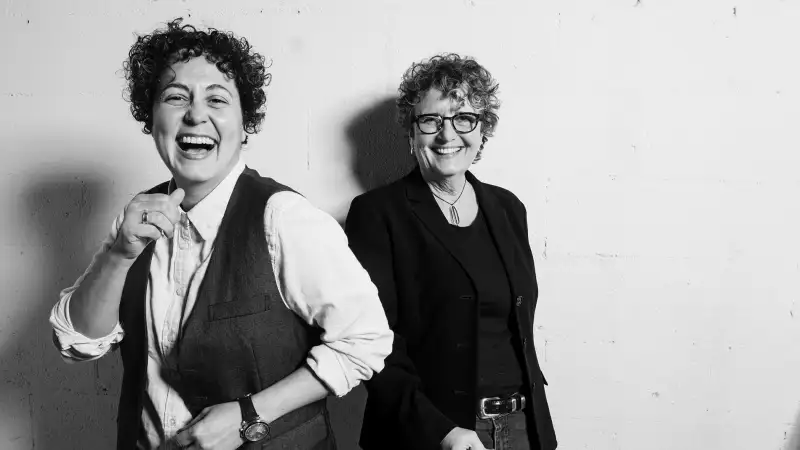 What does it mean to be an "inclusive" underwear company?
Is it choosing "real people" for your ad campaigns over skeletal-thin models? Laboring over fit and feel so every body size is represented?
That's part of it, say TomboyX founders Fran Dunaway and Naomi Gonzalez. But when your customers exist outside the gender binary, or abandon social norms about the way men and women are "supposed" to dress, they don't just want to be comfortable. They want to be cute, too.
"It's about finding clothing that represents how you feel and how you want to present," Dunaway says. "That societal construct you see when you walk into a store, [where] its 'boy and girl' and 'men and women' ... there are a lot of people who ride in that in-between."
Dunaway and Gonzalez, who are a married couple, launched TomboyX as a Kickstarter campaign six years ago, while Dunaway was working as a partner at a media strategies firm, and Gonzalez as a sports massage therapist. They started with tailored polos and button-up shirts, raising $75,000 in 30 days even though they "didn't know a knit from a woven," Dunaway says.
As they built up a customer base, the couple branched out with a pair of boxer briefs for women; tripling their revenue in six months. People "felt seen for the first time," Gonzalez says. They became a full-fledged undergarment brand shortly thereafter.
The couple has a team of 30 employees now, and are bringing on more people as they introduce new products, like "packer" underwear for trans men, and prints that run the esoteric gamut — from flannels to popsicles to octopi (see: CUTE). So far, they've raised about $25 million in funding.
They've got plenty of competition: "startup underwear" isn't just a thing, but a thing that venture capitalists are throwing money at (if you've listened to a podcast lately, you've probably heard companies like MeUndies and Mack Weldon duking it out in the ad breaks).
Inclusive underwear is a different story. And as every brand from Listerine to Stoli Vodka "celebrates" Pride month by slapping a rainbow label on their products, TomboyX is the antithesis to all those eye-roll inducing money grabs.
Dunaway and Gonzalez aren't disconnected CEOs making a buck off the LGBT community. They're a queer couple making the underwear they've always wanted to wear.
"Clothing for me really is about freedom," Gonzalez says. "It's the freedom to be who I want to be and to dress and express myself — however I choose to do so."