How to Instantly Become More Confident, According to Tony Robbins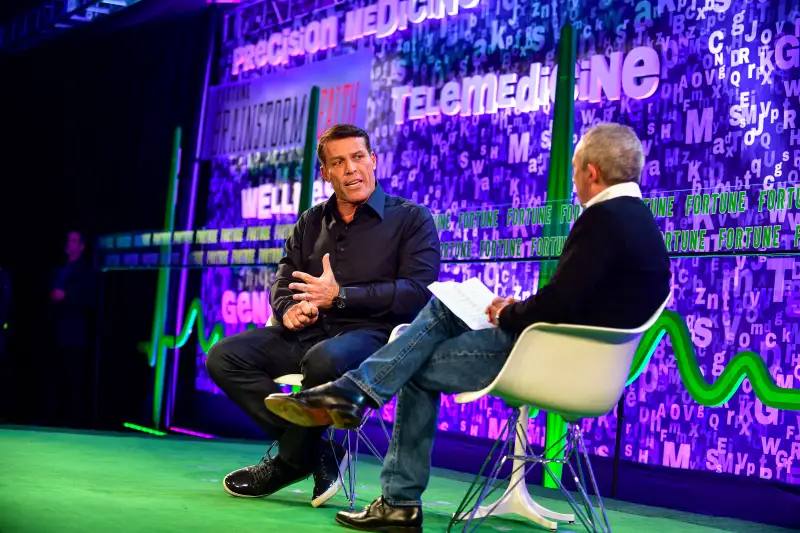 Photograph by Stuart Isett for Fortune
For Tony Robbins, confidence and success isn't a mentality—it's a physical state of being.
Fixing your posture and taking care of your body can be direct catalysts for success, the author and life coach said during an on-stage conversation at Fortune magazine's annual Brainstorm Health Conference this weekend.
To demonstrate his point, Robbins asked the audience to shout out what the appearance of a depressed person would look like. The crowd's answers included "slumped," "head down," "breathing shallow," "quiet." Robbins contended that if that person just amended their bad posture and demeanor, he or she would eventually become happier and more confident.
"Most people try to change the mind … but when you change the body radically, you change the biochemistry, the state changes, and they make a shift," he said. "I really believe that's why I've lasted so long: I put myself in states where my body can put myself back in balance and heal."
The strategy doesn't just extend to mental well-being, he argued: Improving your body language can lead to improved performance.
Robbins said he'd been asked to speak to the Golden State Warriors basketball team, who have struggled recently as injuries have sidelined key players like Steph Curry. He gave the conference audience a preview of his advice, noting that the players need to change their body language off the court. The team has the skills and talent it needs to win, he said; the only factor determining success is their physical state of being.
"I've got to change the momentum," Robbins said—"and the first place I need to change the momentum is physically."
Elsewhere during the conversation, the author of the New York Times bestsellers Unshakeable and Money: Master the Game said his motivation for success was due in part to his rough upbringing. Robbins described his mother's drug addiction and abusive behavior in detail, yet said the suffering he experienced makes him want to reduce other people's suffering.
"It's not about the money for me; it's about changing peoples' lives," he said.
That said, Robbins did reveal the one luxury he splurged on when he first started making big money: a Mercedes.
Watch the full interview here: