Toys 'R' Us Liquidation Sales Just Started and the Deals Are Horrendous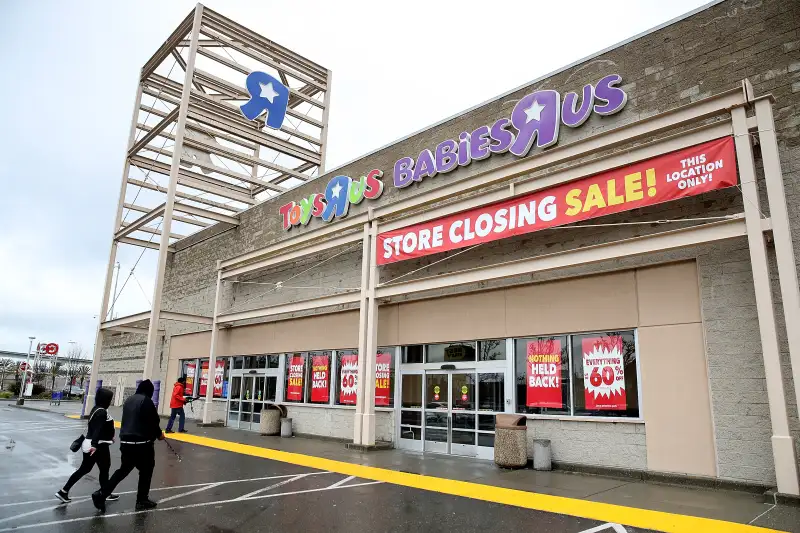 Justin Sullivan—Getty Images
Today marks the launch of what will be the biggest, if saddest, Toys "R" Us sale ever.
Toys "R" Us kicked off massive storewide sales Friday following its decision earlier this month to liquidate all of its U.S. stores including Babies "R" Us locations.
The last several months have been extraordinarily chaotic for the struggling retailer: Toys "R" Us filed for bankruptcy last September, announced plans to close half its stores in February, and then decided in March that it would simply liquidate all U.S. stores. But even the start of Toys "R" Us's liquidation sales have been confusing: On Thursday, shoppers showed up at Toys "R" Us stores anticipating great deals during going-out-of-business sales—only to find out the liquidation sales hadn't begun yet.
"We do not know when the store will begin its liquidation sale," a sign read on Thursday in one Toys "R" Us store in New Jersey, where Toys "R" Us is based, NorthJersey.com reported.
Why was the Toys "R" Us liquidation sale postponed? The company said "unforeseen circumstances" caused the delay.
But before running to the store and filling up your shopping cart, be warned that liquidation sales are often not what they're cracked up to be—and there's a good argument for shoppers to skip them entirely. The scene at your local Toys "R" Us could be chaotic with partially emptied shelves, confusing prices, big crowds, and not-necessarily great deals.
Here's everything shoppers need to know about the Toys "R" Us liquidation sales.
When is the Toys "R" Us liquidation sale?
All of the remaining Toys "R" Us and Babies "R" Us locations in the U.S.—roughly 700 stores in total—launched liquidation sales on Friday, March 23.
How good are the Toys "R" Us deals right now?
At first, shoppers can expect decent—but probably not great—discounts. During an earlier round of store closures at Toys "R" Us and Babies "R" Us locations, going-out-of-business sales generally started with 10% to 30% off sales on most merchandise. That's better than full price, of course, but shoppers nowadays routinely see discounts of 40% off or more at a wide variety of stores.
Many shoppers were quick to notice that the deals at Toys "R" Us's liquidation sales weren't as good as they were expecting.
What's more, Toys "R" Us stores are known for high list prices, so their discounts could be less meaningful than retailers with less inflated regular prices. In past price-comparison studies, Toys "R" Us was routinely found to be more expensive than Walmart, Amazon, and Target. Before assuming that anything you see on clearance at Toys "R" Us is a great deal, whip out your phone and do some quick comparison-pricing to see what competing retailers are charging.
Also, bear in mind that not everything will be discounted right away at Toys "R" Us stores. At liquidation sales in the past, shoppers have often complained the deals were underwhelming, and that some items weren't discounted at all—especially for the top brands and most popular items. There have been reports recently that some Toys "R" Us stores had 50% off some Apple products, including older model Apple TVs and iPod Nanos, but selection and prices vary from store to store. Some shoppers complained on Friday that items were being discounted only by a measly 5%.
What items are available at the Toys "R" Us sale?
Starting now, heading into a Toys "R" Us or Babies "R" Us will basically be a treasure hunt. While shoppers could find some genuine deals on items they want, many will come away from the experience disappointed. Each store is on a mission to clear out its inventory and yield the most money possible. The inventory at each Toys "R" Us store is different, and the selection at each will shrink as the days pass and stores are picked over.
"You reach a point very quickly that you get diminishing returns," Chuck Tatelbaum, chair of the Creditors Rights and Bankruptcy division and a director with the Tripp Scott law firm, explained to Good Housekeeping. "There may be greater discounts [later], but the inventory will be so sparse you will be buying toys that kids don't want."
When is the last day of the Toys "R" Us liquidation sale?
Toys "R" Us expects to be done with liquidation sales by June, though some stores may be emptied out and shuttered sooner, the Washington Post reported. In addition to the usual toys, stores are likely to sell off the shelves, furniture, and fixtures inside eachToys "R" Us and Babies "R" Us.
When's the last day to use Toys "R" Us gift cards?
If you have a Toys "R" Us gift card, it's best to use it as soon as possible. Toys "R" Us gift cards will be honored until April 21, according to the website. After that, the gift cards could be worth nothing.
Are Toys "R" Us liquidation sale prices available online?
Unfortunately, no. There are no special liquidation deals available at toysrus.com right now. Toys "R" Us is hoping to find a buyer for its e-commerce operations, so at least for the time being, it is not trying to unload the inventory available to online shoppers.
What is Toys "R" Us return and exchange policy?
Toys "R" Us says that liquidation sales at stores that are closing are final, with no opportunity for exchanges or returns. So you should assume that you're stuck with whatever you buy during the Toys "R" Us sale.
With that in mind, it's wise to go overboard inspecting anything you might want at the Toys "R" Us sale before bringing it up to the register. Take a good look at packages to see if they've been opened already. If a box can be opened, then check out what's inside and make sure all the parts are there. If possible, test out any electronics in the store to ensure they work.
The last thing you want is to buy something that seemed like a deal, only to bring it home and find out it's worthless—with no possibility of getting your money back.