The Toys 'R' Us Sale Just Entered a New Phase — But the Deals Still Stink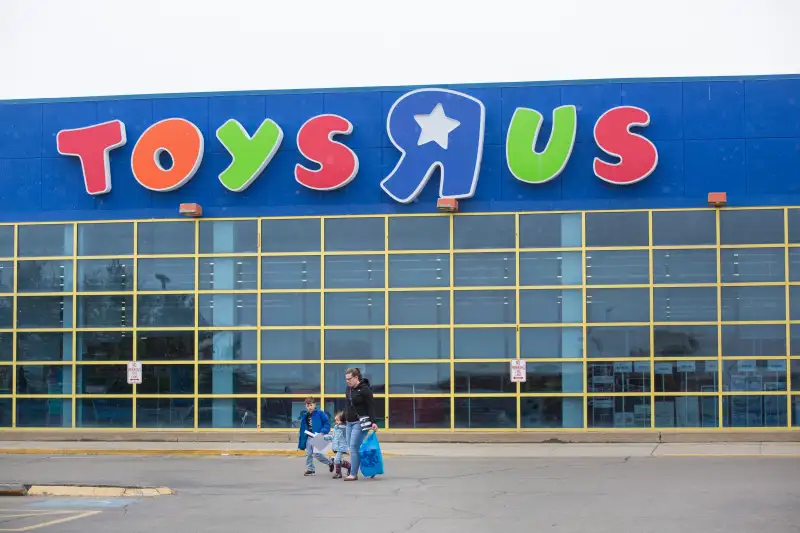 Portland Press Herald—Press Herald via Getty Images
One week after Toys "R" Us launched going-out-of-business sales at stores nationwide, shoppers are still complaining that the deals are lame. Many items are still only being discounted by 5% or 10% off, meaning that prices are often more expensive than what you could find at Walmart or Amazon.
It's also not possible now to do any shopping whatsoever at the Toys "R" Us website. Late last week, Toys "R" Us stopped selling anything at its e-commerce sites, toysrus.com and babiesrus.com. If you go to either website now, there is an alert stating that the company has "shut down the website for any purchases but our brick and mortar stores are open and holding going out of business sales."
In lieu of online shopping opportunities, the websites for Toys "R" Us and Babies "R" Us direct customers to two web pages focused on going-out-of-business-sales in the physical stores—ToysRUsClosingSale.com and an FAQ roundup providing information about gift cards, loyalty programs, return policies, and such. (FYI, Toys "R" Us gift cards must be used by April 21, and they cannot be redeemed for cash. And all purchases during Toys "R" Us closing sales are final, with no possibility for returns or exchanges.)
When Toys "R" Us rolled out its going-out-of-business sales on March 23, the sales were for physical stores only, and online shoppers were not happy about it. Many shoppers also griped that the Toys "R" Us closing sale prices were too high. Store signs pumped up discounts "Up to 30% Off," but many popular items and upscale brands—like video games and Apple tech—were removed from stores, while other high-demand goods saw discounts of a measly 5% or 10% off.
Studies have shown that Toys "R" Us regularly had list prices that were significantly higher than those at competitors like Target, Walmart, and Amazon. So the Toys "R" Us going-out-of-business sale prices weren't that great even after the discounts were applied.
Shoppers have been expecting the discounts to increase as time passes and Toys "R" Us stores get closer to shutting its doors forever. But more than a week after closing sales began, many Toys "R" Us shoppers are still complaining on social media that prices remain way too high.
Some shoppers are also complaining that Toys "R" Us stores have been messy and chaotic, with a poor selection after people have picked over the merchandise.
Toys "R" Us is one of the biggest companies to declare bankruptcy in the so-called "retail apocalypse over the past year. Analysts say that Toys "R" Us failed for many reasons, including a leverage buyout deal over a decade ago that left the company loaded with debt. Build-A-Bear is one of the few toy stores thriving today because it sells a customizable "experience" rather than the same toys available online and in stores everywhere. Old-fashioned retailers like Toys "R" Us, on the other hand, have been unable to compete with Amazon and other e-retailers in terms of low prices, convenience, and virtually unlimited selection.
Based on the reaction of some shoppers, Toys "R" Us cannot compete with Amazon on price even when it is hosting going-out-of-business sales at stores. And when you combine fairly high prices with poor selection and the fact that you cannot return or exchange anything, Toys "R" Us liquidation sales seem like a pretty bad deal.