This $3 Trader Joe's Item Transformed My Weeknight Dinners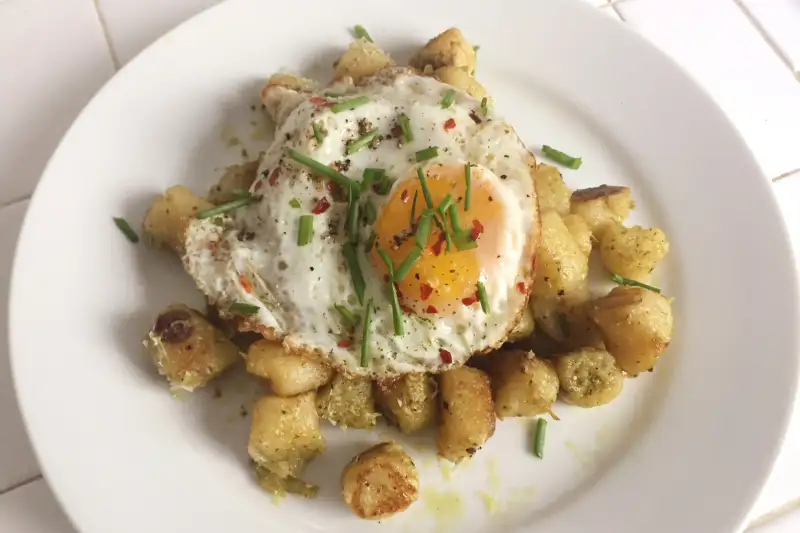 Cooking for one can be a surprisingly fraught and expensive experience.
Recipes are typically written — and supermarket ingredients are packed — for multiple servings. If you're living and eating alone, you can end up with a glut of leftovers, or, worse, eating more than you should.
You might also spend all that money and energy on the process, only to wonder why you didn't just order takeout.
It doesn't have to be this way. Over the past several months, I've scoured my local Trader Joe's in Los Angeles to create single-serving dishes that are easy to make, satiating, and much more affordable than they taste.
My new secret weapon? Frozen cauliflower gnocchi.
Hear me out.
The gluten-free version of gnocchi has become a social media darling not only because it's arguably healthier for you than the traditional Italian potato-based dumplings, but it takes mere minutes to make and, being frozen, you don't have to worry about using it right away. Made by an Italian supplier, the gnocchi is made from 75% nutrient-packed cauliflower, along with cassava flour, potato starch, extra virgin olive oil, and sea salt. It's a mere 330 calories per container and costs only $2.69.
More importantly, these dumplings are shockingly good if prepared properly, and make me actually enjoy cooking solo on weeknights. (Don't worry, you can also prepare them for multiple people.) The key is to give these healthful little gems an indulgent twist: I slather them in pesto sauce, add pecorino Romano cheese, then top it all off with a fried egg (hey, it's protein!). Suddenly, a cauliflower-based pasta turns into a restaurant-quality, luxurious meal for less than $5.
Here's the recipe to make it happen.
Gather your Trader Joe's ingredients
1 package frozen cauliflower gnocchi
1 tbsp olive oil
1/4 cup Pesto alla Genovese (basil pesto)
Pecorino Romano cheese, grated
1 egg
Salt and pepper
These items will be familiar to most Trader Joe's regulars. In addition to the $2.69 gnocchi, the other items can be bought for a bargain and used multiple times. The jar of pesto costs $2.49 and contains three servings for three separate gnocchi dishes. The other ingredients vary in price, including the cheese based on the weight of the block you buy. Pecorino Romano is similar to Parmesan, but usually cheaper and has a wonderfully salty bite perfect for pastas.
In my experience, the proportion of Trader Joe's products used in this gnocchi dish total less than $5.
How to cook cauliflower gnocchi (Hint: Not the Trader Joe's way)
As for the cooking, it's important to hack what Trader Joe's tells you. The packaging shows off nicely browned gnocchi. But the directions tell you to heat up the dumplings in water while still frozen. All that excess water will not result in the golden hue you want.
So ditch the official instructions and do this instead: Defrost the frozen gnocchi for a couple hours until room temperature (say, when you get home from work, pour a glass of wine, and are deciding on your streaming entertainment for the evening).
Once defrosted, they're ready to go.
Pour a tablespoon of olive oil into a large skillet and turn on high heat. When the pan is hot but not yet smoking, add the gnocchi. Allow them to brown untouched for 2 minutes.
Adjust heat to medium-low and continue cooking the gnocchi for 5 minutes, turning over and adding water or chicken/vegetable stock as necessary if they appear to be getting dry (this will also deglaze the pan, bringing up those crunchy bits on the bottom of the pan).
While the gnocchi is finishing, fry an egg on a separate pan on high heat until cooked to sunny side up (or to preferred doneness).
Once the gnocchi is golden-brown all over (usually this takes about 7 minutes total), turn off heat.
Immediately toss them in the pesto in the pan. Grate plenty of pecorino Romano over the dish. Top with egg, along with salt and pepper to taste. (If you're feeling daring, swap regular salt for the Trader Joe's sublime garlic salt blend.) You could also garnish with any spices, herbs, or greens you happen to have on hand, such as red pepper flakes or chopped chives. Serve while hot.
This is an intensely homey, satisfying recipe on its own, but it's also incredibly versatile. You can skip the egg entirely, or substitute it with a bit of shrimp, scallops, or meat. If you're not into pesto, try Trader Joe's tomato-based Rustico Pomodoro Pasta Sauce instead (which also works if you want to make this vegan).
The trick to a perfect weeknight dinner is to never make it feel like another ho-hum plate of pasta. Trader Joe's cauliflower gnocchi pulls it off.