5 Quick Trader Joe's Dinners for Two That Cost Under $10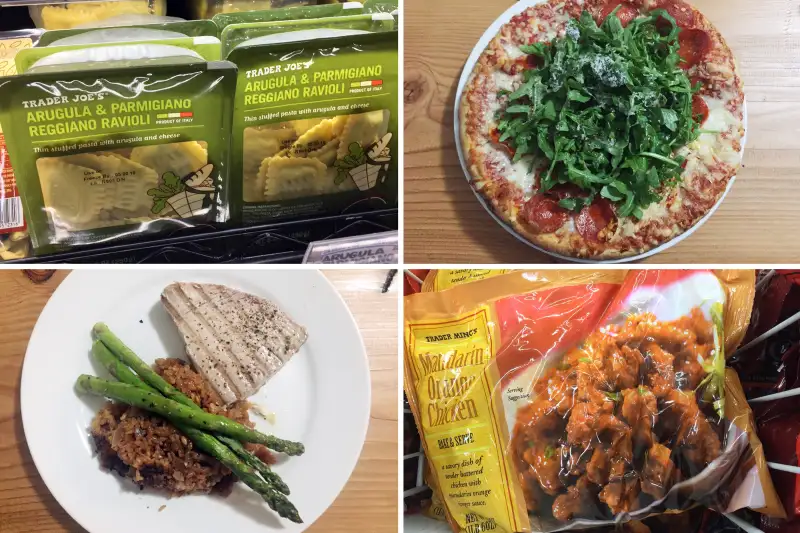 Weeknight dinners can vex even the most cooking-capable people. Work, family, and a new Netflix binge can all tear you away from the kitchen.
So it's important to have solid go-to dishes that require very little thought or energy, and won't break the bank. Luckily, Trader Joe's is a haven for products that can be combined into cheap meals with next-to-no effort — and that look and taste far better than another bowl of sad, limp pasta.
Lately, I've toyed around in my own kitchen using only items bought at my local Trader Joe's in Los Angeles and found five meals I come back to again and again. Each dish feeds two people — or one, with plenty of leftovers.
They range from good-for-you-but-still-tastes-good to slightly more indulgent (hello, pizza and fried rice). They cover the nutritional bases, and rely on simple, affordable Trader Joe's products, some of them frozen. (TJ's knows how to do frozen foods.) While certain ingredients vary in price, in my experience the proportions used for each recipe come out to under $10 total.
Arugula and Parmesan Ravioli
Trader Joe's fresh ravioli stuffed with arugula and Parmesan is a star among the market's many pasta options. The store nails the right blend of greens and rich Parmesan cheese inside each little pasta pillow. Each 8.8-ounce package is perfectly portioned for two, and rings in at a mere $3.49, making this an ideal wallet-friendly, vegetarian weeknight dinner.
Ingredients:
1 package Arugula and Parmigiano-Reggiano Ravioli
1 cup Rustico Pomodoro pasta sauce
Parmesan cheese
Directions:
Boil ravioli according to package directions. Drain, retaining a tablespoon of the pasta water. Mix pasta sauce and retained pasta water in a bowl and pour over ravioli. Grate Parmesan cheese over pasta to taste. Serve immediately.
Mandarin Orange Chicken Fried Rice
Trader Joe's orange chicken is one of the market's most popular items — and the entire bag, found in the freezer aisle, only costs $4.99. I was skeptical, since I often find preparations of the dish cloyingly sweet. But I was pleasantly surprised: The chicken is sweet, yes, but with a nice, slightly spicy kick. And with a just-right batter-to-meat ratio, it crisps up nicely.
It's not, however, a full meal. So turn that chicken into a fried rice with the help of TJ's frozen green vegetable medley mix, which contains broccoli florets, shelled peas, trimmed French green beans, and zucchini quarters. You only need half of the $2.99 bag of greens for this recipe.
I only use one of the two orange sauce packets included with the chicken, and cut the sweetness with soy sauce and chili sauce (chili paste is preferable, but Sriracha or a similar sauce works, too).
Ingredients:
1 package frozen Mandarin orange chicken
1 bag from package of frozen jasmine rice
1/2 package frozen Organic Green Vegetable Foursome
2 eggs
4 cloves garlic, thinly sliced
1 tbsp sesame oil (canola or olive oil works, too)
1 tbsp soy sauce
1 tbsp chili paste or sauce
Directions:
Allow vegetable mix to defrost on kitchen counter for 30 minutes to 1 hour.
Heat chicken pieces in oven according to package directions. Set aside. (Reserve included sauce packets.)
Cook jasmine rice according to package directions. Set aside.
Add oil to skillet over medium-high heat. When pan is hot but not yet smoking, add garlic and cook 2 minutes, until fragrant. Add defrosted vegetable mix and cook another 5 minutes, turning occasionally.
Push veggies to one side of pan and crack eggs into other side of pan. Once starting to set, scramble the eggs, constantly stirring as they cook. Once nearly done (2-3 minutes), combine eggs with veggies. Add soy sauce and chili paste and mix again.
Add finished rice and chicken to the skillet and mix together with 1 packet of orange sauce included with chicken. Heat for 5 more minutes. Serve while hot.
Pepperoni Pizza Topped with Arugula Parmesan Salad
Trader Joe's makes a point of highlighting the pizza section of its frozen-food aisle, with good reason. Frozen pizza is a hallowed American tradition, especially when said American is feeling lazy, probably wearing sweats, and famished.
Among the TJ's pizza offerings, the $4.99 pepperoni is a gem. While it bills itself as "Naples-style", that's a bit of clever marketing. True Neapolitan pizza should have fresh mozzarella and come out of a wood-fired oven, but the TJ's iteration is still delicious. The crust browns beautifully and the uncured pepperoni pops with spices (the "uncured" being a misnomer essentially meaning the meat was naturally cured, without added nitrates or nitrites).
But to round out this pizza, throw an Italian-style arugula salad on top. The freshness and acidity of the peppery greens will cut the melty, fatty cheesiness of the pie.
Ingredients:
1 frozen uncured pepperoni pizza
1/2 package fresh arugula
1/2 lemon
Olive oil
Parmesan cheese
Salt and pepper
Directions:
Heat pizza in oven according to package directions.
When pizza is almost done, toss arugula with olive oil and juice of half-lemon to taste. Season with salt and pepper, and top with grated Parmesan cheese.
Remove pizza, smother in arugula salad, and serve immediately.
Seared Ahi Tuna Steaks with Garlic Rice and Asparagus
While Trader Joe's doesn't have an expansive fresh seafood selection, its frozen seafood area is an oasis. Wild-caught ahi tuna steaks from the coast of Spain are a no-brainer to grill up when the mood strikes. They cost $7.99 per pound, available in packs of two steaks. I often snag two generous steaks for less than $7. Because they're cleaned, processed, and immediately frozen, they taste fresh and you don't have to worry about potential contamination from the fresh seafood aisle. ("Sushi-grade" fish can sometimes be anything but.)
The key is not to overcook these meaty steaks. Ahi tuna is best seared and eaten still ruby-red in its center. It pairs wonderfully with fragrant garlicky rice—made simple thanks to Trader Joe's frozen jasmine rice and its garlic salt blend with built-in grinder—and any veggies you're craving for a healthful, protein-packed, and satisfying dinner.
Ingredients:
1 package frozen ahi tuna steaks
1 bag from package frozen jasmine rice
Vegetable for roasting (such as asparagus spears)
Olive oil
Garlic salt
Pepper
Directions:
Allow tuna steaks to defrost on kitchen counter for about 2 hours. Sprinkle with garlic salt and pepper on both sides.
When the tuna is almost done defrosting, preheat oven to 400°. Place asparagus spears or other vegetable on a baking sheet lined with aluminum foil. Drizzle olive oil over asparagus and sprinkle with salt and pepper. Cook for 15-30 minutes until nicely crisp.
Cook jasmine rice according to package directions.
While asparagus and rice cook, drizzle a grill pan with olive oil and put on stove over high heat. (You can also use a proper outdoor grill if you have one and the weather happens to be nice.)
When grill pan is hot but not yet smoking, add both tuna steaks and sear for 1-2 minutes per side, resulting in rare or medium-rare steaks depending on preference. Allow to rest for 5 minutes.
Generously add garlic salt to cooked rice and mix together.
Serve each tuna steak along with vegetables over a bed of rice.
Garlic Chipotle Chicken Tacos
Simple, delicious tacos are a weeknight savior, and while Trader Joe's sells worthwhile pre-marinated carne asada, it runs on the pricey side at $10 per pound. Instead, pick up some chicken leg pieces, which are cheaper, fattier, and more flavorful than those puzzlingly popular chicken breasts.
They vary in price, but at my local Trader Joe's, fresh kosher chicken leg quarters from Empire run $3.49 per pound. You'll combine them with one of Trader Joe's excellent salsa options: the relatively mild garlic chipotle salsa ($2.99, and you definitely don't need to use all of it). It adds just the right amount of funk and zing.
Ingredients:
1 package (approximately 1.5-pound) chicken leg quarters
1 jar garlic chipotle salsa
Corn tortillas
1 lime, sliced into wedges
Salt and pepper
Hot sauce
Directions:
Pat chicken pieces dry with a paper towel. Sprinkle with salt and pepper. Place chicken pieces in a bowl and pour over half of the salsa jar and mix. Allow to marinate in the fridge for 1 hour.
Preheat oven to 400°. Place chicken on a baking sheet lined with aluminum foil and cook in preheated oven for 30 minutes. Reduce heat to 350° and cook for about another 10 minutes, until chicken is golden-brown and juices run clear.
Remove chicken from oven and allow to rest for 5-10 minutes. Meanwhile, heat up a stack of 6 tortillas tightly wrapped in aluminum foil in the 350° oven for 10 minutes. Once chicken is rested, cut meat from the bone and place into another bowl. Remove warmed tortillas and stuff with sliced chicken, garnishing with more salsa, squeezed lime, and hot sauce of choice.