7 Travel Apps That Will Save You Money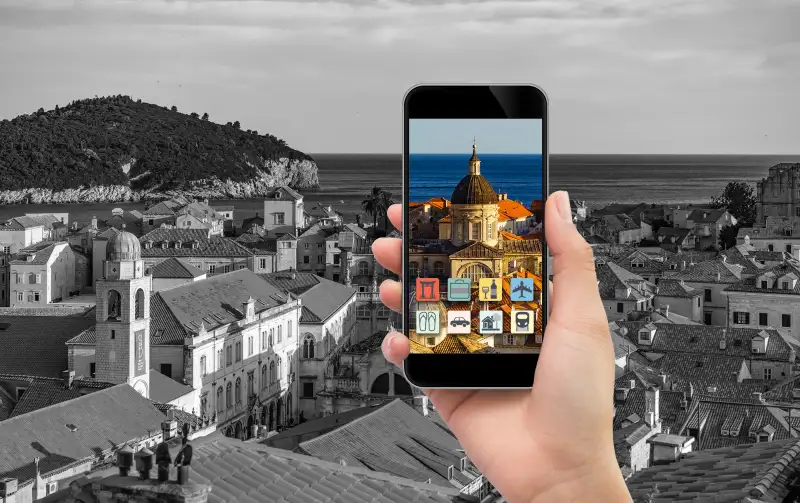 Photo illustration by Money; Getty Images (2)
Every traveler likes to save money: After all, saving more enables you to travel more.
With that in mind, we're adding to our previous roundup of money-saving apps with seven new travel apps that will help you save some cash—and, in some cases, help you get money back that you're owed when travel plans go awry.
All of the apps here are free unless otherwise noted.
LoungeBuddy
Use it for: Access to airport lounges
You don't need to be a frequent flyer or pay annual membership fees to enjoy exclusive airport lounges. LoungeBuddy offers one-day lounge access at airports around the world for as little as $25. The perks often include free food, alcohol, hot showers, and business centers, as well as a quiet escape from the typical frenzied, crowded scene in the rest of the airport. It's perfect if you have a long layover, and sometimes your lounge pass winds up being less expensive than what you'd pay at a regular airport restaurant.
Download the app for iTunes or Android.
Dayuse.com
Use it for: Quick hotel stays
Travelers sometimes need a place to rest or clean up for a few hours during the daytime—and have no choice but to pay the full rate for an overnight stay in a hotel. Enter Dayuse.com, which allows travelers to book hotel room stays between the hours of around 10 a.m. to 4 p.m. for 50% to 75% off the nightly rate. When we checked, a room at the Hilton La Jolla Torrey Pines outside San Diego was available for $89 for daytime use, compared to $329 for overnight.
Download the app for iTunes and Android.
Turo
Use it for: Easy car rentals
When you need wheels, official rental car agencies are not the only option. Turo, formerly known as RelayRides, is a peer-to-peer rental service that allows individual owners to rent out their vehicles—typically at prices far below Hertz and Avis. Depending on your location, SUVs, minivans, and convertibles might be available for under $50 per day. Many owners will deliver cars directly to renters, or arrange for the vehicle to be dropped off at an airport or a pre-arranged meet-up spot.
Download the app for iTunes and Android.
Freebird
Use it for: Travel insurance
Think of Freebird as an insurance policy for your airline ticket. The service costs $19 for a one-way or $34 for a round-trip. If your flight is canceled or delayed by more than four hours, you can rebook via Freebird's search engine on another flight—even on another airline—at no extra charge, and without having to call airline customer service or wait on line at the airport. For now at least, Freebird is available for domestic flights only, not on international trips.
Freebird is intended for mobile phone use, but there's no app to download. Just go to GetFreebird.com to sign up.
Hopper
Use it for: Finding cheap flights
It's always hard to be sure you're getting the best price on airfare, but Hopper helps eliminate the odds that you'll seriously overpay. Not only is it a flight search engine, sifting through fares from 250 airlines and highlighting the cheapest days to fly, but Hopper also uses historical data to predict whether prices are likely to drop or increase in the near future. Hopper can even track flight prices and send you alerts automatically if fares decrease on your route.
Download the app for iTunes and Android.
AirHelp
Use it for: Scoring a refund
What kind of compensation are you owed when a flight is delayed, canceled, or overbooked? Or if your luggage has been lost or damaged during a flight? With the AirHelp app, you can scan your boarding pass and the service will track if and when you're owed money by an airline. AirHelp says the average successful claim pays $450 to the affected traveler. There's no fee for AirHelp's help, but it does take 25% of any compensation paid.
Download the app for iTunes and Android.
Roomer
Use it for: Backing out of a reservation
Roomer can save travelers money in two ways: 1) People with nonrefundable lodging reservations they can't use can get money back by listing them and finding another traveler to take over the booking; and 2) People can snag unwanted nonrefundable rooms at steep discounts. If you find dates and times that work for you, the deals can be amazing, often with discounts of 70% or more.