You Can Pay to Have Your Name Featured at Trump's State of the Union Address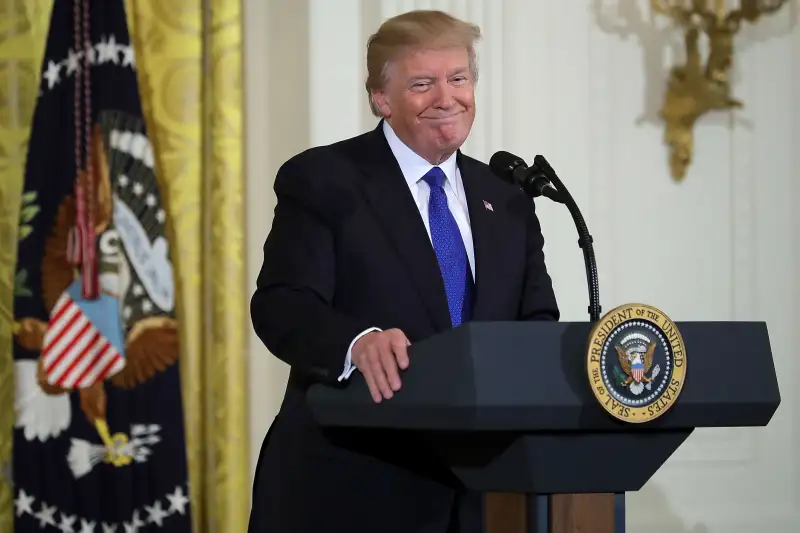 Chip Somodevilla—Getty Images
Momentary fame during a presidential address is now something you can buy.
President Donald Trump's campaign is encouraging his supporters to donate with a new marketing message: Give us $35 and your name will appear during the live-stream on his campaign website of Tuesday's State of the Union address.
"This is a movement. It's not about just one of us. It's about ALL of us. Which is why your name deserves to be displayed during Tuesday night's speech," a message on Trump's campaign website reads.
The campaign suggests amounts ranging from $35 to $2,700 — the maximum amount an individual can give in an election — with options to write in a different amount or turn it into a monthly recurring donation. The campaign had also advertised it by sending text messages to supporters, purportedly from President Trump himself.
"Enough of the Fake News Media. It's time for them to hear from the AMERICAN PEOPLE," the text message says, according to a screenshot of it shared by a ProPublica reporter.
But this noteworthy incentive to donate is not the first of its kind from Trump. Ahead of the Republican National Convention in 2016, the Trump campaign encouraged donations with the promise to display the names of donors on the Jumbotron."Hurry, it's the final day of the Convention and your last chance for Trump to see you are BIG LEAGUE and have your name on the Jumbotron," Trump's campaign website said at the time.
It's unclear in what way the names of these donors will appear on the live-stream of Tuesday's address.
In his first State of the Union speech, Trump plans to tout the growing economy and encourage a bipartisan plan on immigration, according to the Associated Press. Per tradition, a number of guests will attend the speech in Washington, D.C., at the invitation of the president. Those guests include an Immigration and Customs Enforcement (ICE) agent and a wounded veteran, among others.
A number of Democrats —Reps. John Lewis, a civil rights icon, and Maxine Waters, the longest serving black woman in Congress — plan to boycott the address, and Supreme Court Justice Ruth Bader Ginsburg is also going to skip it. Other Democrats like Calif. Sen. Kamala Harris and Florida Rep. Carlos Curbelo will bring Dreamers as their guests to the speech.