Why Buying a Bunch of Stamps Won't Save the USPS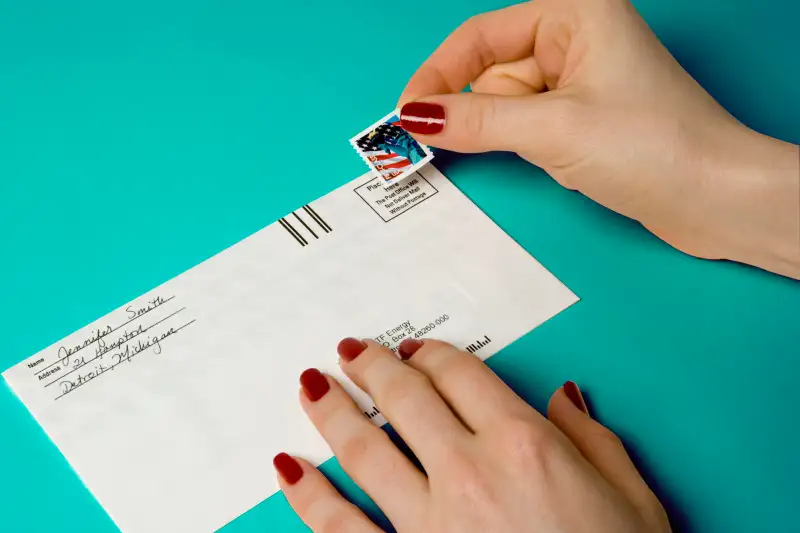 "Buy stamps!" "Send mail!" "Save the post office!" scream a glut of colorful, well-designed Instagram posts. Over on Twitter, thousands of people urge their followers to #BUYSTAMPSNOW.
Make no mistake: To save the oldest public service in the U.S., social media really, really wants us to #BUYSOMESTAMPS.
It's a valid concern. In June, Louis DeJoy, a major donor to President Donald Trump and multi-millionaire, assumed the position of Postmaster General. Almost immediately, DeJoy unveiled his plan to alleviate the mounting debt weighing down the United States Postal Service (USPS), including eliminating overtime pay and removing mail sorting machines, which ignited concerns about how a fractured mail service could interfere with the upcoming presidential election.
Still, a mass stamp-buying campaign is unlikely to salvage that service. At least not in its current form.
Ads by Money. We may be compensated if you click this ad.
Ad
With more and more documents being sent via email, making sure that your identity is protected is critical
Click you state to find the best Identity Theft Protection.
Get Protection
The USPS is about $160 billion in debt — and "first-class postage sales are not the problem," says James O'Rourke, a professor of management at the University of Notre Dame's Mendoza School of Business.
What's really draining the post office, he says, is a little-known, 14-year-old law that's been bleeding the agency dry since the Bush administration.
The Postal Accountability and Enhancement Act, as it's called, is a 2006 bill that requires the post office to funnel $6.5 billion a year into retiree healthcare benefits — ensuring, essentially, that the cost of healthcare for retired postal workers is pre-funded for the next 75 years.
The mandate was unprecedented. All federal agencies and state-owned enterprises (like Amtrak or Freddie Mac) are required to pre-fund their pensions so the costs are accounted for in their annual budget. But no other government agency, enterprise, or private corporation funds retiree health benefits this way, O'Rourke says.
To be fair, the Act isn't the only thorn in the USPS's side: The agency has seen revenue decline over the past decade with the advent of email, texting, and other digital forms of communication. But it is the main reason the USPS has been in the red for so long. According to the National Association of Letter Carriers (NALC) the pre-funding mandate has accounted for 92% of the total losses USPS has experienced since 2007. Without the mandate, the NALC says, the USPS would have an average annual profit of about $633 million.
In April, Trump proposed raising the postal service's package and shipping rates by "approximately four times" the current amount. O'Rourke says this is a bad idea. "No one's going to buy a first-class stamp at four dollars apiece," he says.
But buying rolls of stamps en masse at the current asking price isn't the solution either.
Even if every single American purchased a $9.80 book of stamps today, it would only make a dent of about $3.2 billion — or 2% of the money needed to keep the postal service from drowning.
The only real way to "save" the USPS in the short-term is through a fundamental restructuring that includes legislation designed to reverse the annual pre-funding mandate, according to O'Rourke.
It would be a weighty—but worthy—undertaking, he says.
The USPS is a vital resource for all the isolated, rural communities that FedEx, UPS, and even companies like Amazon have deemed too "out of the way" to be profitable. Reducing the agency's breadth through the moves Postmaster General DeJoy favors would only make life more difficult for the people living in those communities. It could also hold up mail-in ballots for weeks, or even months, during a national election.
Right now, the best thing concerned citizens can do, O'Rourke says, is to call, email, and (no joke) write letters to their congressional representatives demanding action. Postal workers across the country already have a list of clear demands worth including: Like $25 billion in stimulus relief funding, and a total overhaul of the retirement healthcare pre-fund mandate.
Ads by Money. We may be compensated if you click this ad.
Ad
Having your identity stolen online may come at a high cost.
With Identity Guard in your corner, you'll have the proper software to protect your every online move. Nowadays, we all need Identity Theft Protection. Find yours by clicking below.
Get Started
More from Money:
How to Buy a Bike in the Middle of the Largest Shortage in US History
Need Cash Fast? Payday Loans Offer a Solution but Should Be Your Last Resort
How the GOP's New Stimulus Plan Would Make it Harder for the Jobless to Make Ends Meet