The Big Reason to Beware Twitter and Facebook's 'Buy' Buttons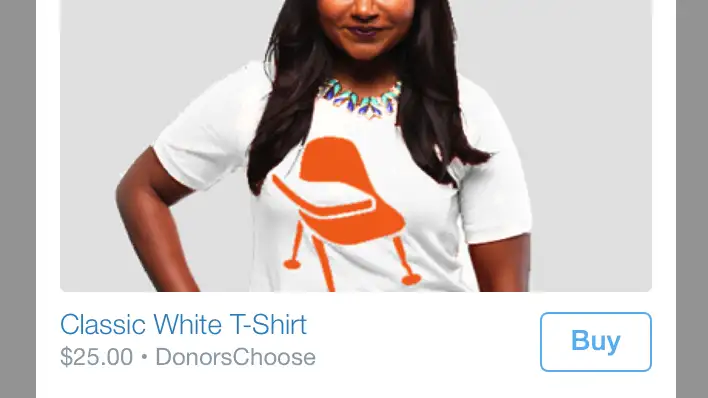 Facebook announced the addition of a "Buy" button in July, and Twitter followed suit with a "Buy" button of its own just this week. In both cases, the idea is that once a user enters payment info and mailing address, he'll be able to buy any of the offers that pop up in his feed with one quick click—and without ever having to leave the social network and visit another site.
A post by Twitter described the "Buy" button as "a new way for you to discover and buy products." During a test period, a small percentage of Twitter users will be presented with deals from more than two dozen retailers (like Home Depot), nonprofits (The Nature Conservancy), and artists (Brad Paisley, Eminem, Pharrell, Megadeth). "Users will get access to offers and merchandise they can't get anywhere else and can act on them right in the Twitter apps," the company explained.
While it's very early on in the experiment, it's all but guaranteed that the kinds of offers enticing consumers to "Buy" on Twitter—and Facebook—will be short-lived "flash" promotions. "Twitter is about what's happening right now, and so as long as e-commerce follows that approach, using sales with a short lifespan or that offer a limited number of items, it should work extremely well," Lou Kerner, a social media analyst for The Social Internet Fund, said to InternetRetailer.com.
"You can imagine how well the product would work with deals or discounts based on what users are tweeting or what they're interested in based on their follows," Twitter spokesperson Will Stickney told the travel site Skift, in a post speculating about what it'll be like to buy airline tickets via Twitter (a service that's not available just yet).
Let's step back and take a look at what we have here, from the consumer perspective. The sudden appearance of a social media "Buy" button gives the consumer a feeling of exclusivity—of somehow being selected and singled out as special. There will be pressure to act quickly or miss out on the deal at hand; by the time you shop around for similar offers, do some price comparisons, or fully think things through, that "Buy" button could be gone. What's more, the act of purchasing is simply a tap or two on a phone, quicker and easier even than posting your latest brilliant random thoughts on Twitter. It doesn't feel like spending real money at all.
In so many ways, what we have here is quite a handy formula to manipulate shoppers into making regretful impulse purchases.
Perhaps you'll get a great deal from such a speedy purchase. Then again, maybe not. Just a few short years ago, consumers were clamoring to scoop up every daily deal from Groupon and LivingSocial that came their way. The discounts seemed too good to pass up, and the feeling of FOMO (fear of missing out) pushed many into biting before the deal was sold out or disappeared. Afterwards, however, the concept dubbed "Groupon remorse" took over, especially for the estimated 20% to 30% of daily deal coupons and credits at spas and restaurants that were purchased but never used. It's worth mentioning here that most airline tickets are nonrefundable and extraordinarily expensive to change, so buying flights on the quick is an especially dicey, high-risk proposition.
From daily deals to Black Friday doorbusters, and from Starbucks' Pumpkin Spice Lattes to McDonald's McRibs and Shamrock Shakes, it's easy to see why retailers and restaurants love limited-time offers: They create a sense of urgency among customers. If these deals were always around, fewer consumers would feel compelled to buy RIGHT NOW. These purchases feel special because we can't get our hands on them any old time—exactly like the "offers and merchandise [consumers] can't get anywhere else" mentioned by Twitter when introducing its "Buy" button this week.
We must also discuss the typical state of mind of the social media user. For many, Twitter and Facebook are reserved mostly for posting dumb, silly, halfway thought-out stuff meant to amuse their friends. There's a long history of people posting things on social media that were so ill-advised that they wound up being fired from their jobs (or worse) as a result. It's pretty easy to see how a person who posts things stupidly and impulsively on social media is also likely, when given the opportunity, to make purchases stupidly and impulsively on social media.
For that matter, oftentimes people are quite literally not thinking straight when using social media. See: Drunk Facebooking and Drunk Tweets. Marketers know a scary amount about consumer behavior, to the extent that some will post deals on things like fashion and jewelry late at night—because that's when customers most tempted into buying such stuff are most likely to be drunk. While it's very early on in direct-buying on social media, it'll be interesting to see the kinds of offers that pop up—and when, exactly, they appear. There are certain times of day, and certain nights of the week, when shoppers are likely to be in a less inhibited, more suggestive state of mind.
What can shoppers do to fight off the temptation of such impulse buys? One tip is to try to remember to feel gratitude for all that you have in life, because consumers tend to act more impulsively when feeling lonely or bummed, and the purchase is supposed to alter one's mood. Personal finance experts advise the use of some rules to avoid making regretful purchases, such as a mandatory wait period of 24 hours (for small purchases) or 30 days (for big-ticket items). In terms of buying via social media, it's probably smart to add a couple more rules. Like: No purchases after midnight. And hands off the "Buy" button when you're out at a bar.