Uber and Lyft Drivers Are Striking This Week. Here's Their List of Demands — and Where to Expect the Most Disruption in Service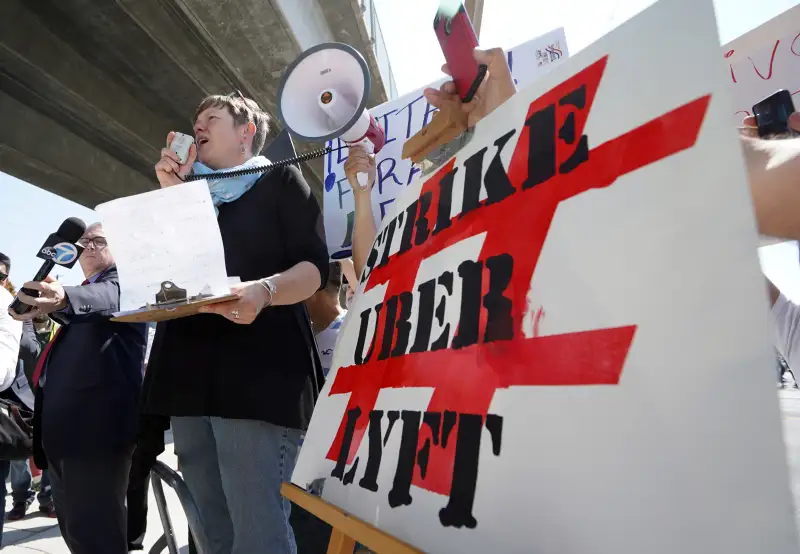 MediaNews Group/Torrance Daily B—MediaNews Group via Getty Images
Drivers for Uber and Lyft plan to strike in a number of major U.S. cities this week to demand better wages and working conditions ahead of Uber's highly anticipated initial public offering.
The work stoppages and rallies will take place in cities from Los Angeles to Boston, as well as locations in the United Kingdom, as Uber seeks an expected $91 billion valuation this week.
The protests — which vary in size and scope, depending on their location — focus on the same goal: better wages, better benefits, a voice in policy decisions, and basic workplace protections for drivers, who are deemed independent contractors rather than employees under both Uber's and Lyft's business models. Drivers in Los Angeles, San Diego, and Boston will stage 24-hour long strikes from their ride-sharing apps, those in Atlanta and San Francisco will strike for 12 hours, and New York City-based drivers will strike for two hours during morning rush hour. Groups of drivers in Chicago, Philadelphia, and Washington, D.C., among other cities, will hold rallies in solidarity with drivers around the country.
"Enough is enough," says Felipe Martinez, an Uber driver based in Boston who is helping organize efforts there. "It's on the backs of the drivers that this company has grown, and we need to be heard."
In its S-1 filing last month, Uber said there will be more dissatisfaction among its drivers as the company weakens driver incentives to improve its financial performance. Drivers have also lamented a number of wage decreases in recent months — including a drop from $0.80 to $0.60 per mile in Southern California this year — which, drivers say, has pushed some to work longer hours and forgo essential car payments and repairs.
Uber has offered some short-term remedies to long-time drivers with one-time cash rewards on the app last month, amounting to more than $300 million to more than 1.1 million drivers, as well as reserving a number of shares for drivers who have completed more than 2,500 trips.
"Drivers are the heart of our service— we can't succeed without them — and thousands of people come into work at Uber every day focused on how to make their experience better, on and off the road," says an Uber spokesperson in a statement to Money, citing the company's Uber Pro program which grants 25% off car maintenance costs, as well as driver injury protections. In a statement to Money, Lyft says drivers' hourly earnings have grown over the last two years and drivers earn on average more than $20 per hour.
As drivers and economists told Money, one-time cash rewards and stock options may not be the answer to wage cuts and a lack of basic workplace protections. Now, drivers across the country are viewing the company's high-profile IPO this week as an opportunity to bring attention to these ongoing issues.
"If they're going public and we don't let our voices be heard, they're going to keep doing whatever they want," says Rosana Olan, an Uber driver based in Connecticut who is organizing strike efforts in the state.
What drivers are demanding
Just as drivers' efforts are varying in their approach, so are their specific demands. Since Uber and Lyft classify their drivers as independent contractors rather than employees, drivers are not privy to basic workplace protections like minimum wage laws, overtime pay, or retirement benefits, among other stipulations. A number of lawsuits around the world have targeted this issue, and the company has bemoaned it — saying in its S-1 filing that it "would incur significant additional expenses for compensating drivers." But drivers around the country are targeting these specific issues with their efforts this week.
Local groups of drivers have focused their efforts on city councils or state legislatures. New York City became the first place in the country to create a minimum wage requirement for ride-sharing drivers with a law earlier this year that raised wages to $27.86 per hour before expenses, or around $17 after them.
Rideshare Drivers United, the Los Angeles-based organization that has gone on strike earlier this year over wages, is asking for the same wages as drivers in New York City, as well as the right to organize and a more transparent appeals process for deactivated drivers. In Connecticut, drivers on Wednesday will deliver a letter to Uber to demand they stop opposing a state senate bill that would require Uber and Lyft to pay drivers at least 75% of the money from each ride. In San Francisco, Gig Workers Rising, a labor group representing drivers and other independent contractors, will be asking for a living hourly wage after car expenses, retirement and health benefits, and paid time off, as well as the right to organize.
Drivers ultimately worry Uber's IPO will exacerbate these issues.
"Wall Street investors are telling Uber and Lyft to cut down on driver income, stop incentives, and go faster to Driverless Cars," Bhairavi Desai, the executive director of the New York Taxi Workers Alliance said in a statement. "With the IPO, Uber's corporate owners are set to make billions, all while drivers are left in poverty and go bankrupt."
Sen. Bernie Sanders, a 2020 Democratic presidential candidate, tweeted that he shares the same concerns as drivers and has pledged to stand with drivers. Sen. Elizabeth Warren, another 2020 Democratic presidential candidate, also has expressed support for drivers on strike in the past.
How passengers can be impacted
Drivers and activist are also arguing that low wages and few benefits will impact passengers, too.
"If I have to work six days a week on 12-hour shifts, I'm much less able to deliver as safe and friendly of a trip as I would be if I could work 40 hours or even 45 and pay my bills," says Angela Vogel, an Uber driver who is organizing a rally in Philadelphia. "If we cannot afford good health care, we may have a driver that's driving with an illness."
"All of these things make passengers less safe," she adds.
It's a worry for drivers around the country, who described the impact of working longer hours — whether through their ride-sharing jobs or through picking up jobs elsewhere to better make ends meet. Affording basic fixes for their vehicles is also a worry, drivers say.
"My tool of my trade is my vehicle. If we keep getting our pay cut and lowered, we're compromising passenger safety with the upkeep of some of these vehicles," says Martinez, the Boston-based driver. "We can't put tires on it when we need to put tires on it; we can't get oil changes or the repairs for safety. This is compromising not only the drivers but the passengers' safety."