Upstart Personal Loans Review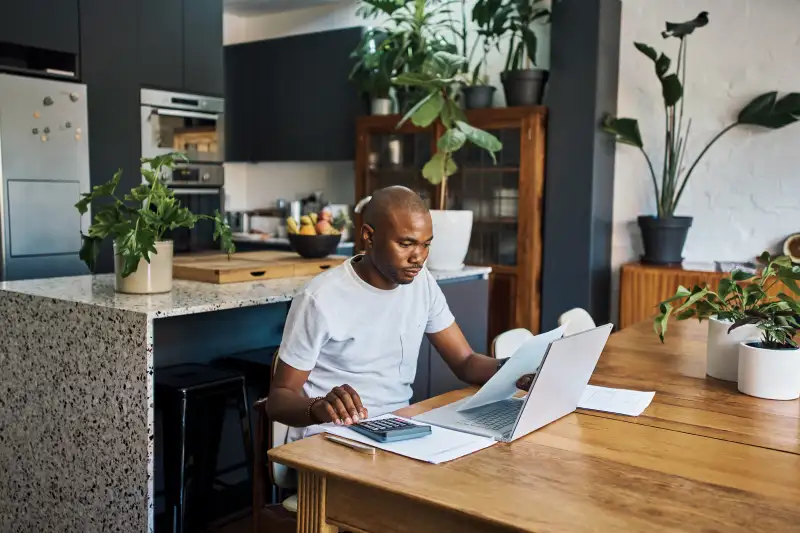 Upstart, an artificial intelligence lending platform, uses AI to evaluate borrowers. The company uses such factors as your credit score, education and career history to make its lending decisions. It offers loans from $1,000 to $50,000 and you can be approved in one business day.
You can find out the interest rate you'll be offered in less than five minutes online. Here, you'll find out all the details about Upstart's personal loan products to help you decide if the company is the right fit for you.
Upstart personal loans pros and cons
Pros
Funds available quickly
Flexible payment days
Soft credit check prequalification
Cons
No co-sign or joint loans offered
Origination fees
Repayment options limited to two types
Pros explained
Here are some benefits of using Upstart to get a personal loan.
Funds available quickly
If your loan application is successful, you can get access to funds within one business day. According to Upstart, 99% of its loans are processed within this timeframe, excluding education-related loans. If you are taking out a personal loan for tuition, it will take three business days to receive your funds.
If you need to make repairs around the house, cover medical bills or get a car fixed, the speed of loan approval may make Upstart one of the best emergency loans available for your pressing needs. The company's digital, AI-based lending platform makes closing on a loan quick and simple.
Flexible payment days
After a successful loan approval, you won't have to start repaying an Upstart personal loan for at least 20 days — and sometimes up to 40 days. You can choose your monthly payment date and change it at any point in time.
If you'd prefer to split your repayments into two monthly installments, Upstart lets you do that too. Just note you must set this up online or through the app 15 days before your next payment cycle. You also have the option to make a lump sum repayment or pay your personal loan back in full without any prepayment penalty.
Soft credit check for prequalification
Checking your rate for an Upstart loan has no effect on your credit score. The company will only make a soft credit inquiry.
If you are shopping around for the best personal loans, there's no risk in checking your rate with Upstart to see how it stacks up against competitive offers. Overall, the credit policies at Upstart are fair and transparent.
Cons explained
While there are many benefits to working with Upstart on a personal loan, there are some downsides. Here are some factors you should also take into account when considering Upstart for personal loans.
No co-sign or joint loans offered
Upstart does not allow customers to get a loan with a cosigner. You can only get a personal loan if you are in full-time or part-time employment or have a job lined up. You'll also need to meet the usual loan criteria such as U.S. residency, being over the age of 18, supplying contact details and having an existing bank account.
Origination fees
Upstart's origination fees are between 0% and 10%. Fees vary depending on your creditworthiness. That's a fair indication that Upstart isn't one of the best personal loans for bad credit. But it's likely that people with good credit will only pay origination fees at the lower end of the range.
Origination fees are only charged with Upstart once, when you agree to take out a loan.
Repayment options limited to 2 types
For Upstart personal loans, you can either set up recurring monthly or bi-monthly repayments. Additionally, you can pay off a chunk of the loan with a lump sum or repay the loan in full without penalty fees. If you miss an Upstart loan repayment, you will be charged a $15 penalty fee or 5% of the installment amount, whichever is greater.
Upstart personal loans plans and offerings
Here are some of the personal loans Upstart specializes in.
Moving loans
A moving loan with Upstart is designed to help you cover things like hiring moving trucks, storing your belongings, and buying insurance for your belongings. Loans are available from $1,000 to $50,000.
Because of Upstart's quick loan application process and approval times, a moving loan from Upstart can be a good alternative to using a high-interest credit card. That depends, of course, on the rate you agree to pay.
Wedding loans
Like many other types of personal loans, wedding loans through Upstart don't require any collateral. A wedding loan can help you cover the cost of venues, wedding rings, wedding dresses, music and more. You can also use Upstart personal loans to cover travel and honeymoon expenses.
Wedding loan rates start at 6.5% with Upstart but can go as high as 35.99%. However, Upstart only performs a soft credit inquiry for checking your rate, so it's always worth seeing what terms are offered.
Credit card consolidation loans
Credit card consolidation loans offered by Upstart could reduce your overall interest payments. Again, there is no harm in checking your rate. Consolidating your credit card debt all in one place can simplify bill paying and make your monthly payments more manageable.
Upstart doesn't just take credit history into account — it looks at your income, education and employment history, too. While the company may not offer the best bad credit loans, you may be more likely to be approved by Upstart if your credit history is sub-par.
Upstart personal loans pricing
The main pricing feature to look at for Upstart personal loans is the annual percentage rate (APR) charged. Your personal loan rate will be between 6.5% to 35.99%, which is an extremely wide range. Additionally, Upstart only does fixed-rate personal loans.
The low end — 6.5% — is attractive when compared to personal loans with other providers and banks. However, you can only get approved for a maximum of $50,000, whereas other personal loans will approve you for larger sums of money.
Interest rates on the high end — 35.99% — are slightly above average for personal loans. In addition, even if you have an excellent credit rating, you may not earn the lowest rates offered or qualify for the amount you'd like to borrow, because Upstart takes other factors like your current income and other debts into account. If you do have bad credit or a lower income, you can expect to be offered rates at the high end of Upstart's range.
The other considerations in regard to pricing are origination fees, which are calculated as a percentage of the total amount of money being borrowed. As mentioned, origination fees are between 0% and 10% and are decided based on your risk of defaulting on loans.
If you have good credit, a secure job and a university education, this shouldn't be an issue. For others, these extra fees could add up, making Upstart an expensive option.
Upstart personal loans financial stability
Upstart was founded in 2012, so it's still a relatively young company. The company grew considerably during 2020, 2021 and even the beginning of 2022, reporting record revenues and profits.
Since the Federal Reserve has begun raising interest rates, lending growth has slowed significantly. Not surprisingly, Upstart's last two quarterly financial results saw declines in total revenue, and the company was not profitable.
The fact that personal loans have become more expensive for consumers generally has had a major impact on Upstart's business. It doesn't offer other products that benefit from a rising interest rate environment and could continue to struggle over the course of 2023.
Upstart personal loans accessibility
Here are some Upstart features to consider before filling out an online member application.
Availability
Upstart personal loans are available for residents of the U.S. that meet the following eligibility criteria:
You're over 18 and have a valid Social Security number.
You can provide proof of employment or evidence that you will be commencing employment.
You have a credit score of at least 300, have not filed for bankruptcy in the last 12 months and have no current delinquencies.
You have a valid email address.
The only states where Upstart personal loans are not available in the U.S. are West Virginia and Iowa.
Contact information
Upstart's customer service email address is support@upstart.com. You can also reach out to customer support by calling its toll-free phone number, 1-855-438-8778.
General support is available seven days per week from 9 a.m. to 8 p.m. ET. Payment support is available Monday through Friday from 9 a.m. to 9 p.m. and Saturdays from 10 a.m. to 7 p.m. ET. No support is available on Sundays or certain holidays.
User experience
The Upstart lending platform is designed to be user-friendly and easy to navigate. The loan application process takes just a few minutes and can be done online. Upstart does not have an app where customers can apply for or manage their personal loans.
Upstart personal loans customer satisfaction
With just under 40,000 customer reviews on Trustpilot, Upstart has received overwhelmingly positive appraisals with an average rating of 4.9/5 stars. Out of all reviews, 97% gave Upstart a five-star rating, and 2% gave a four-star rating.
Overall, customer satisfaction rates are generally very high. Despite this evidence, 227 complaints have been filed with the Better Business Bureau within the last 12 months.
Upstart personal loans FAQs
How long does Upstart approval take?
You can get an instant approval decision after applying for an Upstart personal loan. If you accept your rate, funds should arrive in your account the following business day if accepted before 5 p.m. ET.
How many Upstart loans can you have?
You can apply for two loans with Upstart. To get a second loan, you will need to have made six recurring payments on your first loan, you must never have had a late payment and you cannot have more than $50,000 worth left to repay when the second loan is originated.
One of the strange caveats for getting a second personal loan with Upstart is that you have to use a different email address in your application. The company does not state why.
Who owns Upstart?
Upstart is a publicly traded company. About 10% of the company is owned by CEO David Girouard. The remaining shares are owned by other insiders, retail investors and institutional investors such as Blackrock, Morgan Stanley and Bank of America. Upstart is not a direct lender, but rather partners with banks and other direct lenders to provide lending services.
How we evaluated Upstart personal loans
When reviewing Upstart personal loans, we investigated what the company offers and how they compare with other similar product offerings. For any personal loan product, the most important thing is to figure out what matters to consumers. In this instance, some of the things that were analyzed include:
Who its products are for and who are they available to
How long the loan application process is to complete
Ease of use when it comes to the platform
Total expected costs and affordability of taking out a personal loan
The safety score of the business
What customers are saying about the product
Summary of Upstart's personal loans review
Upstart is a lending specialist with personal loan plans that are suitable for a variety of individuals. You don't need to count yourself out even if you have a poor credit score — just be aware that you might have to pay extra with higher interest rates.
Overall, Upstart can be a good solution for those that want to consolidate and pay down debt. Similarly, it can be a perfect opportunity for someone who already has their finances in check to complete a few home renovations or pay for large one-time expenses such as wedding arrangements.
Upstart offers customized personal loan solutions for a wide variety of customer needs. Because you can prequalify for rates without the company making a hard credit inquiry on you, it's risk-free to include Upstart when you're comparing personal loan providers.