Trust Wallet Crypto Wallet Review
Money is not a client of any investment adviser featured on this page. The information provided on this page is for educational purposes only and is not intended as investment advice. Money does not offer advisory services.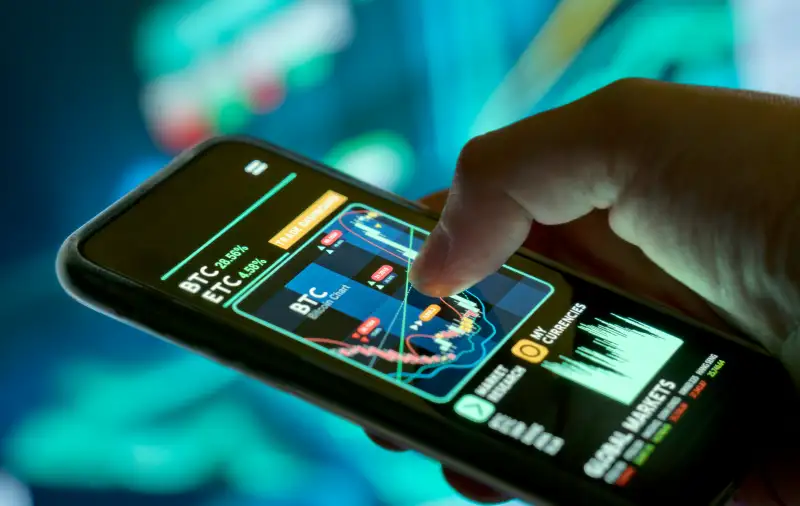 A crypto wallet is a necessary tool if you're looking to store and use cryptocurrencies. It offers privacy, convenience and, most importantly, security.
Trust Wallet is one such mobile wallet that you can use to buy, send and store digital assets. As a hot wallet, or an online wallet for virtual currency, it is ideal for storing smaller sums of cryptocurrency or for trading purposes. For those new to crypto, it's one of the easiest ways to take full control of your crypto and manage the private keys for your wallet.
In the Trust Wallet review below, we'll walk through the advantages of Trust Wallet and the unique features it offers its users, and we'll discuss the positives and negatives of this crypto wallet.
Best for mobile use
The Trust Wallet app is trusted by millions of users, is user-friendly and is convenient to download. Rather than leaving your crypto in a custodial exchange, where you only own the right to the assets but not the assets themselves, it's a good choice for taking complete ownership of your crypto. The Trust wallet makes the self-custody route a lot easier for investors and traders alike.
The app isn't overloaded with features that can be daunting for beginners. Plus, you can add Face ID or Touch ID to strengthen security, and you can use your smartphone to explore millions of assets on Web3 in the app.
Trust Wallet crypto wallet pros and cons
Pros
Easy-to-use interface
Supports an extensive variety of tokens
Built-in staking
Cons
No cold storage feature
Customer support is lacking
Pros explained
Easy-to-use interface
The Trust Wallet app has a simple display that shows the crypto in your wallet and displays options for you to send, receive or swap crypto. It also has a browser that you can use within the app to search the web. Any changes you need to make can easily be done through its settings.
Supports an extensive variety of tokens
Trust Wallet supports more than 4.5 million tokens, and the app can interact with 65 blockchain networks. Because of this, unsupported assets aren't something you need to worry about with this crypto wallet.
Built-in staking
Trust Wallet has built-in staking, which means it lets you stake eligible crypto to earn interest on your assets. Your interest is automatically paid back in the crypto token you chose to stake.
Crypto coins that Trust Wallet currently lets you stake include:
Binance Coin
Cosmos
Tron
Tezos
Osmosis
Terra
VeChain
Calisto
Kava
TomoChain
IoTeX
Algorand
In the future, Trust Wallet aims to add staking for more cryptocurrencies.
Cons explained
No cold storage service
Trust Wallet is a hot wallet (a crypto wallet that's connected to the internet), meaning it does not offer cold storage.
Hot wallets are always online and, therefore, more susceptible to hacks and malicious behavior. Cold wallets, on the other hand, cold wallets are far more difficult to hack because they are offline. They are assumed to be the safest form of crypto wallet: one of the only ways a cold wallet can be hacked is if a thief physically steals the device.
Customer support is lacking
Trust Wallet customer service isn't available in the way you might expect from a typical business. No contact number appears on its website, so you might be wondering how to get in touch with customer support. The best place to get answers to your questions is on the Trust Wallet community forum. It's reasonably comprehensive and the Trust Wallet support team will make announcements and respond to customer queries there. If your issue with Trust Wallet is more specific, you can send a ticket online.
Trust Wallet crypto wallet offerings
Here are the main ways you can use Trust Wallet.
Buy, exchange and store assets
You can buy, exchange and store assets on the Trust Wallet app. The wallet lets you buy Bitcoin or other cryptos with your credit or debit card. If you are not interested in trading crypto, you can simply use Trust Wallet to store your cryptocurrency.
It's crucial that you read all relevant information about sending and receiving crypto on Trust Wallet before making a transaction, as there's a risk that you could lose your assets if you don't understand how the platform works.
Staking
Staking is available for 16 different crypto assets on Trust Wallet. You can select the dollar amount you want to stake and, in return, you'll receive a reward that's usually in the form of interest on your original amount staked.
Note that staking provides users with guaranteed returns, but market volatility can impact the price of staked coins. So, you can't measure the best crypto staking platforms simply by looking at the highest returns. You should be staking coins for the projects that you can see being successful.
Browser extension
The Trust Wallet browser extension opens users up to the world of Web3 and decentralized finance. It's available as an extension on Chrome and several other web browsers. You will be able to exchange tokens, play games and earn rewards, all on the browser extension. Several networks are supported, including the Ethereum and Solana blockchains.
NFTs
Non-fungible tokens (NFTs) are digital representations of real-world objects or photos, art and music. Some popular collectibles include the Bored Ape Yacht Club and Crypto Punks collections. Trust Wallet lets you buy, sell and store all of your valuable NFTs in one place. There's a separate tab just for NFTs in the Trust Wallet mobile app where their ownership is displayed.
DApps
Trust Wallet has a team that vets and optimizes decentralized applications (DApps) and adds them to its Web3 browser. You can use the Trust Wallet app to explore the decentralized web and trade across thousands of DApps without interruption.
For example, you can use this feature for gaming, peer-to-peer lending and borrowing, and trading collectibles. Staking and other yield-generating services are provided by DApps, too. Just remember that using DApps carries a high risk, and you should do your research before making any decisions to avoid popular crypto scams.
Trust Wallet crypto wallet pricing
The Trust wallet app is free to download on iOS and Android. There are no extra costs associated with downloading the Trust Wallet extension for browsers.
If you want to buy Bitcoin or other cryptocurrencies on its app, Trust Wallet gives you the option to buy from a range of centralized or decentralized exchanges. You'll be shown the going market rate at which each exchange is selling the crypto you want to buy. Fees will vary depending on what exchange you're buying from.
In addition, you may have to pay network fees if you choose to interact or use DApps. Network fees will vary and depend on congestion and demand for using each blockchain.
Trust Wallet crypto wallet financial stability
Trust Wallet is a private company that hasn't disclosed its financial information relating to assets or liabilities. It is the official digital wallet of Binance, one of the largest centralized cryptocurrency exchanges in the world. Binance acquired Trust Wallet in 2018, and although the two companies operate separately from one another, this means the wallet is backed by an industry leader.
While this doesn't guarantee anything, it does suggest that Trust Wallet has significant access to capital if something were to go wrong with its business. Nonetheless, even if Trust Wallet is in safe hands, Binance has experienced a lot of pushback from regulators in the U.S. lately. It is currently being investigated by the Securities and Exchange Commission, along with the Commodities Futures Trading Commission, the Justice Department and the Internal Revenue Service.
From a standalone perspective, the company's number of users is growing at a rapid pace, which suggests it's continuing to increase its top-line revenue. In any case, if Trust Wallet were to become insolvent, your assets would still be retrievable on the blockchain once so long as you have your recovery phrase. All users of any crypto wallet need to make sure that they always save their recovery phrases manually in order to prepare for such events.
Trust Wallet crypto wallet accessibility
Here are some Trust Wallet features to consider before downloading the app.
Availability
The Trust Wallet app is available on mobile or through a Google Chrome extension on desktop. The only limitation is if crypto regulations affect the app's availability in your country. In that case, it may not be available on the App Store or Play Store, but most people with a smartphone or internet connection should be able to download Trust Wallet.
There are no requirements for you to include any personal information when setting up a Trust Wallet account. Because your keys are self owned, you can access your account from anywhere in the world and look at your balance(s) at any time.
Trust Wallet is available in the following languages: English, Spanish, Portuguese, Russian, German, Chinese, Japanese, French, Korean, Italian, Indonesian, Turkish, Ukrainian, Vietnamese, Russian, Hindi, Bengali and Arabic.
Contact information
Trust Wallet's customer support email is support@trustwallet.com. Be aware that Trust Wallet won't be able to assist you with hacked accounts or loss of assets. As a self-custody wallet, it's the duty of the user to safeguard assets.
User experience
Trust Wallet has one of the best user experiences of any wallet. The app is easy to follow and navigating its interface is intuitive. For a beginner, or for those who want a simple crypto wallet, Trust Wallet is one of the best. However, it can take a bit of research to familiarize yourself with DApps and what they can do.
Trust Wallet crypto wallet customer satisfaction
Trust Wallet has a high level of customer satisfaction which is why it's one of Money's best crypto wallets overall. From over 190,000 reviews on the Apple App Store, the Trust Wallet app has an average score of 4.7 stars out of 5. The wallet also has a Google Play Store rating of 4.6 stars out of 5 from more than 1.3 million reviews. Lastly, G2 scores the Trust Wallet 4 stars out of 5.
Unfortunately, the same high scores don't apply when it comes to Trust Wallet support. Its 1.3/5-star rating on one online review platform is indicative of this. Roughly 88% of reviewers gave Trust Wallet support the lowest possible rating.
Trust Wallet crypto wallet FAQ
What are the benefits of using a cryptocurrency wallet?
Cryptocurrency wallets give you the ability to store your digital assets yourself. If an exchange goes under, your assets are held as liabilities so you can lose all of the money you invested. With crypto wallets, this risk is removed because only the wallet owner has access to the funds in a wallet.
How do I use Trust Wallet?
You can download the Trust Wallet app from the Apple App Store or Google Play Store. To get the Trust Wallet browser extension, you can download it on Google Chrome for your desktop. The app is relatively easy to navigate thanks to four simple tabs, which are as follows:
1. Buying, sending and receiving digital assets
2. In-app staking
3. Web3 browsing
4. Settings
Does Trust Wallet report to the IRS?
According to
CoinLedger
, Trust Wallet does not report tax information to the IRS. However, the IRS has been known to hire third-party firms to conduct blockchain analysis and make sure tax evasion doesn't occur. If you're wondering
how crypto is taxed
, it's subject to income tax and capital gains tax just like other traditional assets, so it's important to file any gains accordingly.
Is Trust Wallet safe to use?
Trust Wallet is safe to use for crypto asset storage once users protect their backup details. In the event that the company became insolvent, it's still possible to recover assets with your 12-seed recovery phrase.
How we evaluated Trust Wallet crypto wallet
When evaluating the Trust Wallet crypto wallet to see how it stacks up against alternatives, the following factors were taken into account:
The ease of use for beginners, intermediate and advanced crypto-enthusiasts
Accessibility of DApps to users
What third-party external reviews are saying about the user experience on the platform
Safety and security practices incorporated for users of the crypto wallet
Educational material provided to inform and educate wallet users
Summary of Money's Trust Wallet crypto wallet review
Trust Wallet is Money's best crypto wallet for mobile and one of the best crypto wallets in general. Overall, it's a solid choice for anyone who wants to take crypto into their own hands. It's easy to transfer digital assets from different wallets or the best crypto exchanges, and there are basically no costs for using the wallet, excluding DApps.
The lack of customer support is concerning, but as a self-custodial wallet, the accountability is not on the wallet provider to protect assets. Instead, it's the wallet user's responsibility to safeguard their own assets.