USAA Car Insurance Review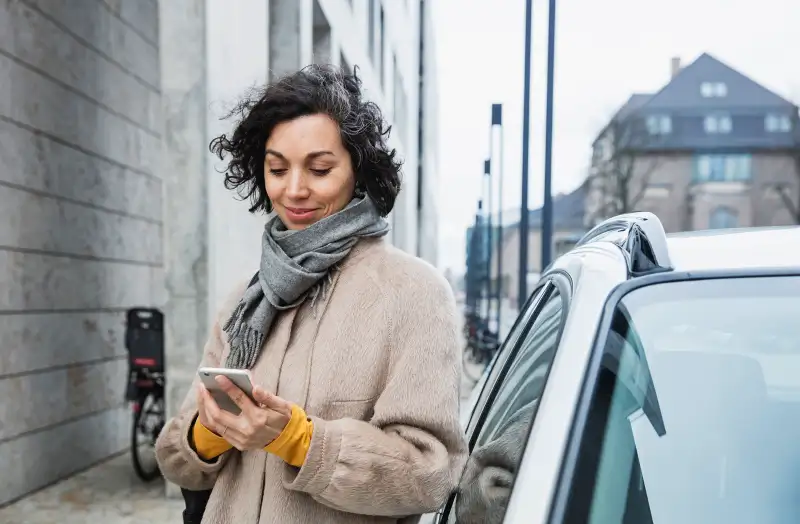 USAA is a dependable insurance company for U.S. military members and their families. This company offers a full range of insurance products, including car insurance, for its members.
Below, we'll walk you through the pros and cons of USAA car insurance to help you decide if it's the right plan for you.
USAA Auto Insurance Policies Pros and Cons
USAA's coverage includes benefits such as multiple discount options and a mobile app with in-app customer service. However, USAA has limited availability and a high rate of customer complaints.
Pros
Helpful customer service
Four types of coverage with multiple add-ons
Lower rates on average than other insurers
Cons
Only available to military members and their families
High rate of customer complaints
USAA membership required
Pros explained
USAA offers a range of benefits for members of the military and their families, including well-rated customer service, multiple plan options and more affordable premiums (based on our sample quotes).
Great customer service
USAA has a 24/7 customer helpline for roadside assistance, questions and help filing claims. It also offers a live chat through the online member portal.
USAA's mobile app has an in-app assistant that can answer questions or connect you to a customer service representative. The app is rated 4.8/5 stars on the Apple App Store and 4.1/5 stars on Google Play, with positive reviews on both platforms referring to friendly, prompt customer service.
Lots of plan options available
USAA offers four main types of coverage: comprehensive, collision, liability and uninsured or underinsured motorist. These are standard coverage types offered by most auto insurance providers.
It also offers a range of additional coverages that can be added to your plan, including rental car reimbursement, gap insurance, roadside assistance and accident forgiveness.
USAA's optional add-ons allow policyholders to customize their plans. For example, rideshare insurance provides extra coverage for rideshare drivers. If you drive for a company like Uber or Lyft, rideshare insurance makes sure you're covered between customers because the insurance provided by your rideshare company might only cover you while you have a customer. Each add-on raises your insurance premium, but the exact cost depends on your base plan, applicable discounts and other factors.
Low rates
According to our sample quotes, USAA car insurance costs around $1,200 to $1,500 annually for a safe driver. The national average cost for full auto coverage is around $1,900 annually.
Your exact USAA car insurance quote will depend on several factors, including age, state of residence, number of insured vehicles, policy type and add-ons. No auto insurance provider is 100% cheaper than others for every circumstance. However, sample quotes show that USAA's rates are generally lower than quotes from other companies. If you don't qualify for USAA coverage, there are other cheap car insurance providers worth researching.
Cons explained
Despite its benefits, USAA has its drawbacks. This insurer requires a USAA membership to buy a policy and membership is exclusive to military members and their families. It also receives many online customer complaints on sites like the Better Business Bureau (BBB) and has an above-average National Association of Insurance Commissioners (NAIC) score for customer complaints.
Exclusive to military families
USAA auto insurance is a product of the United Services Automobile Association. To become a USAA member, you must be an active or former military member or a direct relative of an active or former military member. A direct relative (spouse or child) of another USAA member can also qualify for membership. For example, if your spouse has USAA membership via their parent's military membership, you also qualify even if you have no relatives in the military.
Despite its name, this membership association offers more than just car insurance. It has a full range of insurance products, including home and business insurance. USAA also offers banking, loans and investment services for members.
High number of complaints
Although USAA's app is highly rated by users and the company has a strong J.D. Power rating — indicating above-average customer satisfaction — it receives many complaints for its settlement offers and claims delays.
The NAIC tracks and records customer complaints against insurance companies based on the policy type. The median score is 1.0, so scores above this have above-average complaints compared with other companies. USAA's NAIC index score for all policy types is 1.52, but its score for commercial auto policies is only 0.0.
You have to be a member
USAA auto insurance is only available to USAA members. That means eligibility is limited.
If you qualify, USAA membership is free. Signing up for membership requires calling USAA's customer service line and supplying proof of your eligibility. You may need access to your relative's membership number if you aren't a U.S. military member.
Although there's no cost, becoming a USAA member is an extra step in the insurance buying process and can be a hassle. That's especially true if you aren't interested in using USAA's other services or bundling your policies.
USAA Auto Insurance Plans
USAA offers a range of customizable auto policies. Along with four standard types of coverage, it has a long list of insurance riders to adapt your policy to your needs. How much you'll pay for car insurance depends on the type of plan and riders you choose.
Below is a brief overview of some common coverage options offered by USAA. Remember that the pricing and specifications of these plans may vary based on your state, age, driving history — including speeding tickets — insurance history and the type of car you drive. Because your premiums will depend on several factors and vary from provider to provider, you should collect several quotes if you want to switch your car insurance.
Comprehensive
Comprehensive coverage is a standard auto insurance policy that covers most damage to your vehicle. This coverage type is commonly referred to as "full" car insurance. USAA's comprehensive insurance covers damage to your vehicle caused by things beyond your control, such as an animal running out in front of you, falling branches, theft, vandalism, fires, and weather-related damages.
USAA's comprehensive coverage also includes glass damage coverage. This plan will waive your deductible for windshield and window repairs.
Collision
USAA's collision covers damage from an accident caused by you or another driver. It also covers damage if you hit a nonmoving object like a tree or pole.
Liability
Liability insurance protects you against other parties when you're involved in a car accident with another driver or in an accident that damages property. Insurance companies communicate with each other to determine the percentage of liability each policyholder is responsible for and pay for damages, repairs and medical bills accordingly. In other words, if it's determined that you are 100% liable for an accident, damage and injury, your company will pay 100% of the other party's claims. If it's decided that you're only 25% liable for the accident and the results of it, your insurance will only pay 25% of the other party's claims. The other party's insurance will pay the remaining 75%.
All states legally require some form of liability insurance. Without it, you'll be responsible for the full cost of the accident. You may also face legal consequences, such as license suspension, fines, vehicle impound or even jail time, depending on the laws in your state. Remember that if you only have liability insurance, USAA won't pay for damages to your vehicle.
Uninsured and underinsured driver
There will always be drivers who get behind the wheel without insurance or without having enough insurance. But you don't have to be held financially responsible for your injuries caused by the uninsured or underinsured driver.
USAA allows you to opt for extra coverage for you, your passengers and your vehicle damage should an uninsured or underinsured driver hit you. You can add this coverage to your comprehensive, collision or liability policy.
Insurance riders
An insurance rider, or add-on, is extra coverage you can add to your policy. Some of USAA's most popular riders include:
Towing and labor: This rider covers the cost of towing and mechanic's fees if you need roadside assistance. It costs an average of $18 per year but will vary for each plan.
Accident forgiveness: This rider guarantees that a policyholder's rates won't increase after one at-fault accident. It's only available to qualified drivers and costs an extra $59 per year on average.
Rental reimbursement: This rider provides reimbursement for a rental if your car is totaled in an accident. USAA rental car insurance lets policyholders choose the type of vehicle they want coverage for. On average, it costs an extra $53 per year.
Gap insurance: USAA's gap insurance rider is called Total Loss Protection. This rider costs an average of $40 per year and can cover the difference between your totaled car's cash value and your loan balance. This rider only applies to members who get a car loan through USAA.
The costs listed above are approximations based on an average USAA insurance quote. The exact cost for each rider depends on your plan and premium.
Limitations
USAA's comprehensive coverage does not cover theft of belongings in your car, damage caused by hitting an object or general wear and tear to your vehicle. While USAA's comprehensive coverage includes glass with a waived deductible for repairs, you may have to pay your deductible for a full windshield replacement.
USAA also has coverage limits that vary by plan. If the damage to your vehicle will cost more than your policy limit, your car will be considered totaled, and USAA will not pay for repairs.
USAA Credentials
USAA Insurance Company was founded in the 1920s. Today, it's a well-known name and one of the most popular insurers in the U.S. despite its limited availability. Here's a quick overview of USAA's credentials as an established insurance provider.
Awards
USAA won two awards from Insurity, a software provider and host of the Excellence in Insurance awards in 2022. The "Claims Champion" and "Policyholder Experience Knockout" titles were awarded to USAA last year.
Both awards were the result of USAA's launch of the SafePilot program. The program rewards safe driving by offering lower insurance premiums.
Financial stability
USAA has an A++ rating with AM Best. That score shows an extremely high level of financial strength. Although a company's financial strength doesn't necessarily affect its products or pricing, it does mean there is very little risk of losing your USAA policy due to company bankruptcy.
Third-party ratings
USAA's third-party ratings include:
NAIC: 1.52 overall but 0.0 for commercial auto
J.D. Power: 4.4 out of 5
S&P: Aa1
Moody's: Aaa
Regulatory actions
In March 2022, USAA was fined by the Financial Crimes Enforcement Network — a section of the U.S. Department of Treasury — for not meeting Bank Secrecy Act/Anti-Money Laundering agreements. The total fine of $140 million is currently being paid through USAA's earnings. According to USAA's website, the issues addressed in this case did not affect individual policyholders, and the fine will not affect rates.
USAA Car Insurance Accessibility
USAA is limited to military members and their families. However, for those who qualify, USAA is a fairly accessible insurer. Here's what you need to know.
Availability
USAA membership is limited to U.S. military members, spouses and children. But membership extends beyond this, too. For example, if your spouse is a member through their parent, you also qualify for membership, even if your spouse isn't in the military.
Contact Information
You can contact USAA insurance customer service at 1-800-531-8722. Support is available 24/7 and can help members connect to roadside assistance. You can also reach USAA through its shortcut mobile number (8722) or by mail at 9800 Fredericksburg Rd. San Antonio, Texas, 78288.
If you're outside the U.S., you can reach USAA through its international number: 1-210-531-8722. Support here is also available 24/7 but may have a wait time of around 15 minutes.
User Experience
USAA is well-rated for its user experience. You can use the USAA website or mobile app to get a quote, calculate rates, find applicable discounts or submit claims.
USAA's app was recently upgraded and now comes with an AI personal assistant, EVA, which can provide customized alerts and insights. The app allows you to submit a claim anytime, anywhere in the world.
Coverage limitations
USAA receives a high rate of customer complaints for its coverage limitations. However, its affordable plans may have lower coverage limits than comparable insurance providers.
Customer Satisfaction
USAA's overall NAIC score of 1.52 shows more customer complaints than average. Most public complaints on the Better Business Bureau refer to USAA's coverage limitations and settlements.
USAA Car Insurance FAQ
Who is eligible for USAA Car Insurance?
Active military members, veterans and pre-commissioned officers are eligible for USAA car insurance. You are also eligible if you are the spouse or child of a military member or an existing USAA member.
How does USAA verify eligibility?
You will need to give proof of your eligibility to join USAA. That may be an official document certifying your military history or the policy number of a relative.
How to cancel car insurance from USAA?
You can cancel your USAA car insurance by calling the customer helpline at 1-800-531-8722. You can also cancel your policy through the website or by mail. USAA doesn't charge a cancellation fee or early termination fee.
Where is USAA located?
USAA's corporate headquarters are in San Antonio, Texas, but it has branch locations in all 50 states.
How we Evaluated USAA Car Insurance
We evaluated USAA car insurance by comparing it with other top-rated insurance companies. Some of the factors we considered included the following:
Range of coverage options: USAA offers a variety of coverage options and optional riders.
Pricing: USAA is more affordable, on average, than other top auto insurance providers.
Customer reviews and complaints: USAA receives more than average customer complaints online.
Accessibility: USAA auto insurance is only available to USAA members. If you have a membership, its policies are accessible in all 50 states.
Customer service: USAA's customer service is available 24/7 and, according to customer reviews, has limited wait times.
Third-party rankings and credentials: USAA has high ratings from third-party reviewers like J.D. Power, but its NAIC score falls short.
Ease-of-use: USAA's policies are easy to access and understand through the website and updated mobile app.
Summary of USAA Car Insurance Review
USAA auto insurance offers low rates for qualifying drivers across the U.S. This insurer stands out for its range of plans, affordability and helpful customer service. The main drawback of USAA insurance is that it's only available to USAA members and their families. It also has a higher-than-average rate of customer complaints.