8 Tips for Soldiers Looking to Conquer the Civilian Job Market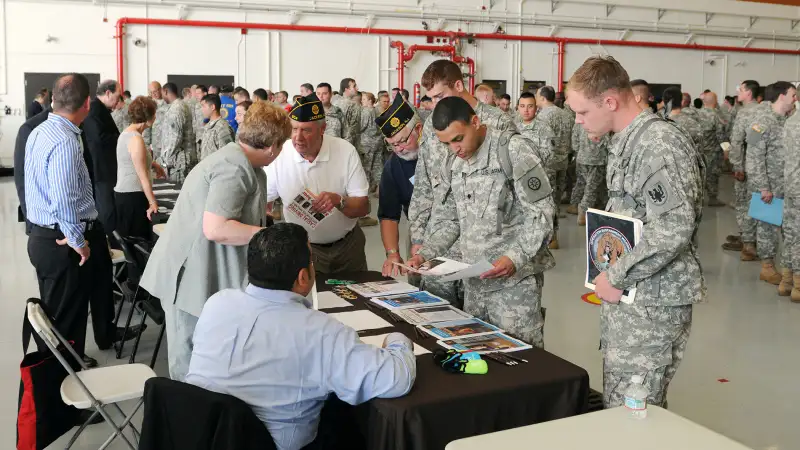 Spc. Cal Turner—U.S. Army
For many veterans, the fear of not landing solid employment overshadows everything: 69% say that finding a job outside the service is a challenge, according to Prudential Financial Services. Fortunately, employers often seek out the leadership and organizational skills that vets have to offer. The average unemployment rate for veterans is now just 4.3%, compared with 5.1% nationally.
Still, start hunting long before you become a civilian, says Tom Wolfe, author of Out of Uniform: Your Guide to a Successful Military to Civilian Career Transition. "You can't control the supply and demand in your particular area," he says. "But you can control the timing of your preparation." One great place to start: the Department of Labor's Veterans' Employment and Training Service (VETS) page.
While you're still in uniform
1) Evaluate your experience Enter your job title, subspecialty, and pay grade into the Skills Translator on Military.com and you'll get a catalogue of your skills and suggestions on how to explain them in civilian terms.
2) Civilian-ize your résumé Military acronyms—MILPO?—are practically unintelligible to civilian employers, says Mike Arsenault, VP of candidate services at Bradley-Morris, a recruitment firm that places military clients. "Have a civilian read your résumé over and change anything they don't understand," he says. Replace military job titles (sergeant, squad leader) with titles that show your actual responsibilities (manager, lead adviser). Explain specific accomplishments. "Don't say, 'I drove a Humvee around a base for three years,' " says Terry Howell, director of strategic alliances for Military.com and the author of The Military Advantage. "Say, 'Kept a large base incident-free for three years.' "
3) Tap into military networks Get your revamped résumé on LinkedIn and other job-hunting sites and add a photo of yourself in a civilian outfit. Military personnel get a free, one-year premium membership to LinkedIn, which allows you to directly email members outside of your personal network and shows your profile at the top of the list of recruiters' searches. You can ask about specific employers via LinkedIn's military network or the military-only social network RallyPoint. VetJobs.com also has an active job board.
4) Use leave time to interview A lot of military people try to save their leave so they can get paid for it after separating. But it's shortsighted to store up an extra few weeks instead of investing in your hunt for a job, says Doug Nordman, author of The Military Guide to Financial Independence and Retirement.
After separating
5) Lose the military look Invest in a new suit and business-casual duds: dress slacks or conservative skirts, button-down shirts with long sleeves, some nice shoes. Grow your hair out just a bit. "You don't want to reinforce the stereotype of military people," says Wolfe.
6) Target your search Look into fields with a history of hiring vets, such as law enforcement and IT. Your security clearance can pave the way for defense industry and federal jobs. Contact search firms, such as Bradley-Morris and Lucas Group, that specialize in placing veterans. The "hiring our heroes" section of the U.S. Chamber of Commerce website also includes job postings.
7) Don't forget unemployment If you don't land a job, you may qualify for unemployment benefits even if you separated voluntarily at the end of your tour. Contact your state's employment office for details.
8) Find a mentor Once you do get a job, you'll want to find a colleague who understands your background. Most vets will be happy to help. "The military is kind of like the biggest fraternity in the world," says Ryan Guina, who writes a military benefits blog, the Military Wallet. If there's no vet in your office, the nonprofit mentoring group American Corporate Partners pairs veterans with mentors who work on staff at one of several big, national firms. You can also post a query on the Veteran Mentor Network on LinkedIn.
Read more of The Veteran's Guide to Financial Success: