6 Simple Ways for Soldiers to Control Their Post-Military Healthcare Costs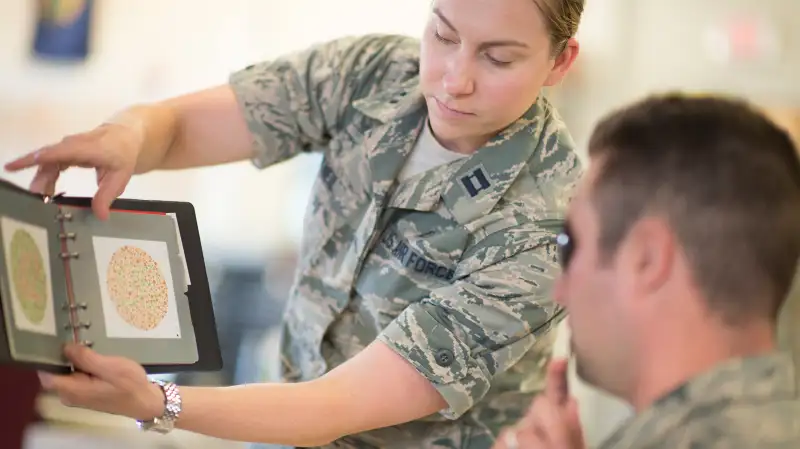 Senior Airman Jonathon Alderman—158th Fighter Wing
As long as you're in uniform, you're eligible for the military's comprehensive, low-cost insurance program, TriCare. (Active-duty personnel generally don't pay TriCare premiums.) Unfortunately, many vets find that coverage hard to match in the civilian world. Even if you nab coverage through an employer, you're likely to see your premiums and deductibles increase substantially. "Many vets are really surprised by the cost of employer insurance," says Norfolk financial planner Rob Aeschbach, who is also a retired Marine.
While you're still in uniform
1) Get your teeth cleaned And your bad knee checked out. And your eyeglasses prescription refreshed. "Your co-pays will almost certainly be higher after you leave the service," says author Doug Nordman, author of The Military Guide to Financial Independence and Retirement.
2) Check on your Veterans Affairs benefits Some vets believe they don't qualify for VA health care services if they haven't been injured in combat. In fact, most vets with two years of service can receive care at any of the 152 VA medical centers and more than 1,000 outpatient clinics nationwide. Eligibility and cost depend on several factors, including your discharge status, service dates and locations, income, whether you have any service-related injuries, and more. You can check your eligibility via the Health Benefits Explorer on va.gov.
3) Decide whether to join the Reserves If you sign up for the Reserves or National Guard, you'll have access to essentially the same TriCare insurance that you had on active duty, though you'll pay a monthly premium (about $50 for an individual and $200 for a family), as well as co-payments for doctor's visits.
Post-military
4) Price insurance options The military offers its own COBRA-like plan called the Continued Health Care Benefit Program, for up to 18 months. But you can probably do better through your state insurance exchange, says J.J. Montanaro, a financial planner with USAA, which specializes in advice for members of the armed services. (Go to healthcare.gov for more information.) Note: If you are leaving the military as a result of downsizing, you're likely eligible to receive your same health care benefits for six months at no additional cost.
5) Get help with claims The Obama administration has been working to speed up the disability claims process, which can take anywhere from months to years, and to clear out an enormous backlog. "The VA has been so far behind in processing claims that some vets just give up," says Jason Hull, a former military officer who is now the chief technical officer of an online financial advice firm in Fort Worth. (The government recently said that the backlog of VA disability claims had fallen to an eight-year low.) Experts say that working with an accredited claims preparer increases the chance of speedy approval from the VA, and in most cases you won't be charged a fee. Visit the National Veterans Foundation website and click on "resources" to find a counselor who can assist you with VA claims.
6) Pay attention to your state of mind The suicide rate for veterans is about double that of nonmilitary folks. If you find that you are struggling, you can get free counseling services through Military OneSource (800-342-9647) or giveanhour.org. You can also find online screening tools for PTSD, various anxiety disorders, and other mental-health issues at afterdeployment.org.
Read more of The Veteran's Guide to Financial Success: