Want to Become a VSCO Girl? It'll Cost You $1,200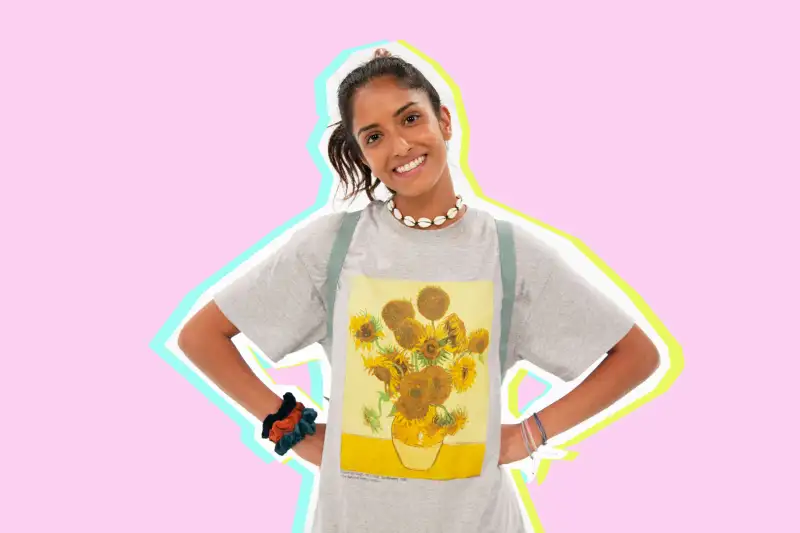 You might have noticed over the summer, that video-sharing app TikTok and the rest of Gen Z internet birthed the VSCO girl.
The what?
Pronounced "visco," the name is derived from a photo-editing and sharing app that's been around for years. It wasn't until this year that the trend itself sprung up as a social-media born subculture, though, complete with its very own internet language: "and I oop" roughly translates to "omg" and "sksksksk" is the VSCO girl's "hahaha."
YouTuber Greer Jones did a video about becoming the ultimate VSCO girl back in January, but Urban Dictionary first defined the VSCO girl we now know on June 14. That's about the time the phenomenon really started taking off: Google searches for the term "VSCO girl" started trending up in June, followed by searches for the hashtag #vscogirl in August.
Just a few short months later, the hashtag has 1.3 million posts on Instagram, hundreds of videos on YouTube, and a huge presence on Twitter, where companies are spotted using it to advertise their products.
Becoming a VSCO girl isn't cheap, though. In order to give off a trademark effortless, easy-going vibe, she has perfected the no makeup makeup and wears clothes that say, "No really, I'm not even trying to be this chill" — and yet there are set-in-stone rules, one of them being that name brands really really matter.
Here's how much it'll run you to earn the title of ultimate VSCO girl.
The necessary attire
What you wear matters, in that it shouldn't look like it matters at all — kind of what you'd end up wearing around the house on a Saturday ...except nicer and more specific.
Brandy Melville Tube Top $16.00
Oversized t-shirt $35.00
Preferably one supporting a good cause or from Urban Outfitters.

Bike shorts $30.00
High-waisted denim shorts $60.00
Rips and fringe are ideal.

Checkered Vans $50.00
Birkenstocks $99.95
Crocs $44.99
Tube socks $8.00
To be worn with your Birkenstocks or crocs.

Subtotal: $343.94
The must-have accessories
Accessories define VSCO girls, and the specifics are crucial. Don't be caught with a knock-off water bottle or backpack, now.
Scrunchies $18.00
A set of 10, because you need AT LEAST that many to cover your wrists.

Puka shell necklace $8.43
Pura Vida handmade friendship bracelets variety pack $45.00
Fjällräven's Kånken backpack $80.00
Hydro Flask water bottle $39.95
Reusable metal straws + cleaning set $4.98
Subtotal: $195.93
The "no makeup" makeup
The key is to put on just enough makeup so you don't look like you just woke up, but not so much that the untrained eye would be able to tell you're wearing any. That means some mascara or a pencil to the brow — and definitely these three VSCO girl staples.
Carmex lip balm $2.79
Mario Badescu facial spray $7.00
Glossier Cloud paint $18.00
Subtotal: $27.79
The toys
Being a VSCO girl is just as much about what to do and what to own as it is about how to look. You should be environmentally friendly (see: reusable straws), creative, colorful, into the retro things in life, exude good vibes, and love a good sleepover. These are the must-have gadgets.
Redbubble stickers $2.47 x 10 = $24.70
You'll need enough to plaster everything else you own in this category.

Bracelet making kit $24.99
Twinkle lights $13.99
Penny board Skate Board $89.00
Apple Watch $199
AirPods $159
Polaroid camera and Film (100 pictures) $69 + $69.98 = $138.98
Or go the disposable camera route: Pay $10 for each 27-shot camera ...and then $15.86 for every time you want to get it developed.
Subtotal: $649.66
Total Cost: $1,217.75
That's higher than the median rent for a family of four in most U.S. states. And guess what? It excludes one giant ticket item: The cost of a Jeep Wrangler, the car of choice for any VSCO girl to-be. To go that extra mile, you'd have to pay roughly $28,295 for a grand total of $29,512.75.
Or just wait it out and cross your fingers and Crocs-less toes that next year's teen trend is nicer to your wallet.
We've included affiliate links into this article. Click here to learn what those are.