VW's New Electric Bus Will Blow Your Mind, But It's Not Particularly Groovy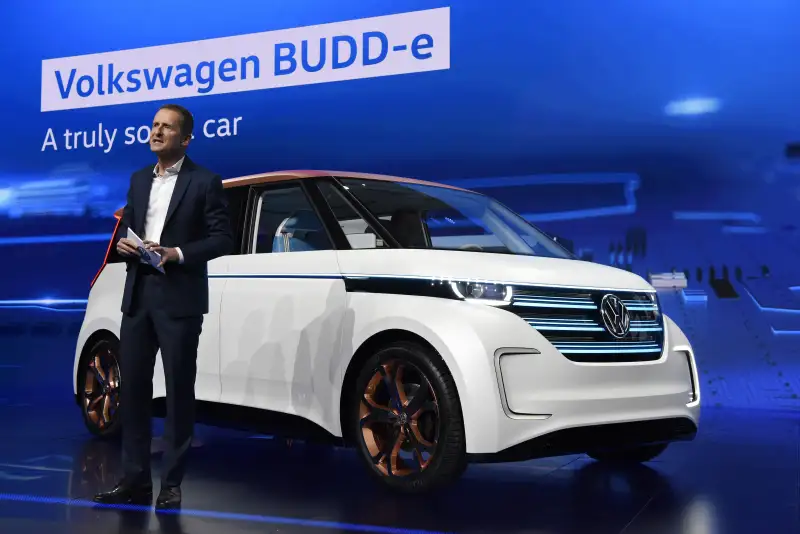 Paul Morris, David—Bloomberg/Getty Images
In 2013, Volkswagen concluded its six-decade production of its iconic line of buses. But the truth is the VW bus died long before that, stripped of its classic shape and relegated to a glorified minivan (the "Eurovan") in 1990, after the classic Type 2 "Microbus" and updated "Vanagon" had been put on the shelf themselves.
On Tuesday afternoon at the CES trade show in Las Vegas, Volkswagen unveiled a new concept vehicle as a potential renaissance for the classic line. The company named it "BUDD-e." The VW bus is of course traditionally a diesel-based vehicle. But Volkswagen chose to leave that tradition behind in favor of electric power, which turned out to be quite a prescient decision since a diesel emissions scandal rocked the company just a few months before the unveiling.
Performance-wise, the new concept van is projected to have an impressive driving range of 373 miles thanks to a large 101 kWh battery. That's roughly four times the range of the latest Nissan Leaf. Volkswagen also claims the concept microbus can hit a top speed of 93 mph, which would blow away the golf cart-like power of many electric cars on the market today. Volkswagen is promising the vehicle with be convenient and practical as well, requiring as little as 15 minutes to recharge it to 80% capacity.
The automaker didn't announce any specific timeline for production of the BUDD-e, but it said that the concept is a good example of what electric car transportation could look like as soon as 2019.
If the vision comes to fruition, it'll represent a huge change from old-school VW buses. The classic VW bus enjoyed status as a groovy '60s icon of counterculture, smoke-filled, painted with flowers, and loaded up with surfboards. Many even had curtains, and some owners considered it a second, or even first home.
The VW Bus remains extremely popular as a icon of alternative lifestyles and badge of hipness. Discontinued for years, the old model still command high prices despite the vintage technology: eBay shows many for sale for $15,000-35,000. Considering that a VW bus sold for around $2,150 back in the '60s, the car will have kept up with inflation if it goes for just $17,000. And odds are it would today, even in a condition commensurate with its customary smoke damage and suite of stains.
It is unlikely, however, that the new "BUDD-e" will resonate with these same crowds, despite the all-caps reference to the chief substance of '60s counterculture, or its hippie-friendly electric motor. The old VW bus was beloved for its simplicity, summed up by the classic hand-rolled windows. The new microbus, by contrast, is loaded up with a battery futuristic gestural controls and smart-tech interfaces. Here's how VW explains the new vehicle's approach to tech, demonstrating how dramatically it's making a break from the past:
Another downside for some buyers is that BUDD-e looks like an overized Honda Fit. The new microbus may indeed be an amazing, game-changing concept. Contrary to some reports, however, it is not particularly groovy.