Donald Trump's Complicated Relationship With Wall Street, in One Photo
Money is not a client of any investment adviser featured on this page. The information provided on this page is for educational purposes only and is not intended as investment advice. Money does not offer advisory services.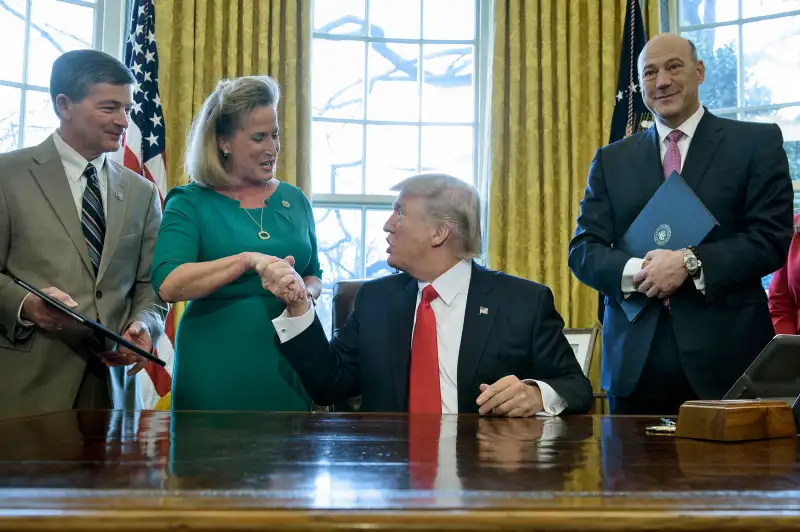 It was the kind of moment most politicians dream about. U.S. Rep. Ann Wagner stood smiling behind the newly elected President as he signed a memorandum she'd pushed to craft, gave her the credit—even handed her the pen.
Wagner, invited by President Trump to explain the accomplishment, gushed: "What we're doing is we are returning to the American people, low- and middle- income investors, and retirees, their control of their own retirement savings. This is about Main Street."
But the story is not so simple. In many ways it highlights the uncomfortable contradictions of the Trump presidency, where populist campaign promises are now competing with big business interests for sway in Washington.
Trump's action last Friday publicly signaled the administration's opposition to something known as the "fiduciary rule," which was devised as a bulwark against financial conflicts of interest. (On Thursday night, the White House reportedly moved to delay the rule, slated to take effect in April, for six months.) Despite Wagner's pro-middle-class argument, the rule was actually designed to help Main Street: The Obama administration said it could save small investors $17 billion a year in unnecessary fees, and it was backed by a broad coalition of consumer groups.
"For retirement savers it's the biggest issue in Washington right now," says Linda Sherry, director of national priorities at Consumer Action. (For more on the rule's contentious history, read Inside Wall Street's Secret War on American Investors.)
Wagner's financial disclosures and past statements, meanwhile, highlight her close ties to the financial services industry, where many firms have staunchly opposed the rule. Her largest single source of donations, brokerage Edward Jones, has repeatedly said its business would suffer if the rule became law. And several consumer groups say Wagner's past arguments opposing the rule closely track with ones made by Edward Jones and others in the industry—in sharp contrast to those made by consumer advocates.
"I got almost sick to my stomach as I saw her smiling away," says Sherry. "It's an industry argument. She got it from industry lobbyists. She didn't get it from any consumer groups, that's for sure."
Wagner declined to comment for this article. However, in a statement provided by her staff, she reiterated her opposition to the fiduciary rule, explaining: "I will continue working toward a permanent, legislative solution in Congress to help preserve investment choice, access, and affordability while ensuring all families are receiving investment advice that is truly in their best interest."
Battle Lines Over Investor Protection
Wagner has been fighting to kill the conflict-of-interest rule since she arrived in Congress in 2013. Indeed, in the biographical section of her official website, the first legislative achievement mentioned is the House passage of the Retail Investor Protection Act—a bill designed to delay the Labor Department's imposition of the rule by deferring to a parallel but long-stalled effort by the Securities and Exchange Commission.
While the fiduciary rule is complex, essentially the aim is to require any financial advisors that help Americans save for retirement to adhere to a so-called fiduciary standard—putting a client's best interests before their own. While studies show most Americans believe financial advisors already do this, in fact, many are held to a less binding standard that allows them to recommend products that pay the highest commissions.
Wagner and others have argued that the fiduciary standard's drawbacks—higher compliance costs and lower profits for brokerages—could reduce the availability of financial advice for middle-income Americans. In part that's because financial advisors who work on commission have historically maintained lower investment minimums than other advisors who are already fiduciaries.
Yet the fiduciary standard is widely supported by consumer groups, including Consumer Action, the AARP, the Consumer Federation of America, and the Consumers Union. Even investor champion Jack Bogle, founder of Vanguard, has been a vocal supporter.
AARP's director of financial security, Cristina Martin Firvida, dismisses the notion that small investors are genuinely worried about losing access to affordable advice. "We've got 38 million members," she says. "I don't hear lots of our members calling and saying they can't get advice."
Follow the Money
Wagner, a Republican who represents an affluent district in the St. Louis suburbs, is a relatively recent arrival in Congress. But her long record in politics is that of a prodigious fund-raiser who has served in a succession of state and national Republican party posts. In 2005 President George W. Bush appointed her ambassador to Luxembourg, a post typically reserved for top rainmakers.
While St. Louis is nearly a thousand miles from Manhattan, it's long been a financial capital of the Midwest. Indeed, Wagner's website touts the area as "one of the largest clusters of brokerage firms and personnel outside of New York," employing more than 80,000 people in finance jobs and a total payroll of nearly $4.6 billion.
During the last election cycle, Wagner raised more than $780,000 from finance, insurance and real estate firms, according to the Center for Responsive Politics. That put her 28th out of 435 House members in donations from that sector—despite ranking no higher than 258th by seniority. In all, giving from financial firms represented roughly 34 cents out of every dollar she raised during the 2016 election cycle, according to the group.
Her largest overall source of contributions—Jones Financial Cos., parent of investment firm Edward Jones, and its employees—gave more than $50,000.
A St. Louis Institution
Founded in 1922, and employing roughly 14,000 financial advisors across the country, Edward Jones is a storied St. Louis firm. But like many other brokerages, its advisors often sell variable annuities and mutual funds with built-in sales commissions.
And so the fiduciary rule—which would make it less attractive for brokers to sell commission-generating investments in an effort to stamp out what many see as conflicts tied to these payoffs—could mean a direct hit to Edward Jones' business.
Indeed, Edward Jones, which is based in Wagner's district, has said repeatedly that its business will be hurt by the new rules. Its quarterly financial disclosures have long warned the rule could "materially" hurt its results, although the company has also consistently declined to put a dollar figure on the impact of the rule to its bottom line. As recently as last August, the firm's managing partner, Jim Weddle, told The Wall Street Journal that the fiduciary rule would negatively affect revenue.
Edward Jones declined to comment for this story, except to say its political action committee contributes to candidates from both parties and its employees are under no obligation make political contributions.
Annual financial disclosures required of Edward Jones as part of a 2004 settlement with regulators shed partial light on the rule's impact. As of 2015—the latest year available—Edward Jones said it received nearly $200 million from mutual fund companies and insurers as part of agreements to promote products to investors.
While permitted under current rules, promotional payments by fund companies to financial advisors could face court challenges under the new federal fiduciary rule, according to Marcia Wagner, a lawyer who advises companies on how to serve as fiduciaries (and no relation to Ann Wagner). "It's exactly what the new rules target," she says.
Parallel Arguments
In arguing against the fiduciary rule, Wagner's rhetoric has hewed closely to that of Edward Jones' own statements. "The impact of the Proposed Rule will fall disproportionally on lower and moderate-income investors who stand likely to lose access to affordable guidance and assistance that is crucial if they are to meet their retirement savings needs," the firm wrote in a July 2015 letter to the Department of Labor opposing the proposed new rule.
In a statement released last Friday, Wagner echoed the firm's focus on accessibility of advice. "Today is a great day for low- and middle-income American families," she said. "I applaud President Trump's executive order to delay the Department of Labor Fiduciary Rule, listening to the concerns of everyday Americans and protecting their ability to access retirement investment advice."
With Trump as president, Wagner has gained a powerful White House ally in her fight. Last Friday, she took a moment to bask in the spotlight. When President Trump tweeted the photo of them together, Wagner retweeted it. It got 19,000 "likes."