How Walmart Is Surviving the War Against Amazon—and Beating Target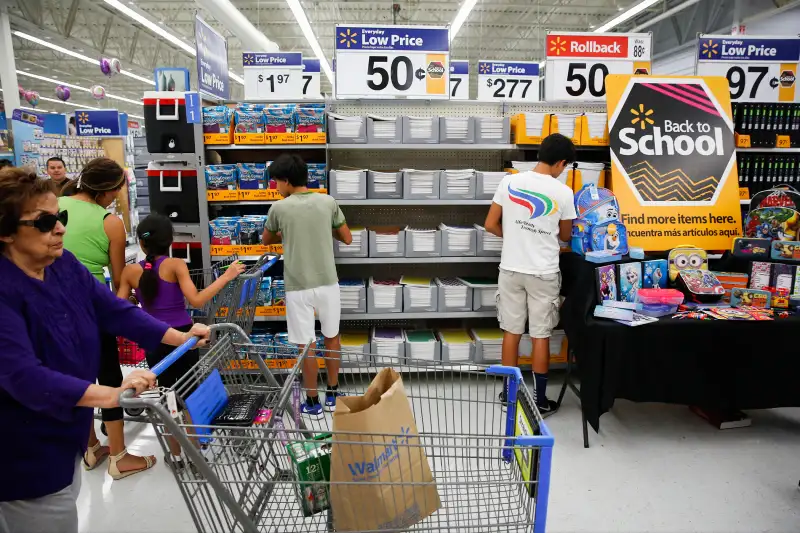 Patrick Fallon—Bloomberg via Getty Images
Both Walmart and Target released quarterly earnings reports this week, and it's quite clear which all-purpose retailer is winning the competition for shoppers lately. (Hint: It's not the one with the red target logo.)
Comparable store sales at Walmart were up 1.6% during the second quarter of 2016, beating the 1% increase predicted by industry insiders. Sales at Walmart's smaller Neighborhood Market locations was up 6.5%, meanwhile, and customer traffic in all stores was up 1.2%. Based on the company's positive results, shares of Walmart stock popped 4% early on Thursday.
It's quite a different story for Walmart competitor Target, which saw its stock price drop roughly 5% on Wednesday, then another 2% early on Thursday, after the company released a dismal earnings report that revealed a decline in shoppers. Looking ahead, Walmart anticipates further sales growth of 1% to 1.5% for the current quarter, which ends in October, while Target expects sales to dip as much as 2% during the months ahead.
Here are some of the reasons Walmart is having success in the ongoing battle against Target, as well as the overarching war all brick-and-mortar-based retailers are waging versus Amazon.
Groceries. Whereas Target has struggled mightily to become a regular go-to destination for grocery shoppers, Walmart is well-established as America's biggest seller of groceries. Part of this may simply be Walmart's ubiquity throughout the country—customer satisfaction with Walmart's grocery section is often low. But Walmart's low prices and convenience drive traffic into stores, which boosts sales across all product categories as shoppers picking up milk and eggs are also prone to buying batteries, underwear, toys, and anything else they need while running errands.
Read Next: 5 Reasons Why Fewer People Are Shopping at Target
Walmart has also been overhauling its grocery section to better compete with low-price competitors like Aldi and Whole Foods 365, as well as higher-priced (and higher-quality) players such as Kroger and traditional Whole Foods. The initiatives include a sharp increase in bakery items prepared on-site, as well as more antibiotic-free meats, which promise better value for shoppers.
Fewer Empty Shelves. For years, Walmart was plagued with the problem of poorly stocked or just plain empty shelves in stores. This is a big problem for a store to have: It's hard to sell stuff when there's nothing for shoppers to grab.
The blame for this situation was largely cast upon Walmart being understaffed, and/or staffed with poorly paid, poorly trained workers. The company essentially admitted it had a huge problem by placing a broad investment in worker wages, and the money seems to be paying off in the form of a better experience for shoppers—including fewer empty shelves in stores.
Read Next: Why Walmart's Small 'Express' Store Format Was Such a Big Failure
The bottom line is that Walmart has been able to boost sales simply by ensuring that the things people want to buy are available and handy in stores. The latest quarterly earnings report is the eighth in a row to boast rising same-store sales.
Online Sales Growth. In May, Walmart president and CEO Doug McMillon noted that in terms of online sales, "Growth here is too slow," Bloomberg reported. E-commerce had just increased 7% for the quarter, and online sales growth had been decreasing over the course of nine consecutive quarters.
The second quarter of 2016 put an end to that trend, however, with an impressive online sales increase of 11.8%. What's more, Walmart's recent acquisition of Jet.com, the low-price online upstart that's been undercutting Amazon (and Walmart) on prices, should give the world's largest retailer a leg up in the competition for shopper dollars—online and in-store alike.
Read Next: Walmart and 4 Other Rare Retailers That Aren't Floundering Right Now