Walmart Employees Will Now Deliver Packages to Your Home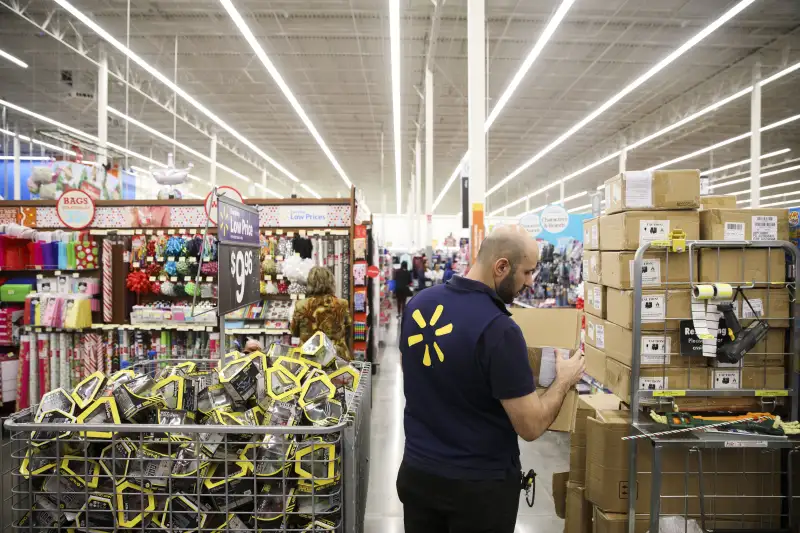 Bloomberg—Bloomberg via Getty Images
Walmart will now enlist its store employees to deliver packages to customers' homes using their own cars in an effort to make its delivery system more competitive.
In its most recent move against e-commerce challenger Amazon, the discount retailer announced Thursday that it will allow store employees to opt into a delivery service program that will have them drop off packages at customers' homes on their drive home from work.
Earning extra cash, employees that are part of the program will be able to choose the number of the packages and how much they weigh. Employees can opt in or out of the program — or change their preferences within it — at any time.
"Not only can this cut shipping costs and get packages to their final destinations faster and more efficiently, it creates a special win-win-win for customers, associates and the business," Marc Lore, president and CEO of Walmart's U.S. e-commerce program, said in a blog post.
Many of the packages included in the program will be delivered the day after the order is placed, Lore said.
The retail giant is currently testing the program at two stores in New Jersey and one in northwest Arkansas. Though it is unclear if or when the program will expand, Lore noted that Walmart's stores across the U.S. are within 10 miles of 90% of the U.S. population.
"Now imagine all the routes our associates drive to and from work and the houses they pass along the way," he said. "It's easy to see why this test could be a game-changer."
This is just the most recent move Walmart has made in its e-commerce efforts, which had a growth in sales of 63% in its most recent quarter, the company announced last month.
In January, the company started offering a free two-day delivery service for orders $35 and over — a direct shot at Amazon Prime's free two-day shipping program offered through a $99-per-year membership free. (Amazon responded by lowering its free shipping for non-Prime members to a $25 minimum.)
And in April, Walmart also started offering web discounts for as much as $50 for pricey items for customers who could pick up their orders in the store rather than have it delivered to their homes.