5 Ways That Amazon Is Still Far Superior to New Upstart Jet.com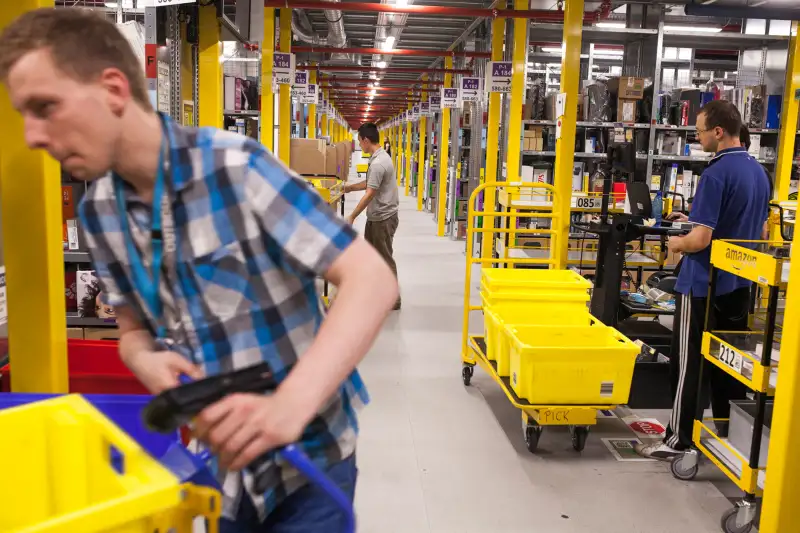 Bartek Sadowski—Bloomberg via Getty Images
On Tuesday, the groundbreaking shopping site Jet.com launched nationwide, and one thing is immediately, abundantly clear: Jet's prices are indeed as phenomenally cheap as promised.
Jet.com CEO Marc Lore says that the site, which gives members access to cheap goods based on a complicated dynamic pricing system, is not trying to compete against Amazon. Yet the site maintains that its prices are 10% to 15% cheaper than anywhere else on the web, Amazon included, and the prices of products on Jet are listed side by side with prices for the same items on Amazon. Jet's claims on cheaper prices are more or less verified by a Wells Fargo analysis showing the site's prices are 9% lower on average than Amazon's, according to InternetRetailer.com,
What's equally apparent as of Tuesday's launch is that the overall customer experience at Jet is hardly the equal of the world's largest e-retailer. Here are five categories where Amazon still has the edge over the new kid on the block:
Convenience. Jet members, who pay $50 annually after a free 90-day trial period, get free two-day shipping on most common household items, as long as the total purchase is at least $35. But because the company focuses relentlessly on keeping prices down, it promises slightly slower delivery (two to five days) on other products in order to control shipping costs.
Amazon Prime subscribers, by comparison, get two-day shipping on almost all purchases fulfilled directly by Amazon, and orders of $35+ are eligible for free same-day delivery in some parts of the country. Amazon customers who don't subscribe to the $99-per-year Prime service can get free standard (slow) shipping on purchases of $35 or more. Amazon also gives all manner of shoppers a variety of shipping options—one-day, Saturday delivery, no-rush shipping in exchange for credits that equate to discounts—that should meet the needs of nearly every buyer.
Selection. Jet has an impressive 10 million or so products for sale. But Amazon's selection blows Jet's away by a factor of at least 10, and perhaps as much as 20 or 30. (Amazon doesn't reveal the exact number of items it lists for sale, but estimates range from 100 million to upwards of 300 million.)
Early testers of Jet's pilot program have noted that the selection is solid in terms of standard household items such as cleaning supplies and toiletries, but weak in categories like sporting goods, apparel, and (understandably) fresh and frozen foods. As of Tuesday, searches for things like "socks" and brands like "Hanes" and "Nike" yielded no results at all at Jet.com. (You can, however, purchase such items through Jet partners like Macy's, J. Crew, Apple, and Crate & Barrel and get 5% to 15% back in the form of Jet.com credits.)
Browsing. Jet is terrific for shoppers who know exactly what they want to buy but simply want the cheapest price, assuming the site actually stocks the item in question. The browsing experience at Jet, on the other hand, leaves much to be desired compared to Amazon.
Amazon has countless pages, lists, filters, subcategories, and recommendations to help shoppers find the most suitable item in the situation when the customer is unsure what to buy. For instance, say you need to buy a birthday present for a party your child is attending. If you typed in "boys gift age 10" at Amazon, you'd see more than 25,000 results that seem age-appropriate based on a quick scan. You could narrow the search in seconds by clicking on category filters like "Toys & Games" and choose among 20 more subcategories such as "Electronics for Kids," "Puzzles," and "Building Toys." Enter the same search at Jet, and the site returns exactly one item—a set of FDNY figures that's not necessarily appropriate for 10-year-olds but turned up, presumably, because the product contains 10 pieces.
User Reviews. Studies show that more than 60% of online shoppers consult user reviews before making a purchase decision. But for the time being at least, Jet has no user reviews whatsoever. This isn't surprising considering the service is so new—it hasn't had that many users yet. If and when Jet does give the option for members to add product reviews, it'll likely take a long time until there are enough for shoppers to feel like they're getting a true picture rather than the snap judgments of a few individuals.
Amazon has been compiling reviews for years, after all, so it's got quite a head start. The absence of user reviews at Jet probably doesn't matter much for household goods—diapers, paper towels, and such. Consumers tend to know the brands they like in these departments. As for other times when shoppers would feel more comfortable seeing reviews before picking an item to buy, there's nothing to stop consumers from using Amazon like a showroom, in the same way that Amazon customers have used Target, Best Buy, and other physical stores as showrooms. The term "showrooming" means to scope out an item in one location before ultimately buying it from another, cheaper retailer. Now that Jet's in the picture, the tables can be turned on Amazon, with showroomers browsing products and reviews on Amazon before purchasing them from Jet.
Other Membership Perks. In addition to shipping benefits on purchases, Prime subscribers have access to unlimited streaming of thousands of movies and TV shows, unlimited ad-free music streaming, unlimited photo storage, and free access to countless e-books via the Kindle Lending Library, among other perks. The value of these services depends entirely on how much (or how little) the subscriber actually uses them.
By contrast, right now the only benefit of a Jet membership is cheap prices. That may be the best benefit possible for shoppers, of course, but many Prime subscribers have gotten used to enjoying the extras that come along with membership. They'll find the prospect of swapping Prime for Jet particularly difficult, and arguably not worth the tradeoff.
Read next: Everything You Need To Know About Amazon's New Rival Jet.com