Walmart vs. Amazon Prime: Breaking Down the Best Free Shipping Deals Now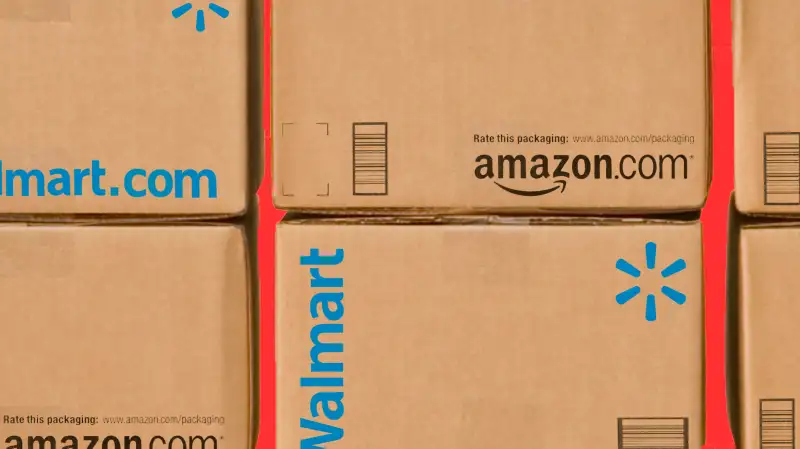 Photo Illustration by Tiffany Herring for Money, Getty Images, Wikimedia Commons (3)
On Tuesday, Walmart launched a major change to its shipping policies for online purchases, in a big move aimed at undercutting Amazon's incredibly powerful Prime service.
Walmart is scrapping ShippingPass, a $50-per-year membership service that provided fast free shipping on all walmart.com purchases. Now, nearly all orders are eligible for free two-day shipping, with no membership required. But there is one catch: Your order must come to a pre-tax total of at least $35. Previously, Walmart's minimum-purchase threshold for free shipping (without ShippingPass) was $50—and those orders came with standard delivery (more like five business days), not the speedy two-day service that's now offered.
Does this mean that Walmart now has the best fast free shipping deal out there? Not exactly. Here's a look at some of the major options—which extend far beyond Walmart and Amazon.
Best for Fast Free Shipping
If you regularly use and enjoy the non-shipping benefits of Amazon Prime, it's pretty easy to justify paying $99 annually for the service. All of the content on Amazon Prime Video may allow you to skip a subscription to another, similarly priced streaming service like Netflix or Hulu. In other words, subscribers aren't paying $99 strictly for two-day shipping; instead, speedy delivery is but one of several components of a service that feels like a better value as you take advantage of more of the perks.
Clearly, consumers have increasingly viewed Prime as worth the money. The ranks of Prime subscribers in the U.S. reportedly rose to over 60 million in 2016, up from 10 million in 2013. And an astounding 70% of upper-income American households (those earning $112,000 or more) are now Prime members.
Outside of Amazon and Walmart, going directly to more specialized retailers can pay off. Apple and Zappos (which is owned by Amazon) offer free two-day shipping on most orders. The latter asks that you join a free loyalty program to be eligible for free speedy delivery.
More interesting is an ongoing promotion from ShopRunner, a membership service that provides two-day delivery for orders from dozens of retailers, like Ralph Lauren, Staples, Under Armour, Eddie Bauer, Reebok, and more. Normally, ShopRunner costs $79 a year, but if you register with an American Express card, the annual fee is waived and you get unlimited two-day shipping totally for free.
Best for No-Minimum-Purchase Free Shipping - But Not Fast
L.L. Bean, Nordstrom, and Kate Spade are among the retailers that offer free shipping on all purchases, with no minimum purchase required. One caveat here is that these services usually cover standard (not expedited) delivery. Consumers should also note that the vast majority of e-retailers provide free shipping when you surpass a minimum-purchase requirement of $50 or $75, and that, in all likelihood your orders at the sites mentioned above will exceed such amounts.
The point is: Shoppers truly only benefit from free no-minimum-required shipping when their orders are small. That's why Target's REDCard offers arguably the best value in this category. When you place an order with your Target debit or credit card, you automatically get an extra 5% discount, as well as free standard (not expedited) shipping on most orders, with no minimum purchase required. Unlike L.L. Bean or Nordstrom, Target sells an enormous variety of low-price items, so it's very feasible you'd be getting free shipping even if your order total comes to a measly $10 or $20.
Best for Low-Minimum-Purchase Free Shipping
Amazon offers free shipping to non-Prime members, but last year it increased the minimum-purchase threshold for free delivery from $35 to $49 for most orders. While this option allows customers to skip the usual $99 Prime fee, it is most certainly not fast, with orders generally delivered in five to eight business days.
Some of Amazon's competitors do much better. Best Buy promises free two-day delivery on thousands of items, with a minimum purchase of $35. At Toys R Us, orders of $19 or more come with free four- to six-day delivery. And today's change at Walmart—free two-day shipping on nearly all orders, provided you're spending at least $35—means it's right up there with the best of the bunch, especially considering that the store is known for its huge selection and low prices.
We've included affiliate links into this article. Click here to learn what those are.