Warren Buffett Has Dropped an Unusual Amount of Cash Into Stocks Since Trump's Election
Money is not a client of any investment adviser featured on this page. The information provided on this page is for educational purposes only and is not intended as investment advice. Money does not offer advisory services.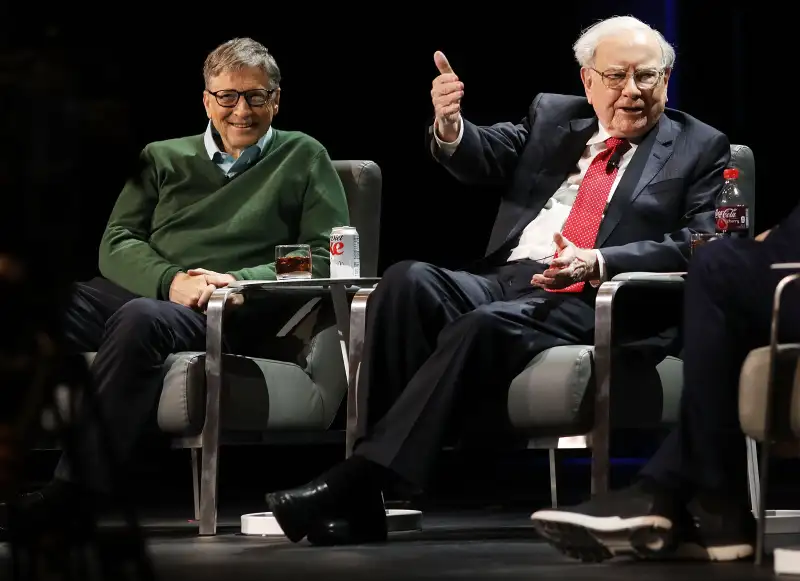 Spencer Platt—Getty Images
Warren Buffett, the billionaire CEO of Berkshire Hathaway and all-around investing genius, was a big supporter of Hillary Clinton in the 2016 presidential election. Buffett has backed many Democratic candidates over the years, and was highly critical of Donald Trump's refusal to release his tax returns.
Buffett also said during the campaign that no matter whether Clinton or Trump was elected, he and his company would do just fine, and that the American economy would likely flourish regardless of who was president.
And, based on Buffett's recent revelation about the astounding amount of cash he's dropped into the stock market since the election, we know the extent to which he truly believes in that sentiment. While appearing on the Charlie Rose show on Friday alongside fellow billionaire philanthropist Bill Gates, Buffett casually mentioned how much he and his company have invested in recent months.
"We've, net, bought $12 billion of common stocks since the election," Buffett said.
If that sounds like a lot, it is—even for Buffett and Berkshire Hathaway. According to Bloomberg, Buffett's company had purchased "only" $5.2 billion worth of stocks through the first nine months of 2016. So the flurry of stock purchasing since Donald Trump was elected president truly represents a huge shift.
What's also unusual is that Buffett is known for being a contrarian investor who goes against the tide—rather than riding market momentum.
Buffett declined to say what kinds of stocks he's been buying, nor exactly why the company went into a rapid buy mode around the elections. But in the short term at least, it seems like the moves could hardly have been timed better.
The Dow Jones industrial average surged after Trump was elected, in what's widely regarded as a "Trump Bump." While the advance in both the broad market and bank stocks have slowed somewhat since mid December, the Dow hit an all-time high just last week.
The Dow flirted with the 20,000 mark for a couple of weeks early in 2017, and ultimately reached the milestone last Wednesday, representing a 9% increase just since Trump's electoral victory on Nov. 8. We're back below the 20,000 mark this week, but something tells us Buffett isn't panicking.