How to Watch the 2018 Men's Wimbledon Final Online for Free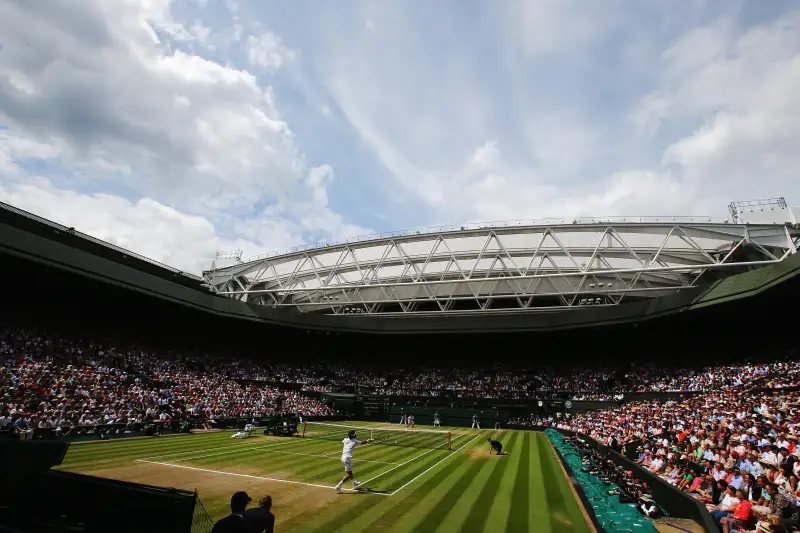 The 2018 Wimbledon Finals are finally here, and with a surprising line-up.
This year, the Gentlemen's Singles had a startling upset when eight-time champion and favorite for this year, Roger Federer, was eliminated in the quarter finals, losing to Kevin Anderson of South Africa. After Novak Djokovic beat Rafael Nadal in the semi finals Saturday, Djokovic and Anderson will be competing to win the 2018 Wimbledon title, which will be held on Sunday, July 15.
Wimbledon, the third of four Grand Slam tournaments, is held every July. In total, Wimbledon spans two weeks — the initial 168 players slowly dwindle down to just two players who face off in the championship game.
With Federer off the court, his long time competitor Nadal looked likely to take home the title. But in a ferocious, five-hour bout Nadal was beaten by Djokovic at the competitive All England Club in London -- the same venue that has hosted the Wimbledon since 1877. Here's what you need to know to watch the 2018 Wimbledon Men's Finals:
What time is the 2018 Wimbledon men's final?
The women's finals are set to take place on Saturday, pitting former champion Serena Williams of the U.S. against Angelique Kerber of Germany. The 2018 Wimbledon men's finals start at 9 a.m. E.T. on Sunday, July 15. There is no set time for the match to end, and they can often go on for more than two hours. According to the BBC, the longest Wimbledon men's singles final was in 2008 between Nadal and Federer, which lasted four hours and 48 minutes.
Unfortunately for sports fans, the 2018 World Cup championship game between France and Croatia coincides with the Wimbledon finals on Sunday. But, the two games will be airing on different TV stations so it is possible to switch between them to keep up with all the action.
Where channel is the 2018 Wimbledon men's final on?
The 2018 Wimbledon men's final will be broadcasted in the U.S. exclusively on ESPN. There will also be tournament highlights being played on ESPN and ESPN 2. If you have access to BBC, the match will also be broadcast on BBC1 starting at 9 a.m. E.T., and then switching to BBC2 at 10:55 a.m. E.T. due to the World Cup game.
How to stream the 2018 Wimbledon men's final online for free
ESPN is also streaming the finals on their online platform, WatchESPN. If you don't have cable, there's also the option to stream the 2018 Wimbledon men's final match on Hulu Live, SlingTV and DirecTV Now. Each of these sites have a free trial period of approximately one week, which will allow you to watch the match with no charge. Just remember to cancel the service after the match so you don't wrack up a monthly service fee that could be up to $20.
The BBC is also offering online streaming with BBC TV, BBC iPlayer and BBC Red Button. And if you have access to a radio, you can also listen to match coverage live on BBC Radio 5 Live.