How to Watch the 2018 Macy's Thanksgiving Day Parade Online For Free Today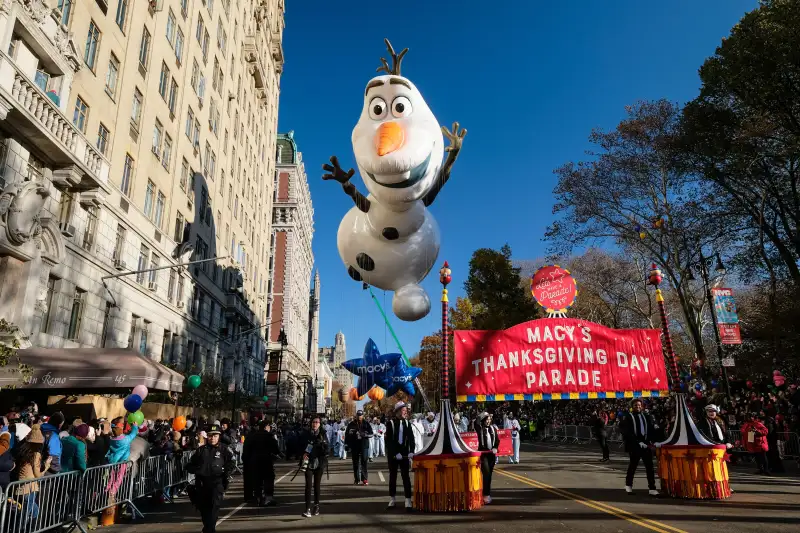 Dia Dipasupil—Getty Images
Don't just spend the morning of Thanksgiving fussing over your turkey or mentally preparing to see your extended family — instead, why not hang out with Charlie Brown, Pikachu, and Olaf at the 2018 Macy's Thanksgiving Day Parade?
Those characters and others will appear at the annual Macy's Thanksgiving parade on Thursday in New York City. They'll be joined by 12 marching bands, 26 floats, and musicians like John Legend, Rita Ora, and Diana Ross. Oh, and Santa Claus, of course.
More than 3.5 million people are expected to line the streets of Manhattan to watch the 92nd edition of the Macy's Thanksgiving Day Parade, but you don't need to travel to the Big Apple or brave the cold in order to follow along. You can join some 50 million viewers in watching the event on TV and online from wherever you are.
Here's what you need to know to watch the 2018 Macy's Thanksgiving Day Parade.
What Channel Is the Macy's Thanksgiving Day Parade On?
Savannah Guthrie, Hoda Kotb and Al Roker (on a motorcycle) will host the TV broadcast of the Macy's parade on NBC. Find your local NBC channel here or input your cable information on nbc.com/live to see the show.
If you don't have cable, you can use a digital antenna to watch the Macy's Parade live for free on TV. A basic digital antenna costs about $25, and in most of the country provides unlimited free access to over-the-air broadcast networks like NBC, CBS, Fox, and ABC.
What Time Does the Macy's Thanksgiving Day Parade 2018 Start?
The Macy's Thanksgiving Day Parade starts at 9 a.m. ET and the broadcast ends at noon. NBC will rebroadcast an "encore presentation" from 2 p.m. to 5 p.m. ET.
Where Does the Macy's Thanksgiving Day Parade Route Go?
The festivities kick off at 77th Street and Central Park West before proceeding down two 59th Street, hanging a left at Columbus Circle and then continuing down 6th Avenue. The parade ends at 34th Street and 7th Avenue. (Here's a detailed Macy's parade route map, plus information about street closures and the best in-person viewing spots.)
How to Live Stream the Macy's Thanksgiving Parade for Free
Verizon will broadcast the parade for the third consecutive year in a live stream hosted by Keith Habersberger and Zuri Hall. Come prepared to learn fun facts about the balloons and marvel at views from 360-degree cameras.
You can watch the Verizon live stream of the 2018 Macy's Thanksgiving Day Parade on YouTube or see it below.