Bottled Water Is About to Become More Popular Than Soda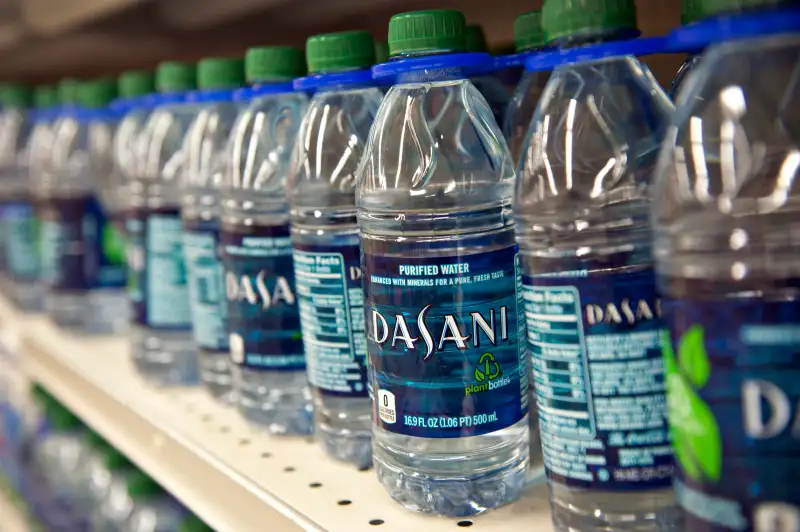 Bloomberg—Bloomberg via Getty Images
It's back to basics in the beverage world, as more people's drink of choice is now just plain old water.
Bottled water will become more popular than soda for the first time in the U.S. this year, Bloomberg reported. Soda sales have been in a decades-long decline, while interest in water has increased due to its convenience and fears over potentially contaminated tap water.
The largest U.S. bottled water companies -- Nestle Waters, Coca-Cola, PepsiCo and Dr. Pepper Snapple Group -- say that notable cases of lead contamination in Flint, Michigan and Washington, D.C. have worried people about the quality of tap water.
Indeed, many people -- even those living outside the affected areas -- are drifting toward bottled water because they feel they don't have another option. "People feeling unsafe about their drinking water clearly leads them to drink it out of a bottle," Ali Dibadj, a consumer analyst at Sanford C. Bernstein & Co., told Bloomberg.
Read More: San Francisco Could Be the Next Big City to Pass a Soda Tax
Bottled water's popularity also reflects a growing focus on health and an interest in soda alternatives like iced tea and flavored seltzers. Per capita consumption of carbonated drinks reached a 30-year low last year, according to Beverage Digest.
Bottled water, however, is about 2,000 times more expensive than tap. It also has a harsher impact on the environment. It takes three times as much water than that contained in a bottle of water in order to manufacture it, and just 30% of plastic bottles are recycled.
The good news for soda manufacturers is that the trend toward water likely won't hurt their bottom line -- since so many also produce water. PepsiCo and Dr. Pepper's water business increased by double digits in the first quarter of 2016, while PepsiCo's carbonated soft-drink production dipped by just 2%.