West Virginia Is Recruiting Remote Workers With $12,000 Cash Relocation Bonuses and More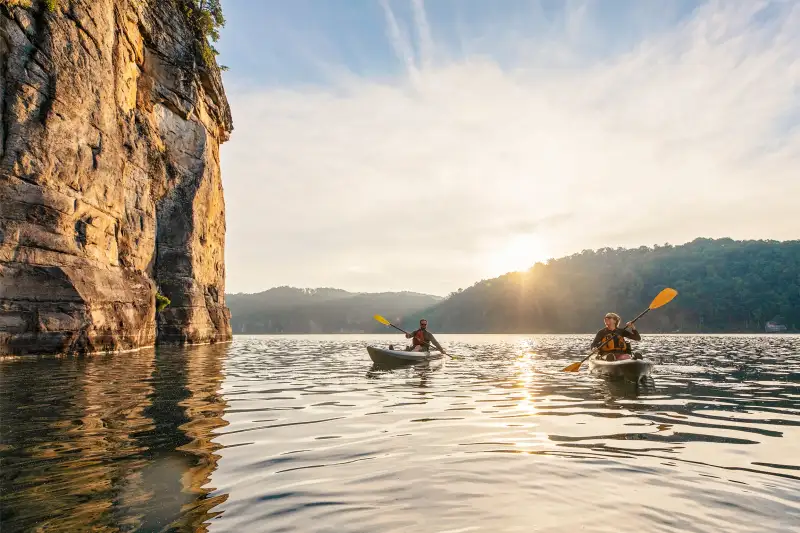 Courtesy of West Virginia Tourism Office
West Virginia really wants you to move there. So much so that on Monday, Governor Jim Justice announced the launch of the Ascend WV program, designed to lure remote workers to relocate to the Mountain State. As part of the program, approved applicants who move to West Virginia will receive $12,000, as well as more $1,200 in free outdoor gear rentals for a year.
Thanks to the ongoing COVID-19 pandemic, Americans have gotten used to working from home, and they want to keep doing it. According to a recent survey from FlexJobs, 65% of respondents reported wanting to continue to work remotely once life goes back to normal post-pandemic, and a Gartner survey found that 47% of companies will allow employees to work from home full-time. The freedom to work from home has convinced many people that since they don't necessarily need to live in the same city as their employer they have some freedom to relocate; a survey from Upwork found that 14 to 23 million Americans are planning to move.
Since the average work from home salary exceeds $90,000, several cities and states (including Alaska and Tulsa, Oklahoma) have been willing to pay workers to consider relocating, in order to reap the benefits of a high-income population base. Gov. Justice is hoping to lure outdoor enthusiasts who might also appreciate the area's low cost of living (according to Zillow, the average price of a house in West Virginia is $113,578, which is quite a bit cheaper than the national average of $272,446.), while offering a greater benefits package than anywhere else so far.
The Ascend WV was introduced by Gov. Justice, alongside Intuit Chairman Brad D. Smith and his wife, Alys, and West Virginia University President E. Gordon Gee, and will be available in three cities at first: Morgantown, Shepherdstown, and Lewisburg, though the hope is to eventually expand it to all 55 counties. The relocation package, which has been valued at more than $20,000, will also include free coworking space, guided outdoor trips, networking events with local business leaders and the chance to earn remote work certifications at West Virginia University.
Applications for the Ascend WV program are now available for the first 50 spots in the host city of Morgantown, and applications for Shepherdstown and Lewisburg will be announced soon.
More from MONEY:
'I Can Do This Myself.' A New Generation Is Ditching Convention and Changing How America Buys Homes
Looking to hire? Read the Best Job Posting Sites for Employers