Non-Fungible Frenzy: Why NFTs Are Suddenly Everywhere
Money is not a client of any investment adviser featured on this page. The information provided on this page is for educational purposes only and is not intended as investment advice. Money does not offer advisory services.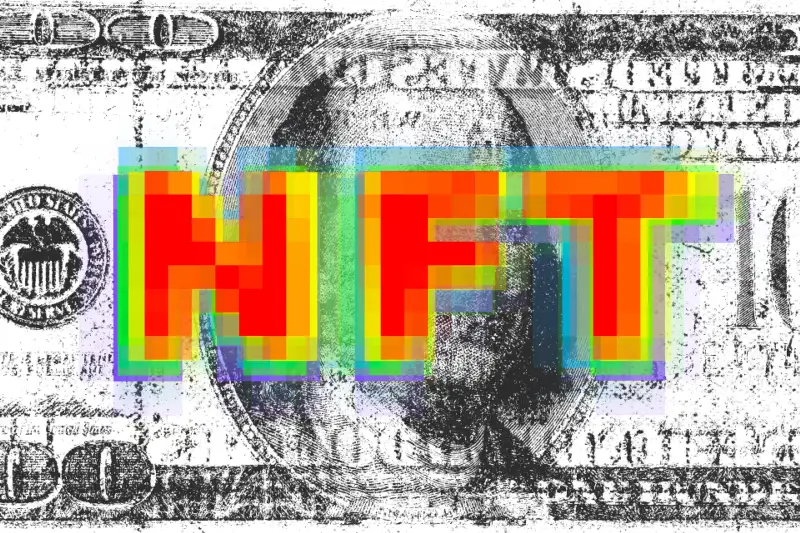 Dan Kelly loves to collect. His physical treasures live on a shelf in his Nova Scotia home: old records, vintage video games, an issue of WIRED from the '90s. Whenever a new package arrives, his wife jokes about the assortment he's amassing — another shipment?
But Kelly's collection expands way beyond that shelf. He's buying non-fungible tokens, and not just so his wife doesn't have to see them. Non-fungible tokens are a way for people to buy, sell and trade digital assets they're passionate about. Abbreviated NFTs, they've gone mainstream in recent weeks, getting headlines in The New York Times, a $69 million art auction at Christie's and even attention from musician Louis Tomlinson.
It seems like NFTs are suddenly everywhere. According to Kelly, co-founder and CEO at NonFungible.com, their popularity makes complete sense.
"Consumers have wanted a way to provably own pieces of digital artwork. With the advent of NFTs, they can," he says. "It's never been possible before."
NFTs enable people to broaden their collections into the digital realm. They can be almost anything — Kelly, for example, owns several parcels of land in a virtual world called Decentraland — and come from almost anyone. But because everything happens over the internet, the concept can be hard to grasp.
Here's what you need to know about NFTs and why they're blowing up.
What are NFTs?
As we just learned, NFT stands for non-fungible token. Richard Smith, an expert in markets and financial cycles, says the word "fungible" refers to a good that can be mutually exchanged — if you have a $1 bill and he has a $1 bill and you swap them, nobody is the richer.
Non-fungible is the opposite of that; the token is attached to a super special item.
"We can't just trade one for another and not lose any value," Smith says. "It's a collectible, and you'll be able to uniquely identify and authenticate yourself as the owner of that collectible."
NFTs are tied to blockchain, which is essentially a big encrypted ledger. Transactions often use Ethereum, a kind of cryptocurrency like Bitcoin. When people buy NFTs, they're purchasing the "keys" to them — "you own it, and you can exchange it with somebody, or sell it, or do whatever you want, and we can verify that," Smith says.
NFTs aren't new. CryptoPunks, which are little pixelated avatars generated by an algorithm, debuted in 2017. There are only 10,000 CryptoPunk NFTs in existence, so each one is a collectible. The scarcity makes them expensive. In January, CryptoPunk 2890 (a blue guy with a purple hat) sold for 605 ETH. At the time, that was equal to more than $760,000.
Kelly says the current NFT explosion comes after several years of work and development. Right now, the biggest mainstream NFTs are in the art and sports spaces.
NFT examples and ownership
Why would you spend so much money on something you can't even hold? Mason Nystrom, a research analyst at the crypto database Messari, says people's motivations for buying NFTs vary. You might want one because it's a collectible or because you think it'll increase in value later on. You might want one to support the artist. Or you might simply think it's cool.
"If someone thinks an NFT has value because it's a clip of LeBron James doing a dunk or piece of artwork or a game asset they want to use, it's a different way to display value," Nystrom adds.
One unique aspect of NFT art is that due to the way sales happen, creators can make money off of secondary sales. By purchasing an up-and-coming artist's NFT, you're not only supporting them and getting in on the ground floor in case they blow up later but also making it so, "as they're developing their brand, [they] don't have to sacrifice the future value of their work," Nystrom says.
That's partially why NFTs are so hot right now. There's a ton of inventory. It's not difficult for artists to mint, or make, NFTs of their art — and there's a chance they can earn royalties in perpetuity. It's a no-brainer. (Except for the environmental concerns.)
This is leveling the playing field for artists. Traditionally, they'd have to physically produce a piece of artwork, then get it accepted by a gallery, then promote the exhibition and such in order to sell it. NFTs don't require any of that.
"It's a huge opportunity for them," Kelly says. "This medium hasn't existed before, so there are a lot of people who are like, 'Oh, my gosh, I can finally participate.'"
From the consumer's point of view, NFTs are trendy because they're fun. There are a ton of weird NFTs depending on what you're into. There are NFTs for playing beer pong against Post Malone, for famous Shawn Mendes outfits, and for a video of a Russian man eating an actual bat outside of a government building. For sports fans, there's NBA Top Shots, which allows people to own moments like the aforementioned LeBron James dunk that recently sold for $208,000.
And, yes, if you're thinking to yourself "Couldn't I just... watch that dunk on YouTube? Couldn't I simply download the Beeple collage Christie's auctioned off for $69 million to my desktop for free?" you're absolutely right. You could. But that's missing the point.
"Whether they can copy and paste it is irrelevant. You can copy and paste a picture of the "Mona Lisa" and hang it on your wall," Kelly says. "It really comes down to ownership [of the original]."
Why are NFTs so popular right now?
They're accessible. When you think about the stock market, you may envision old, rich men in expensive suits throwing cash at esoteric things you don't understand. But you can probably appreciate, say, an NFT that will let you sit front-row at IRL Kings of Leon concerts. In that sense, it is similar to the Robinhood/GameStop phenomenon — it's easy for regular people to get involved.
It's taking crypto out of just-for-nerds territory and making it hip.
"The early adopters of Bitcoin were cryptographers, people who were deep into technology, Libertarians — which are niche groups," Nystrom says. "But, OK, who likes music? Who likes art? There's these much broader categories where more a lot of people can get excited about it."
There are risks to this, of course, because NFTs are heavily speculative. The hype is real right now, and you should exercise caution.
If you're curious about how to buy an NFT, Kelly says research is the first step. Don't jump blindly into the market because you're seeing prices go up; do your homework. Look to see what sorts of NFTs are available in your particular area of interest. Find cool projects and get involved by joining their chatrooms, checking Discord servers and otherwise connecting with the community. Understand what you're buying into.
As long as you're careful, it may be a fun thing to try. A bubble or plateau may be on the horizon, but long-term Nystrom predicts NFTs are here to stay.
"Any type of asset where an NFT makes sense, I think, will eventually be tokenized as such," he adds.
More from Money:
How to Invest in Bitcoin Alongside Stocks and Bonds
Investors Are Betting Their Retirements on Bitcoin. And, Yes, That Is Very Risky