What Does a Real Estate Attorney Do?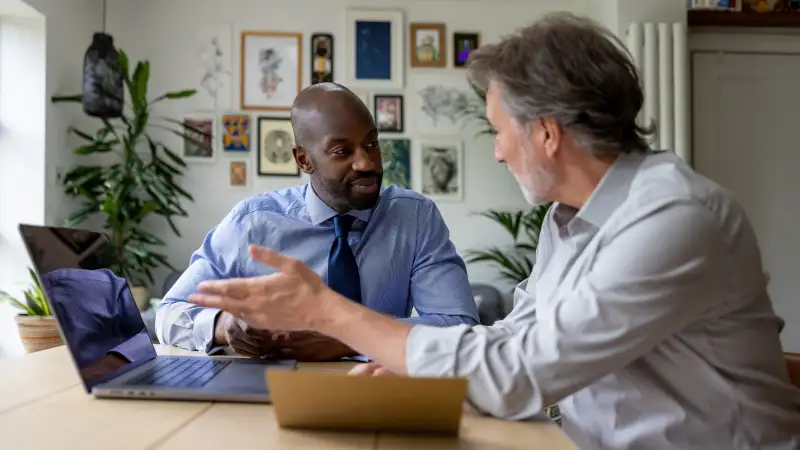 You probably worked with a real estate agent if you went through the homebuying process during the recent real estate boom. However, it's less likely that you had to interact with a real estate lawyer. While some states require that a real estate attorney handle certain aspects of real estate sales, most do not. That doesn't mean you won't benefit from one.
Real estate lawyers bring a specialized skill set to the table. Despite the high costs of hiring one, many homebuyers make back the money they spend on attorney fees through the negotiation leverage that having a lawyer provides. Homebuyers need real estate attorneys to navigate short sales, complicated deals and — depending on the state — some tasks that can only be legally performed by a licensed attorney.
In this article, we'll explore the nitty-gritty details that make up the responsibilities of a real estate attorney. We'll also go over common questions like when to hire a real estate attorney and how much does a real estate attorney cost.
What exactly does a real estate attorney do?
Real estate attorneys assist homeowners with specific aspects of the homebuying process. They also help resolve land disputes and, in some cases, pursue litigation. For example, if you have a property line dispute with your neighbor and you've exhausted all other options, you may hire a lawyer to sue them.
However, most real estate lawyers rarely step inside a courtroom. Instead, much of their time is spent drawing up and amending contracts, assisting with negotiations, ensuring compliance with zoning laws and dealing with land title issues.
Draft, review and prepare legal documents
Real estate attorneys spend much of their time examining, amending and drafting contracts. Although you might think of them as being mainly involved with home sales and purchases, their scope also extends to other areas involving real estate, such as leasing and subleasing contracts.
Real estate attorneys may be brought in at the beginning of the homebuying process to draft a completely new contract. They may also be hired toward the middle or end of the process to ensure the contract accurately reflects their client's interests.
Both sellers and buyers can hire a real estate attorney to assist with the transaction. However, ethical concerns prevent the same attorney from assisting both parties.
Contracts
You'll have to wade through a mountain of paperwork when you buy a house. Real estate attorneys can help you draft new real estate contracts or review and amend contracts supplied by the other party. Contracts stipulate important details like the price you'll pay for the home and the condition in which you'll accept it. If you hire an attorney, they will help make sure your interests are represented.
Leases and subleases
You can hire a commercial real estate attorney to assist with drafting and reviewing leases and subleases. They may also ensure compliance with various rules and regulations. For example, your real estate attorney may advise you to purchase the best renters insurance you can afford. While it's not a legal requirement in any state, renters insurance is a relatively inexpensive way to shield yourself from liability for accidents that take place on the property you're renting.
Closing documents
Buyers and sellers often bring in real estate attorneys to review the closing documents. The closing documents verify that a sale took place, the home price and other essential details. Important papers included in the closing documents are:
Mortgage loan payoff agreement
Proof of homeowner's insurance
Escrow account statements
This list is not exhaustive. It's a daunting task to verify that all of these documents are free from errors. Many homebuyers and sellers lack the expertise to conduct a thorough review, so they instead choose to hire a real estate attorney to take care of the review process for them.
Handle land disputes and litigation
Real estate attorneys do more than assist with real estate transactions. They also help property owners handle land disputes. In some cases, they may be called upon to litigate, though litigation is generally seen as an option of last resort due to the high expenses involved.
Property owners may hire real estate attorneys for various reasons. Some of the more common ones include:
Seeking redress for undisclosed damages or structural problems
Dealing with property liens
Help you negotiate real estate deals
Real estate attorneys bring a unique knowledge and skill set to the negotiating table. Not only does an experienced attorney know exactly what to ask for in negotiations, but if they assist you with other aspects of the home buying process — like the title research phase — they'll know exactly what the other party's weaknesses are.
Inexperienced home buyers often don't know what to ask for. Instead, they default to how much house they can afford. Real estate attorneys can shave tens or even hundreds of thousands of dollars off a home's purchase price with their carefully honed negotiation skills.
Deal with title issues
Title issues can sink an otherwise solid deal. A home's title confers certain property rights but these rights can be infringed upon in multiple ways. For example, if the prior owner failed to pay their bills consistently, a creditor may have placed a lien on the house. If you don't catch the lien before the home sale, you may be on the hook for it.
Forgeries and illegal deeds can complicate your path to home ownership. In some cases, they may nullify the sale. Heirs to a deceased previous homeowner may also step forward to contest your home ownership even after completing the sale. You can hire a title company or a competent real estate attorney to head off these issues by conducting a thorough title search.
Take care of zoning regulation issues
Zoning laws dictate land use and it's not uncommon for property owners to run into issues with their local zoning laws. For example, you might want to build a mother-in-law unit in your backyard, but local zoning ordinances prohibit its construction.
A residential real estate attorney can help you untangle complex zoning laws by explaining in plain language what is and isn't allowed. In some instances, a real estate attorney may help you challenge unfair or overly restrictive zoning regulations.
How much does a real estate attorney cost?
Real estate attorney costs vary based on your location, the attorney's experience and skill level and the service you're hiring them for. Most attorneys charge by the hour and rates typically range from $150 to $350 per hour.
Some attorneys might charge a flat fee for services like reviewing a contract or closing a house. The fee may vary based on the home's size and the sale's complexity. Most flat-fee services range from $500 to several thousand dollars.
How do the duties of a real estate agent and an attorney differ?
Real estate agents and real estate attorneys both fill important roles. Regardless of whether you've hired an online real estate agent or someone you can meet with in person, your real estate agent should:
Perform market analyses of the area in which you want to buy
Research prospective homes
Look for property defects
Assist with marketing functions
Coordinate with interested buyers and sellers
As you can see, the duties of a real estate agent mostly fall within the sales sphere. By contrast, real estate attorneys focus more heavily on providing legal advice and upholding compliance with local laws and regulations.
What does a real estate attorney do? Real estate attorneys should:
Prepare and review important documents relating to the home sale
Answer their client's questions and provide expert guidance
Act as a liaison between buyer and seller
Head off potential legal issues
When to hire a real estate attorney
While you don't need a real estate attorney every time you buy a house (unless you live in one of the states listed below), there are certain instances in which hiring a real estate attorney may be in your best interests.
If you're purchasing property in certain states
Certain states require real estate attorneys to be involved in certain aspects of the homebuying process. By law, both the buyer and the seller must retain their own attorneys in the following eight states:
The following seven states require a real estate attorney to create a title opinion prior to a home purchase:
A property title essentially confers ownership over a piece of property. In some cases, property rights may be limited or in dispute. For example, an easement can infringe on a property owner's ability to use and develop a portion of their property. A title opinion outlines potential issues related to land use or land rights.
If you're worried about incorrectly preparing documents
Throughout the homebuying process, you'll be responsible for gathering, preparing and signing many different documents. While you can handle these documents alone or with the help of a real estate agent, some home purchasers prefer the expert guidance offered by a real estate attorney.
Home purchases commonly involve hundreds of thousands or even millions of dollars. A poorly prepared document can cost you tens of thousands of dollars or more.
If you want someone who has your best interest to guide you
Real estate agents are not legal professionals. Although experienced real estate agents should be familiar with various aspects of how the law governs real estate transactions, their lack of professional training and experience means they will have blind spots in some facets of the homebuying process.
Real estate attorneys have an ethical and professional obligation to act in their client's best interests. Their legal training and experience will allow them to identify problems before they arise.
While the average American might go through the homebuying process only a few times in their lifetime, the average real estate attorney will oversee hundreds, if not thousands, of sales over the course of their career.
What to look for in a real estate attorney
When hiring a real estate attorney, you should look for a specialist with at least several years of experience practicing in your state. Some attorneys dabble in several different practice areas. Generalist lawyers typically lack the granular expertise of specialists. Geographic location matters greatly since real estate law can vary dramatically from state to state. Always hire a local real estate attorney over a nonlocal one.
Once you have a shortlist of candidates, you should evaluate them based on what other customers have to say. Websites like Avvo and Martindale allow clients to assign star ratings and leave short comments on their attorney's profile. Lawyers can also review their peers.
If you have the chance, reach out to a past client personally. Green flags to look for in a real estate attorney include honesty, attention to detail and availability.
Get legal advice from a real estate attorney
You may need to seek legal advice from a real estate attorney for any number of reasons. For example, you should get in touch with a real estate tax attorney if you have a dispute with the IRS regarding your property taxes.
You might also hire a real estate litigation attorney if you want to contest an easement the local government has placed on your property. If your home has been foreclosed on, you should seek the advice of a real estate foreclosure attorney.
Most homebuyers should consider hiring a real estate attorney to review the closing documents. A thousand dollars spent on real estate attorney fees could save tens of thousands of dollars down the road.