6 Best Places to Travel in the Spring 2023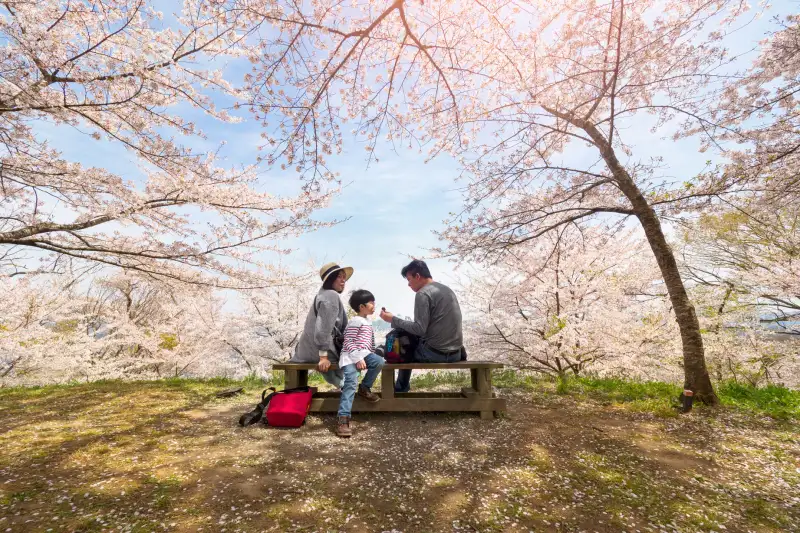 Spring can be the perfect time to book a much-needed getaway. With milder weather on the horizon, lively festivals and colorful blooms, this might be the ideal time to enjoy a wide array of destinations. Additionally, popular tourist attractions are usually less crowded, and airfare is cheaper when compared to summer months.
If you're unsure where to go next, read on for our list of some best places to travel in spring.
Our Top Picks for the Best Places to Travel in the Spring
6 Best Places to Travel in the Spring Reviews
Lisbon, Portugal
By: Edgar Nieves
Beautiful vistas, narrow alleys, tiled sidewalks, astonishing twelfth-century architecture, delicious pastéis de nata, and late-night fado shows are just a small sample of what makes Lisbon, Portugal a great place to visit.
One of Lisbon's many attractions are its observation decks, which are scattered throughout the city. These offer scenic spots for pictures or to simply relax and admire Lisbon's coastal views and sunsets. Some favorites include the Miradouro de Santa Luzia, Miradouro das Portas do Sol and Miradouro da Graça.
Downtown, you'll find the Elevador de Santa Justa, an Eiffel Tower-like lift of around 147 ft. that connects the lowest point of the city with Bairro Alto, a bohemian neighborhood packed with bars and art galleries. From there, you can see Saint George's Castle and the heart of Lisbon.
Lisbon isn't only about beautiful sights though. As one of the oldest cities in the world, it is the perfect destination for history buffs and museum-lovers — these include the Lisbon Cathedral, built in the 12th century and the oldest church in the city, the National Pantheon of Santa Engrácia and the Belém Tower.
If you're traveling with kids, Lisbon's Zoo and Oceanarium are a must. You can also pay a visit to the puppet museum, the Museu da Marioneta.
Once you're done exploring Lisbon, a 40-minute train ride can take you to Sintra, a popular town known for its impressive palaces, many of which might not look out of place in a Game of Thrones episode. Or you can head out to Cascais, if you're in the mood for a refreshing day at the beach.
SEE: Mosteiro dos Jerónimo, Edward VII Park, Jardim do Torel, Museu do Fado, Museu Nacional de Arte Antiga, Augusta Arch
SHOP: LX Factory, Caza das Vellas Loreto, Mercado de Santa Clara, Cerâmica na Linha
EAT: Time Out Market, Cervejaria Ramiro, A Ginjinha Espinheira, Manteigaria Fábrica dos Pasteis de Nata, Cafeh Tehran, Augusto Lisboa, The Decadente, Dear Breakfast
Read our full review for more places to visit.
Alexandria, Virginia
Adedayo "Dayo" Kosoko for Visit Alexandria
By: Gabriel Sánchez
Located about seven miles south of Washington, D.C. on the west bank of the Potomac River, Alexandria, Virginia is not only a springboard for visiting the nation's capital but a lively vacation destination all its own.
As temperatures rise and spring rolls in, the mild weather brings with it plenty of outdoor festivals focused on everything from food and wine to music and art. In early spring, visitors can also enjoy the iconic D.C.-area cherry blossoms in full bloom.
Alexandria's main attraction is its historic Old Town — where history, architecture, food and drink converge. Boutiques and shops line the streets, and the area is also considered a gastronomic center with an abundance of bars, cafes and restaurants such as Vermillion and 1799 Prime Steak & Seafood.
A large section of King Street in Old Town is pedestrian-only, with its cobblestone streets and brick buildings inviting visitors to roam around and explore the sights. Walking architecture tours are available as are self-guided tours, including the African American Heritage Trail.
The Old Town waterfront also features temporary public art installations and the Torpedo Factory Art Center, a can't-miss spot if you want to experience the local art scene firsthand. The Center — housed in a 1920s-era munitions facility — contains working art studios, galleries and the Art League School.
Another point of interest for history aficionados is Mount Vernon, George Washington's home. Although not located inside the city limits, it's a short, 8-mile trip to get there and you can easily book tours and transportation anywhere in Alexandria.
See: Freedom House Museum, George Washington National Masonic Memorial, Carlyle House
Shop: Red Barn Mercantile, Harambee Books and Artwork, The Old Town Shop
Eat: Laporta's Restaurant, Port City Brewing Company, RT's Restaurant
Humboldt County, California
Leon Villagomez / Visit Ferndale
By: Gabriel Sánchez
Located in Northern California, Humboldt County might not be as well-known a travel destination as its SoCal counterparts, but what it lacks in name recognition it makes up for with breathtaking natural scenery, outdoor activities, cultural attractions and plenty of food and drink options.
Nature lovers will enjoy the bounty that springtime brings. From wildflowers in full bloom to majestic coastal redwoods in their deep green splendor, Humboldt County's mild climate and variety of ecosystems provide options for travelers of all stripes. You can view native plants at the Humboldt Botanical Garden, try bird-watching while walking along the wetlands of Humboldt Bay National Wildlife Refuge, explore the coastline at Trinidad or go beachcombing at Agate Beach.
Hop off Highway 101 and instead take the famed Avenue of the Giants to drive among groves of redwoods and Douglas firs. If you want a more immersive experience, travel further north to Redwood National and State Parks, pick a trail to hike and stand in awe at some of the tallest and oldest trees on the planet.
Even if you're not the outdoorsy type, you can still find places of interest and things to do. Humboldt County's main city, Eureka, is home to an historic old town and several Victorian houses, such as the Pink Lady and Carson Mansion. The Plaza located in the college town of Arcata is lined with bookshops, cafes and restaurants. For a bit of small-town charm, visit the Victorian village of Ferndale and its well-preserved, ornate storefronts.
If it's food and drink you're after, there are plenty of options, from simple pub fare to fine dining. However, Humboldt Bay produces world-famous oysters and you can take a boat tour to learn about the bay's history and oyster harvesting techniques. More importantly, you can also savor the delicacies in a number of local restaurants and bars, such as Humboldt Bay Provisions.
See: Morris Graves Museum of Art, Carson Mansion, Shrine Drive Thru Tree
Shop: Eureka Books, Golden Gait Mercantile, Trinidad Art Gallery
Eat: Redwood Curtain Brewing Company, Septentrio Winery, Brick & Fire
Nagano, Japan
Nagano Tourism Organization
By: Bianca Rodríguez
Best known for its stunning natural beauty, Nagano prefecture sits in a mountainous region two hours west of Tokyo.
It offers visitors everything they could want from a spring trip to Japan — blooming cherry blossoms, hot springs and, as a bonus, a chance to see the Japanese Macaques (a.k.a. snow monkeys).
Any visit to Nagano in the spring must include a stop at the Takato Cherry Blossom Festival in Ina City. Held every April in Takato Castle Park, this festival is a great place to experience the Japanese blooms while enjoying food from one of the many stalls around the park.
You can also see cherry blossoms in Matsumoto city, specifically around Matsumoto Castle, a 16th-century structure that has the oldest surviving castle tower in Japan. You can also explore the city's many shops and restaurants, but be sure to stop by the castle grounds at night when the trees are illuminated.
Cap off your trip visiting one of Nagano's hot springs known as onsens. While there are onsens all over Nagano prefecture, if you pick one in the Yamanouchi area you can combine the relaxing springs with a skiing day trip or a visit to Jigokudani Monkey Park.
VISIT: Zenkoji Temple, Hokusai Museum (in Obuse), Takato Cherry Blossom Festival, Matsumoto Castle, Jigokudani Monkey Park, Joshin'etsu Kogen National Park, Matsushiro (small samurai town)
SHOP: Zenkōji Nakamise Street (Nagano City), Nawate Street (Matsumoto), MIDORI Nagano shopping mall
EAT: Sobatei Aburaya, Misoya (ramen), Suyakame (miso ice cream), Ogawa No Sho Daimon (oyaki dumplings), Miyasaka Brewery (sake), Hirano Coffee, Enza Cafe (near Jigokudani Monkey Park)
Rincón, Puerto Rico
By: Amarilis Yera
Rincón is a charming nook on the west coast of Puerto Rico, where the Caribbean Sea meets the Atlantic Ocean and creates some of the best beaches on the island. Its shores offer ideal spots to snorkel, paddleboard, dive, fish or simply bask in the sun. They're also perfect for watching breathtaking sunsets as Rincon is known as "El pueblo de los bellos atardeceres," that is, the town of beautiful sunsets.
Rincón is also known as the surf capital of the Caribbean and possibly one of the best surfing destinations in the world, and regularly hosts world championships and other pro contests. But even beginners can try their luck at catching some waves since you can find several surf instructors that give group or solo lessons.
Once you're ready to head out of the water, make your way downtown, where you'll find cozy restaurants, unique shops and an overall laid-back (and very pet friendly) vibe. Many spots prepare organic food harvested from nearby farms and carry goods crafted by local artists. On Thursday evenings, the plaza is packed with vendors selling handcrafted décor, jewelry, paintings, food and more, turning the night into an impromptu, small-scale festival.
Keep in mind that Rincón is quite small; you can cross the town by car in around 15 minutes. You won't find any bustling nightclubs or luxurious resorts. Instead, Rincón allows you to connect with nature locally and with countless outdoor experiences in nearby towns that are less than an hour away.
VISIT: Punta Higüera Lighthouse, Tres Palmas Marine Reserve, Domes Beach, Sandy Beach
SHOP: Rincón Art Walk, Ocean State of Mind, Isla Made, The Trove
EAT: Sana Farm to Table, Bakku, Gylro, Rincón Beer Company, Tamboo, Estela, Rincón Boricua
Salt Lake City, Utah
Austen Diamond Photography
By: Carlos Silva
Bordered by the lush Wasatch Mountain Range to the East, Salt Lake City goes from skier's wonderland to hiker's paradise in spring. There's countless peaks and trails to choose from — some popular destinations include Big Cottonwood Canyon and Ensign Peak, which offers a great view of the city, and many more.
But there's also plenty to do once you're back down from the mountains, especially for history and architecture enthusiasts. You can visit Temple Square, This Is The Place Heritage Park, the Museum of Natural History or the Clark Planetarium. There's no shortage of historical sights and experiences in Salt Lake City.
If you venture north a little bit, you'll also find Lagoon Amusement Park, home to the so-called White Roller Coaster, the 7th oldest roller coaster in the world (historical fun!), and Cannibal, which has a 116-degree steep drop.
SEE: Great Salt Lake, Ensign Peak, Temple Square, Big Cottonwood Canyon
SHOP: The Gateway, City Creek Center, The King's English Bookshop, Sugarhouse area
EAT: Red Iguana, Garage on Beck, Penny Ann's Cafe, SLC Eatery
DRINK: Beerhive Pub, Bar X/Beer Bar, Prohibition, Try-Angles
Places to Travel in Spring Guide
Traveling during spring has fantastic perks, such as smaller crowds and comfortable temperatures. However, to reap the season's travel benefits, there are some factors to keep in mind, such as how early — and even on which week — you book your journey.
Spring travel tips
Book early and be flexible with your travel dates
Traveling in springtime is typically more affordable than during summer. However, flights can still be costly as travel demand increases due to spring break, and the season is a popular time for tourism in many countries.
Booking your flight at least two or three months in advance can help you secure cheaper prices.
Being flexible with your travel dates can also make it easier to snag better deals. For example, traveling on weekdays and booking flights midweek, especially Tuesday or Wednesday, can often save you some money.
Make the most of reward programs
Both hotels and airlines offer reward programs that can offer plenty of perks and opportunities to save on your booking. Some of the best hotel credit cards and the best airline cards offer even more ways to save. Make sure to read our guides to airline and hotel rewards to find out how to make the most of them.
Use flight search engines and email alerts
Use flight search engines such as Skyscanner or Google Flights to compare prices across different airlines and dates. These platforms also let you sign up for alerts and will email you if prices drop — if you're planning your trip several months in advance, it's a good idea to sign up for these.
Make sure your passport is up to date, if needed
You don't need your passport if traveling in the contiguous U.S. or to its territories, such as Puerto Rico and the U.S. Virgin Islands. You can simply use a government-issued photo ID, such as your driver's license.
However, you do need your passport for international travel. If you already have one, make sure it's current, valid for at least six months beyond your intended return date and has two or more blank pages.
If you need to renew your passport or need a new one, visit the U.S. Department of State travel site for more information.
Stay away from the crowds
Springtime is typically less crowded than summer in some destinations. However, some of the best places to travel in the U.S. can be packed during spring break, especially beachy destinations.
If you're looking for some R&R away from noisy crowds — and want to find cheaper flights — it's best to avoid traveling during spring break or visiting popular spring break destinations.
Check weather conditions and pack accordingly
This season brings warmer weather in the northern hemisphere, and it's usually perfect for enjoying the outdoors without the excessive heat of summer. But note that, in many parts of the world and in some of the best international places to travel, it's also marked by unpredictable weather with temperature fluctuations, heavy rainfall or even floods from melting snow in some locations.
It's also important to remember that, while it's spring here, it's fall in the southern hemisphere.
Make sure to check the weather forecast for your destination several times as your departure date approaches and pack accordingly.
Research local events
Many countries throw spring festivals to celebrate the beginning of a new season, flowers starting to bloom and harvests beginning to bear fruit. Depending on your destinations, the festivities may involve food, bonfires, dancing and more.
Spring is also a great time for outdoor activities such as hiking, so it's the perfect time to visit nearby national parks or popular beaches, lakes and rivers. Many cities also have botanical gardens that organize spring events.
Consider getting a travel insurance policy
Travel insurance can reimburse you if your trip gets canceled or cut short due to weather, sickness or other unforeseen events. Depending on your policy, it may also reimburse you for medical expenses if you get sick or have an accident during the trip. Check out our list of the best travel insurance companies for more information.
Note that some of the best travel credit cards already include travel protections that can cover trip cancellations and interruptions, rental cars, luggage and more, so check your card's benefits guide.
Sign up for an expedited screening program
Expedited screening programs like TSA PreCheck and Global Entry can streamline your travel experience by getting you through airport security faster. Members can go through designated security lanes at select airports and don't need to take off their shoes or take out laptops from their bags, for example.
TSA PreCheck and Global Entry cost $78 and $100, respectively, and your membership is valid for five years. Keep in mind that some of the best credit cards will give you a statement credit that covers the application fee when you use them to pay for either of these programs.
Places to Travel in the Spring FAQ
What is the most popular spring break destination?
Some of the most popular destinations among spring breakers include Cancun, Mexico, Punta Cana, Dominican Republic and Miami Beach, Florida. However, note that these destinations may be extremely crowded in spring so it's best to avoid them at this time if you're looking for a quiet getaway.
Is spring a good time to travel?
Spring is a great time to travel, offering milder temperatures and smaller crowds than summer. It's also usually easier to find cheaper flights if you book a few months in advance, keep your trip dates flexible and skip traveling during the spring break holiday.
What type of clothing should you pack for spring travel?
Generally, spring brings warmer weather in the northern hemisphere, which is ideal for outdoor activities, so pack comfortable shoes and clothing. However, note that weather conditions can vary dramatically depending on your destination so check the forecast right before your trip. Some locations can still experience cold days, which may require some layers.
How We Chose the Best Places to Travel in the Spring
To pick some of the best places to travel in spring, we evaluated dozens of the top destinations based on airfare, lodging and car rental costs. We also considered local expenses such as restaurant meals, coffee, beers and more. Additionally, we considered tips from a panel of 10 travel experts and detailed recommendations from 300 of Money's newsletter subscribers.
For more detailed information on our methodology, click here.
Summary of Money's Best Places to Travel in the Spring of 2023