What Is Liability Car Insurance Coverage?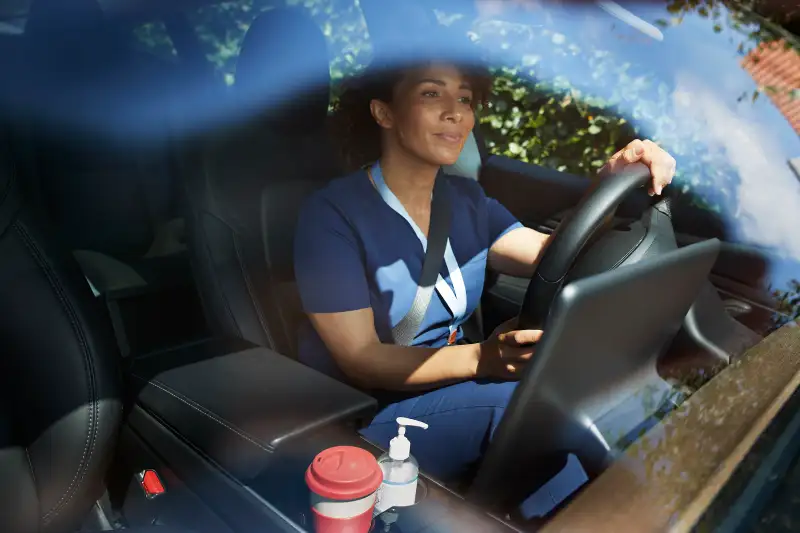 When shopping for auto insurance policies, you'll notice many different types of coverage. One of them is liability insurance, and it's a must-have for drivers. So what is liability car insurance coverage and what does liability insurance cover? Here's a breakdown of what you need to know.
What is covered under liability car insurance?
Liability car insurance is a specific type of car insurance that almost all states require drivers to carry. There are two key components to liability coverage — bodily injury liability coverage and personal damage liability coverage.
Bodily injury liability
Bodily injury liability coverage typically makes up the bulk of your liability car insurance coverage. If you cause an accident, this coverage helps to pay for the injuries or deaths suffered by the other driver or their passengers.
Property damage liability
Property damage liability is the other piece of liability car insurance. This coverage helps pay for the damage you cause to someone else's property with your vehicle, whether that's their vehicle, home or even trees and lamp posts on their property.
What is excluded from liability car insurance coverage?
Liability-only auto insurance coverage does not cover all expenses after a car accident or other damage to your vehicle. The coverage excluded from liability car insurance includes:
Comprehensive coverage
Comprehensive coverage offers financial protection if your car is stolen or damaged in an event other than a collision. For example, if a tree falls on your car, comprehensive coverage would likely help pay for repairing or replacing it. This coverage also extends to damage caused by acts of nature like hail and fire. Most plans cover vandalism and theft as well.
If you only have liability coverage and your car is damaged in a storm, your insurer will not provide any money to help repair or replace the vehicle. You can add comprehensive coverage to your auto insurance policy to get coverage for such incidents. It typically makes the most sense to buy comprehensive coverage if your vehicle has a relatively high cash value and you're not sure you can afford the out-of-pocket costs to repair or replace it.
Collision coverage
Collision coverage helps pay for repairing or replacing your car if you collide with another vehicle or an object like a tree. Your collision coverage will only pay up to the cash value of your vehicle (minus your deductible).
Though collision coverage is not legally required in any state, you may still want to purchase this coverage in addition to your liability coverage. It can give you peace of mind that you won't have to handle all the repair or replacement costs yourself if you cause an accident. Anyone who couldn't afford the repair or replacement bills if they unexpectedly damaged their vehicle should consider carrying collision coverage.
Medical payments coverage
Though your liability car insurance coverage will pay for medical expenses incurred by the other driver (and their passengers) when you cause an accident, it does not provide coverage for you and your passengers' medical expenses. You need separate medical payments coverage if you want coverage for those expenses.
Medical payments coverage insurance plans will help pay for medical costs for you and your passengers if you get into an at-fault accident. Covered expenses typically include X-rays, hospital stays and surgery if needed. Only two states require drivers to carry medical payments coverage — Maine and New Hampshire. But even if you don't have to carry this insurance, getting the additional financial protection may be a good idea, so you don't have to worry about how to pay your medical bills after an accident.
Personal injury protection
Personal injury protection (also known as PIP) is not included in liability coverage. Similar to medical payments coverage, PIP will help cover your medical expenses if you're injured in an accident you caused. One key difference between PIP and medical payments coverage is that PIP can also offer coverage for other expenses related to your car accident injuries, like lost income or childcare costs.
PIP isn't available in 31 states, including Illinois and California. Twelve other states require drivers to carry PIP coverage, though, including Maryland, New York and Florida. If PIP is available and optional in your state, it's something to consider when you purchase your car insurance.
Is liability car insurance coverage required?
Almost all states require vehicle owners to have some amount of liability car insurance coverage, though the amount of required coverage varies by state. In New York, for instance, the minimum amount of auto liability insurance coverage is at least $25,000 for bodily injury for one person per accident, at least $50,000 in bodily injury for more than one person per accident and $10,000 for property damage per accident. These liability coverage limits can be expressed as 25/50/10. By contrast, Florida also requires at least $10,000 in property damage liability coverage but does not require any bodily injury liability coverage.
Check your state's laws to determine how much liability car insurance coverage you need. Keep in mind that these figures are simply the minimum amount you need, not the recommended amount. You may purchase additional coverage beyond the minimum if you want additional protection.
How much liability insurance coverage do you need?
There's no exact answer to how much liability insurance coverage you need. It's a very personal decision that depends on how much you can afford and how much protection you want. In general, you should try to purchase the highest level of liability coverage that you can comfortably afford.
Experts recommend a plan with liability coverage of at least 100/300/100 for the average driver — $100,000 in bodily injury per person, $300,000 per accident and $100,000 in property damage liability coverage per accident.
How much does liability car insurance coverage cost on average?
A common question from people shopping for liability insurance is — how much is car insurance? Like all other car insurance, liability-only insurance can vary significantly in price from one plan to another.
Some of the factors that influence the amount you'll pay for liability coverage include:
Your age
Your state
Your gender
Your years of driving experience
Your vehicle make and model
Your car insurance history
Your credit history (except in California, Hawaii, Massachusetts and Michigan)
In particular, your location significantly affects the average cost of liability car insurance. Liability coverage is much more expensive in some states like California, Michigan and Florida than in others like Vermont and Wyoming, for example. The national average cost for minimum liability insurance is $676 per year, which works out to $56 per month.
Current events can also affect the rate you pay for car insurance. After two years of spiking fatality rates on U.S. roads, there was a significant car insurance price increase in 2022 to account for the increased risk of accidents.
If you're trying to save money on your car insurance, consider one of these cheap car insurance plans. You may be able to find cheap liability insurance that's more affordable than you expected. Be sure to request liability insurance quotes from multiple insurance companies to pick the plan with the best rate.
What to keep in mind when purchasing liability car insurance coverage
When you're shopping for liability car insurance coverage, keep these key factors in mind:
Your state's minimum requirements
The minimum liability insurance coverage requirements vary from one state to another. Make sure to check the laws in your state to ensure you purchase at least enough coverage to hit the minimum necessary amount. If you're caught driving without proof of insurance for the required amount of liability car insurance in your state, you can be subject to hefty fines, have your license suspended or even face jail time. It's not worth the risk.
Other assets you may want to consider
Even though it's a type of car insurance, liability car insurance coverage doesn't actually protect your car — it protects your assets. In general, the more assets you have, the more liability insurance coverage you should consider buying.
If you want extra protection for your assets, you can purchase a relatively inexpensive umbrella insurance policy that will provide additional coverage of $1 million or more in addition to your basic liability car insurance. Once you hit your liability insurance coverage limit, your umbrella insurance will kick in and pay the remaining amount up to your umbrella insurance limit.
If you lease, finance or own your car
How you pay for your car may affect your decisions about liability insurance coverage. If you own your car outright, you have the most flexibility in choosing your insurance coverage. You just have to adhere to your state laws about minimum car insurance coverage. Other than that, you're free to choose whatever amount of coverage works best for you.
If you take out a loan to purchase your vehicle, your lender will typically require you to have car insurance coverage beyond just liability coverage. As part of the car loan agreement, most lenders require you to carry comprehensive and collision coverage to ensure your vehicle is protected if you need to repair or replace it. Your lender may also require you to purchase uninsured/underinsured motorist coverage with a minimum coverage limit.
In rare cases, lenders may require you to get gap insurance. This insurance coverage will cover the difference between the amount remaining on your vehicle loan and the actual value of your vehicle if it's totaled or stolen.
If you lease your vehicle, the company you lease from will also typically require you to purchase certain auto insurance coverage options. Even though you don't own the car, you are still responsible for buying the insurance. In general, leasing companies require you to have higher liability coverage than the state minimum, plus comprehensive and collision coverage. Like lenders, leasing companies also occasionally require you to purchase gap insurance.
Do you need liability insurance coverage?
Check out some of the best auto insurance companies if you need liability insurance coverage. Remember to keep your state minimum insurance coverage in mind and understand what car liability insurance covers and does not cover. Familiarizing yourself with the ins and outs of vehicle liability insurance is key to making the right choice when you purchase your insurance coverage.