What to Do After a Car Accident?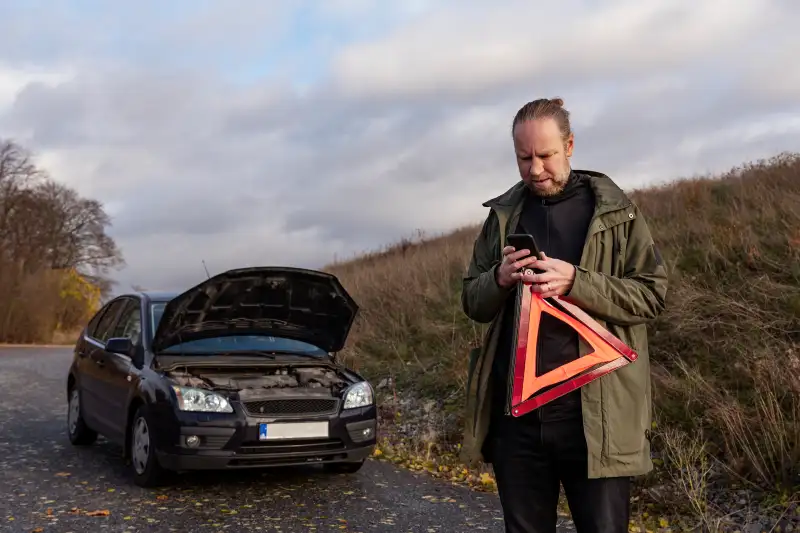 Experiencing a car accident, even one where no one is injured, is jarring and stressful. An accident can put even the most experienced drivers into an emotional tailspin, leaving them wondering what steps they should take next. Since an accident can happen to any driver at any time, it's important to familiarize yourself with what to do after a car accident before one happens. Here's what you need to know.
Steps to take after a car accident
If you're ever in a car accident, follow these steps to come out of the situation safely and legally.
Check for injuries
The priority after a car accident should always be the health and safety of you, your passengers and the other people involved in the collision. Check to see whether anyone is injured and possibly needs medical attention. If another vehicle is involved in your accident, check on the driver and passengers in that vehicle. Even minor car accidents can lead to injuries that require medical care. Don't assume that everyone is completely unscathed if it was just a fender bender. If any of the people involved in your accident are injured, call 911 immediately.
Having a clear accounting of everyone's injuries will help them get the care they need once emergency responders arrive. However, remember not to move anyone seriously injured, as you may exacerbate injuries in the process.
Move to a location that is safe
Once you have checked in with everyone about possible injuries, the next thing to do after you get in a car accident is to get everyone to a safe location. Don't leave the accident scene, but move out of the way of oncoming traffic. If your vehicle still runs, drive it to the shoulder and pull it as far off the road as possible to prevent another crash with approaching vehicles. Turn on your hazard lights to alert other drivers that your vehicle is there and put out reflective triangles if you have them.
If your vehicle isn't operational, your best move may be to turn off the engine, exit the vehicle and stand on the side of the road. Be careful while exiting the vehicle, especially on a busy street or highway. In extreme cases when there is a risk of explosion, get everyone far away from the vehicle to keep them safe.
Call police officers and an ambulance
Most states require you to call the police after an auto accident if it causes a severe injury, death or vehicle damage over a certain dollar value. Even if you aren't required to call the police, it's a good idea to do so since insurance companies typically require an official police report when you file a claim. Call 911 to report the accident. The police may decide to call an ambulance to the scene, as well.
Check for property damage
Waiting for the emergency responders to arrive is a good time to do an initial check for property damage. Look for damage to your vehicle, particularly around the area where the vehicle collided with another vehicle or object. You don't need to understand the extent of the damage to your vehicle, but you'll want to know if your vehicle was damaged at all and, if so, where.
Exchange information with the other driver
If another driver is involved in the crash, exchange information with that driver. This is a critical step. Gather the following details about the other driver:
Name
Address
Phone number
Driver's license number
Insurance policy number and a contact number for their insurance company
Names of the passengers in their vehicle
While it may be tempting to discuss the accident or even argue about the circumstances of the crash, try not to. You may accidentally admit fault for the accident or blame the other driver, two key things to avoid after a car accident. Don't share your insurance policy limits or unnecessary personal information like your Social Security number, either.
If another driver is involved in the crash but is unwilling or unable to provide their information (like in a hit-and-run scenario, for example), try to record their license plate number. The police can use this information to track down the other driver later.
Correctly document the crash
Document the crash in as much detail as possible, so there's no confusion about what happened. Take photos with your smartphone of all damage to your vehicle and the other vehicle, plus a picture of the other driver's license plate. Get photos from different angles to give a clear picture of the extent of the damage. Your insurer may use these photos during the claims process.
Record the date, time and location of the accident. If possible, record some notes on what happened, such as the speed you were driving and where the other vehicle was before you collided. Draw a diagram of the cars' positions immediately before the accident if it will help you visualize everything. Details about the weather and visibility at the time of the accident may also be important.
If anyone witnessed the accident, you should talk to them and write down their names and contact information. These people can offer an unbiased view of the accident, which may be important in the claims process.
File a police report
When the police arrive, answer the police officers' questions so they can file a police report. Try to stay calm and recount the facts of what happened. Above all, tell the truth. Ask each police officer you talk to for their name and badge number for your records. It would help if you also asked the police officers for the police report number and a copy of the report, so you have it available to share with your insurance company.
If the police aren't dispatched to the scene of the accident, you can go to the local police station and file the police report yourself. You can also report the accident to the Department of Motor Vehicles (DMV).
Contact your insurance company
Once you have gone through all the above steps, the last thing to do is contact your insurance company to file a claim. Some people hesitate to file a claim for minor accidents, opting to pay for the repairs out of pocket. Remember that the damage from even seemingly minor accidents can be unexpectedly costly. For that reason, filing a claim is still on the list of what to do after a minor car accident.
Some of the best auto insurance providers offer mobile apps to help you record the details and file a claim. You can reach out to your insurance company from the scene of the accident or wait until you're back home. Don't wait too long to file your claim, though, since you don't want any unnecessary delays in getting your repairs or starting any potential investigation. Typically, you must file a claim with your insurance company within 30 days of the accident. Otherwise, the insurance company will not pay out.
What to do after a car accident if you're the at-fault driver
The steps for what to do after a car accident that is your fault are similar to the steps you'd take if you were not at fault. The key difference between the two scenarios is which insurance company will need to pay for the damage. If you're the at-fault driver, your insurance company is liable for the damage caused by the accident.
When you cause the accident, the other driver is responsible for filing their own insurance claim with your insurance provider. Depending on your coverage, your insurance will cover the damage to the other driver's vehicle, as well as medical expenses for injuries the other driver and their passengers sustained in the accident. If you have optional collision coverage, your insurance will also cover damage to your vehicle. Unfortunately, you can expect your insurance rates to go up after an at-fault accident claim.
What to do after a car accident that is not your fault
If you're in a car accident that's not your fault, you're responsible for filing a claim with the other driver's insurance company. Check with your insurance provider first, since they may be willing to file the claim with the other insurer.
The at-fault driver's insurance should cover the cost of the damage to your car and your medical bills for any injuries. In no-fault states (such as Florida, New York and Texas), you need personal injury protection (PIP) insurance to cover your car accident-related medical expenses — regardless of which driver is at fault for the accident.
If the other driver's insurance coverage isn't high enough to cover all your expenses, your insurance company should cover it as long as you have uninsured or underinsured motorist coverage. You may need to work with an accident lawyer to receive the compensation you deserve.
How much do insurance rates increase after a car accident?
Most drivers know that insurance rates tend to go up after you've had a car accident, but how much is car insurance when you've had an at-fault accident? On average, your insurance rates will increase by 52% after an at-fault accident. This increase will appear in your auto insurance rates during your next policy renewal, lasting anywhere from three to five years. That means if you paid $2,000 with a clean record, your insurance rate would increase to around $3,000 on average after an at-fault accident claim.
Some people think their insurance rates won't be affected after minor accidents, but this is generally not the case. Your insurance company will add the at-fault accident surcharge to your rates even for a minor accident unless you qualify for accident forgiveness.
Due to these rate hikes, it's often wise to shop around for new insurance coverage after your accident. Check out the best cheap car insurance companies, which may provide a policy that's a better fit for you and your budget.
How to file a car accident claim
To file a claim with your insurance company after a car accident, follow these steps:
Contact your insurance provider: Get in touch with your insurance company as soon as possible to start the claims process. You can typically do so online, through a mobile app, over the phone or in person. Your insurer will ask you to provide details about the accident, such as the pictures you took, when and where the accident happened and information about the other driver.
Talk to the insurance adjusters: Your insurance company will assign an insurance adjuster to your case. This person is responsible for investigating your claim and determining how much (if any) your insurer will pay on the claim.
Get a quote for repairs: You may need to provide your insurance company with an estimate of how much the repairs to your vehicle will cost. Get an estimate from a repair shop you trust and share the figure with your insurer.
Wait for your claim to be approved: Once the insurance company approves your claim, it will issue you a payment for the value of your vehicle repairs or replacement (minus your deductible).
If you need to file a claim with the other driver's insurance company, call the contact number for their insurer and follow these same steps.
Summary of what to do after a car accident
If you're ever in a car accident, check for injuries, get medical care if needed, document the details of the crash and call the police. The most important thing is to keep calm. You won't be at your best if you're panicked and the outcome of the accident may be less favorable for you than if you'd kept your wits about you.