Here's One Thing You Probably Shouldn't Get at Walmart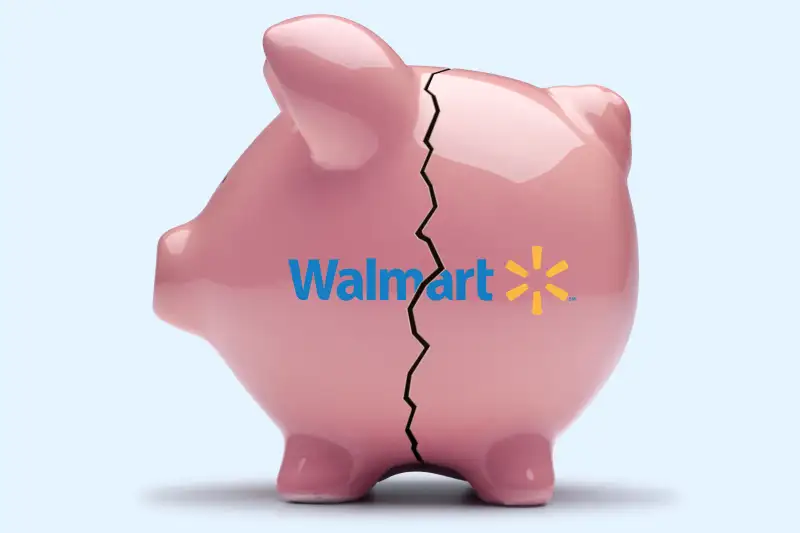 Money (photo illustration)—Getty Images (photo)
When Walmart announced Tuesday that it would soon be offering checking accounts for the masses—so its customers could, ostensibly, conveniently deposit their checks where they purchase all their household goods—we saw an opportunity to compare the new banking option to its competitors.
Thanks to research compiled for Money's annual Best Banks in America story, the latest version of which will be out on newsstands on November 28, we were able to measure up the new account against more than 200 other checking accounts.
But before we jump into our analysis, it's important to understand what exactly Walmart is doing. First of all, the retailer is not technically its own bank (since its efforts to become an official deposit institution were basically foiled by the banking industry in 2007). The Walmart will simply offer a GoBank account through its partner Green Dot, an FDIC-insured banking platform that currently issues Walmart's prepaid card.
The GoBank checking account—no savings as of yet—comes with a relatively low $8.95 monthly "membership fee" (essentially a maintenance fee) that can be waived with a $500 monthly direct deposit. But perhaps more interesting is the fact that it has no overdraft fees whatsoever, and virtually anyone—even those with terrible credit or a history of bouncing checks—will be approved for an account.
Greg McBride, chief financial analyst at Bankrate.com, says GoBank's low eligibility requirements are unique in the industry and could be helpful to people who have frequent trouble with overdrafts. But McBride cautions that the people described make up a small subset of most consumers. Just one in seven bank customers have had more than one overdraft in the last year, meaning an even smaller subset of that group would be in dire need of GoBank's leniency.
As it stands, the vast majority of people—even those with low incomes or mediocre credit scores—are able to qualify for checking accounts with similar or better terms than what GoBank offers, says McBride. Many competitors offer perks GoBank does not, such as interest payments or free use of out-of-network ATMs.
Below, we've set the account against some of the better options for standalone checking:
| Account | Maintenance Fee | Minimum Interest | Out-of-network ATM fees | Overdraft fees? | Credit score check to open? |
| --- | --- | --- | --- | --- | --- |
| Walmart's GoBank Checking Account | $8.95 (waived with a $500 monthly direct deposit) | 0% | $2.50 | No | No |
| E*Trade's Max-Rate Checking Account | $15 (waived with a $200 monthly direct deposit) | 0.01% | $0 (and all third-party ATM fees are reimbursed) | Yes | No, but they do check on past overdraft history. |
| Capital One's 360 Checking Account | $0 | 0.20% | $0 | Yes, but only $0.03 a day for every $100 of overdraft balance | Yes |
| Ally Bank Interest Checking Account | $0 | 0.10% | $0 (and all third-party ATM fees are reimbursed) | Yes | Yes |
For our Best Banks feature, Money also looked at mobile apps, and from what's been announced so far, GoBank's app does sound state of the art. A built-in budgeting program called Fortune Teller asks users to input their various bills and expenses, along with their salary and pay day. And once all the information is entered, users can ask Fortune Teller's opinion before they buy something by entering in the price.
In theory, this sounds great—most people could use a virtual slap on the hand when they're about to overspend. But the devil is in the details. It's unknown how much of a financial buffer Fortune Teller's algorithm leaves when it tells a person he or she can afford a purchase. And when the advice is coming, however indirectly, from a store that has plenty of things to sell to you, you'd be smart to be skeptical.
In other words, just because you can afford that $1,000 Gollum Halloween party prop doesn't mean you should buy it. And just because you can get easily approved for this bank account doesn't mean you should apply.
Related: