The Surprising Day Jobs of Winter Olympic Athletes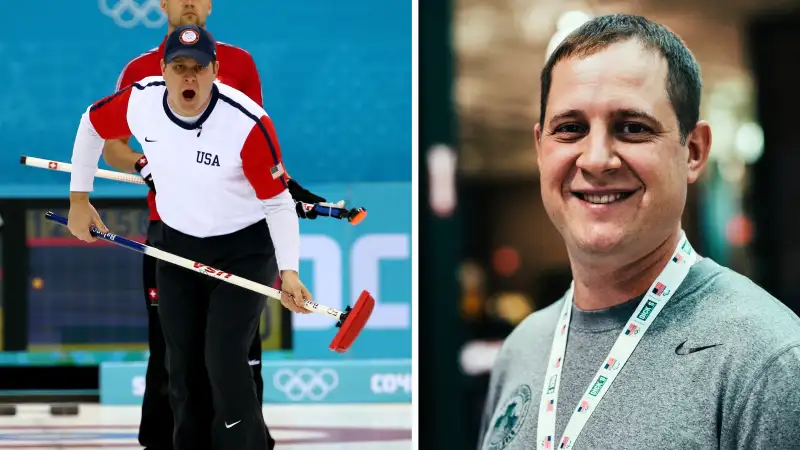 (left) Streeter Lecka/Getty Images; (right) courtesy of Dick's Sporting Goods
Over the last year, registered nurse Nina Roth has been working harder than her usual 12 hour days.
Why? Because she also moonlights as a professional curler and is about to make her Olympic debut at the 2018 Winter Olympics in PyeongChang, South Korea.
"It's difficult to balance the two," she admits. "But I wouldn't feel fulfilled without both of them."
Roth is just one of many Team USA Olympic competitors who have full-time or part-time jobs outside of their athletic careers. These athletes don't have the same kind of lucrative sponsorship deals as Olympic standouts like snowboarder Shaun White or alpine skiing star Lindsey Vonn — so they have to make ends meet, which can often mean squeezing in extra shifts during the off season, heading to the gym early in the morning before work and moving from a full-time position to a part-time one with no replacement for those lost wages.
A saving grace in the last several years has come from an unlikely place. Eleven of the 2018 Winter Olympic athletes and two Paralympic athletes are part of the United States Olympic Committee's Contenders Program, which partners with Dick's Sporting Goods at locations around the country to offer positions that accommodate for an athlete's training and competition schedules, and are available for them to return to after weeks of competition abroad. Several years ago, Home Depot offered a similar program. Other business like Adecco, the world's largest temp hiring firm, offer other programs for Olympic athletes, too.
The program at Dick's helps athletes looking to stay financially stable, rather than develop an alternative career path outside of their sports. Curling athlete John Shuster, who works as an associate in the team sports department of his local Dick's in Minnesota, welcomed his second child with his wife recently, making his ability to juggle working, curling and taking care of his kids more difficult, he said.
Shuster, who was on Team USA's bronze-medal winning Olympic curling team in 2006, will make his fourth appearance at the Winter Games this February. According to the World Curling Tour, Shuster earned $19,985 so far in the 2017-18 curling season.
For ice hockey goalie Alex Rigsby, working at Dick's offered a better schedule than her previous management consultant gig. She isn't sure what she wants to do after her hockey career is over down the road — she's toying with getting an M.B.A. But for now, she's known as "the girl hockey player" in the shoe department at her Dick's location in Wisconsin.
Maddie Meyer—Getty Images
Rigsby and Team USA's women's ice hockey team will battle for gold in PyeongChang this year and will likely face stiff competition from Team Canada. But when the Olympics are over, Rigsby will return to her usual training regimen, which means working four- to six-hour shifts at Dick's.
But for athletes outside of those programs, jumping back into a gig after the Olympics or managing it as a competitor is a bit more difficult. Curling athlete Tabitha Peterson works in retail pharmacy and had to move from a full-time to a part-time schedule to better accommodate her curling career. Part of the issue, she said, was her traveling schedule and her inability to work remotely.
"We don't make enough money on the World Curling Tour to make up for those lost wages," Peterson said. So when she's home, she works about 40 hours a week despite having a part-time schedule.
Indeed, the highest-earning curlers can make upward of $100,000 in a touring season — but the rest of the competitors make far below that. A ranking of the earnings women curlers have made in the 2017-18 season shows the top 10 athletes making $40,000 or higher, with the rest making anywhere from $39,000 to $100.
And having a day job isn't just about the money. It's also about their career paths down the road.
"I also would like to 'move up the ladder' in my profession, but can't really until curling slows down," Peterson said. "If it slows down."
This story has been updated to include the latest number of athletes that are part of the Dick's program.