12 Women Who Say Sexual Harassment Cost Them Their Careers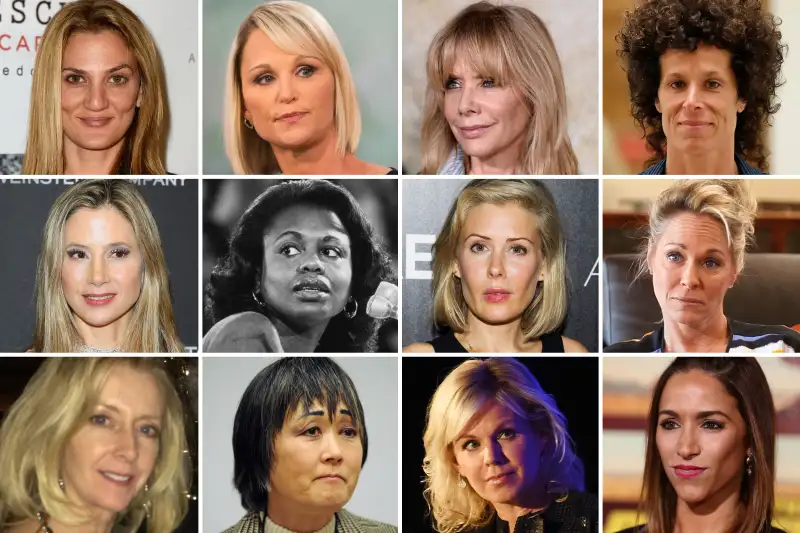 Getty Images (9); AP (1); courtesy of Kellie Boyle
The list of powerful men accused of wielding their influence to abuse, harass, and rape women keeps growing.
After the dust settles, many of the alleged abusers, like comedian Louis C.K. and Hollywood executive Harvey Weinstein, will face irreparable professional damages. But their careers won't be the first they've derailed.
Many of the women who have come forward over the last several months say they've suffered devastating repercussions as a direct result of the abuse. Some have lost jobs and promotions; others have changed their entire career trajectory in an attempt to mitigate the possibility of another assault.
Their stories point to a troubling pattern for survivors who speak out of against workplace mistreatment — according to one study, 75% face some form of retaliation.
Here's how some high-profile sexual assault cases have shaped the careers of the women thrust into them.
Dana Min Goodman and Julia Wolov
Five women have accused comedian Louis C.K. of sexual misconduct, all who worked with C.K. on comedy events or production sets. Goodman and Wolov, a Chicago-based comedy duo, told the New York Times that an unwanted sexual encounter with the comedian, and their decision to speak about it openly, sullied their professional reputation.
"Guys were backing away from us," Wolov told the Times. A day after the incident, "We could already feel the backlash."
In a statement, C.K. confirmed the allegations.
"I have been remorseful of my actions. And I've tried to learn from them. And run from them. Now I'm aware of the extent of the impact of my actions," he wrote.
In the Times story, Goodman and Wolov also allege that Dave Becky, C.K.'s manager, urged their management team to keep the encounter under wraps. As a result, the duo have worried Becky (who manages superstar comedians like Aziz Ansari and Amy Poehler) has knowingly blocked them from projects.
On Monday, Becky issued an apology for his behavior.
"I profoundly regret and am deeply sorry for not listening to and not understanding what happened to Dana and Julia," he wrote. "If I had, I would have taken this event as seriously as it deserved to be, and I would have confronted Louis, which would have been the right thing to do."
Tara Subkoff, Mira Sorvino, and Rosanna Arquette
At this point, numerous women have accused movie producer Harvey Weinstein of rape, assault, or harassment — and reporting from the New York Times and the New Yorker suggest there could be others.
For many of Weinstein's victims, speaking out against the executive, or rebuffing his advances, has caused significant career damage.
In an interview with Variety, actress Tara Subkoff — who made her film debut in the 1994 thriller When the Bough Breaks — says her professional life never fully recovered after she turned down a sexual advance from Weinstein at a premiere party around the same time.
"My reputation was ruined by false gossip, and I was called 'too difficult to work with,'" she says. "It became impossible for me to get work as an actress after this."
Actress Mira Sorvino told the New Yorker that an encounter with Weinstein may have blacklisted her from job opportunities.
"I definitely felt iced out and that my rejection of Harvey had something to do with it," she says.
Rosanna Arquette, another actress who spoke to the New Yorker about alleged harassment from Weinstein, says the producer told her she was making a mistake by rejecting him.
"He made things very difficult for me for years," she says.
In a statement to the Times, Weinstein admits that his actions have "caused a lot of pain," but in a second statement to the New Yorker, denies "any allegations of non-consensual sex."
Juliet Huddy
Nathan Congleton/NBC—NBCU Photo Bank via Getty Images
Bill O'Reilly made multiple sexual advances towards Huddy, a former Fox News employee, in 2011, according to a January report in the New York Times. When she refused, O'Reilly "began to retaliate against her both on and off air," her lawyers write in a letter to Fox News. Here's an excerpt:
In October, Huddy appeared on an NBC News segment hosted by Megyn Kelly, her former Fox News colleague, to talk about the challenges harassment victims face when going against powerful companies like Fox News.
"You know that you're just this one person that's about to go up against literally a machine," she said.
In April, O'Reilly was forced out of his anchor position at Fox News.
Last month, the Times reported that O'Reilly paid $32 million to settle new sexual harassment claims at the beginning of the year.
O'Reilly has continuously denied all allegations against him — in a radio interview with Glenn Beck a few days after the news broke, O'Reilly called the Times reporting "a malicious smear," and has also said he was "mad at God" for his current situation.
Gretchen Carlson and Kellie Boyle
In 2016, Carlson, another former Fox News host, sued Roger Ailes, the network's president and longtime political consultant, claiming he fired her for rebuffing his sexual advances.
In the weeks following, more than 20 other women came forward with allegations against Ailes, leading to his eventual resignation.
Kellie Boyle, a former political communications consultant who says she was harassed by Ailes in 1989, says the incident "soured" her dream of working in politics. Today, she runs a marketing firm with her husband.
"I was really lost for a few years," Boyle tells Fortune. "I had my career taken away from me."
Ailes denied all of the allegations against him before his death in May 2017.
Andrea Constand, Helen Gumpel, and Barbara Bowman
At least 60 women have accused actor Bill Cosby of rape or sexual assault, and many say the experience dealt a blow to their careers.
Andrea Constand, former director of operations of the women's basketball team at Temple University, switched to massage therapy after Cosby assaulted her in 2004, according to reports. So did Helen Gumpel, a former model and actress who says Cosby made sexual advances towards her during an audition for The Cosby Show in 1988.
"I never thought of myself as a victim because I refused his advances," Gumpel said in a 2015 press conference. "But my career was a victim."
In a 2014 column for the Washington Post, Barbara Bowman says Cosby drugged and rape her in 1985, when she was an aspiring actress. She told her agent, and a friend's lawyer, but neither offered to make her story public. Today, she works as an artist in Phoenix.
"I was a teenager from Denver acting in McDonald's commercials," Bowman writes. "He was Bill Cosby: consummate American dad Cliff Huxtable and the Jell-O spokesman. Eventually, I had to move on with my life and my career."
Cosby denies the allegations, and has sued some of his accusers for defamation. His criminal trial ended in June with a hung jury; a retrial is set for March 2018.
Anita Hill
Laura Patterson/CQ Roll Call—Getty Images
In 1991, Hill stepped into the spotlight when her private allegations accusing Supreme Court nominee Clarence Thomas of sexual harassment were leaked to the press. (Thomas was confirmed later that year.)
Hill, who was working as a law professor at the University of Oklahoma at the time, stepped down after republican politicians attempted to shutter the school's law program. Conservative pundits, for their part, famously deemed her "a little bit nutty and a little bit slutty."
Thomas denies the allegations. In 2010, his wife left a voicemail on Hill's answering machine asking her to recant her decades-old accusation, according to the New York Times.
In the years since the scandal broke, Hill's had no trouble finding work as a professor, speaker, and author. But after the Weinstein news broke, she spoke candidly about the professional challenges sexual harassment victims face to Variety.
"You don't want to have this become you or your brand," she says. "In some ways, the higher the profile of the person you're accusing is, the more likely that is to happen."