Women's Soccer Gets a Parade & Huge TV Ratings, but Not Equal Pay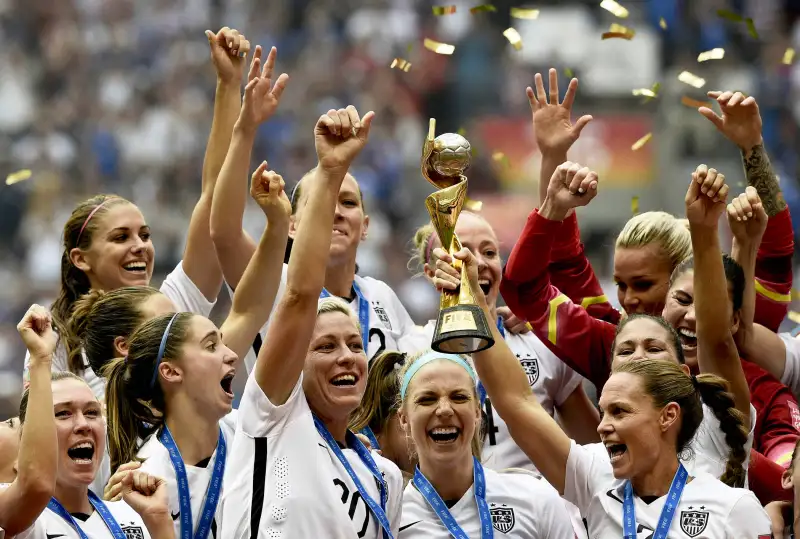 Francke FIife—AFP/Getty Images
The victory of the U.S. women's team in the World Cup on Sunday was the most-watched soccer match in American history. On Friday, the team will make history again with the first-ever New York City ticker-tape parade celebrating a women's team. Without question, the 2015 World Cup has pushed interest in soccer and women's sports to new heights, and it's made tournament MVP Carli Lloyd a household name—not to mention a marketer's dream spokesperson.
TV sponsorship dollars and endorsement money for women's soccer stars are at all-time highs as well. And yet, as you'll see from some of the numbers below, in many ways women still get the short end of the stick compared with the guys.
205 Number of ticker-tape parades held in New York City over the years. The one on Friday will be #206—and it will be the first ever to focus the honor on a women's team. (Women have participated in Olympics ticker-tape parades in the past, and individual women such as Amelia Earhart have also been celebrated with parades.)
3,000 Percent increase in sales of U.S. women's national team merchandise since Sunday at the sports apparel site Fanatics.com. The overall best-seller has been this black T-shirt, a men's Dri-FIT model that says "World Champions 1991 1999 2015" and sells for $29.95. Some retailers reported being sold out of team merchandise almost immediately after Sunday night's final.
200+ Estimated number of businesses and media marketing companies that reached out to Carli Lloyd's agent concerning sponsorship opportunities soon after she scored a hat trick in the women's final and was named MVP of the World Cup.
12 Total number of Carli Lloyd items—fleeces, knit hats, shorts, etc.—currently listed for sale via CarliLloyd.com. Meanwhile, sites like World Soccer Shop list 15 different kinds of Adidas footwear bearing the name Lionel Messi, arguably the world's best men's player, and dozens and dozens of other Messi jerseys, T-shirts, shin guards, and collectibles.
$6,842, $37,800 Respectively, the minimum and maximum pay that players can earn in the National Women's Soccer League. Each team has a salary cap of $265,000, or about 11 times less than the cap in men's Major League Soccer, where the average salary is over $300,000 and the median salary is close to $100,000.
$40,000 The average salary for players in the Women's United Soccer Association, a professional league that launched in 2000, lost $100 million, and was gone after three seasons.
$30,000 Amount that a two-hour appearance of Carli Lloyd will now cost for a business or organization to book—up from a mere $10,000 after the U.S. won the quarterfinal match against China.
$1 Million to $2 Million Anticipated increase in endorsement income annually for Carli Lloyd after her masterful performance in the World Cup.
$999.99 Highest-price item on eBay that turns up in a search for "Carli Lloyd." It's a 2012 Panini Americana dual card featuring Lloyd and teammate Megan Rapinoe, with the autographs of both players. In other cases, signed Lloyd cards have been selling for $100 to $200 this week, though that's much higher than the going rate of $15 to $20 for such cards before the tournament.
$190,000 Estimated amount in salary and endorsements earned last year by America's Abby Wambach, the all-time scoring leader in international soccer competition, men's or women's. She makes far more than the typical elite women's soccer player. Still, her annual earnings are about what Lionel Messi makes in one day.
$2 Million vs. $8 Million Amounts that the U.S. women's team received for winning the 2015 World Cup and that the U.S. men's team received for losing in the round of 16 of the 2014 World Cup, respectively. Germany, the winner of the men's tournament, brought home around $35 million.
$17 Million Total money paid for TV ads during the women's 2015 FIFA World Cup on Fox. That's nearly three times as much as the $6 million in ad money collected by ESPN for airing the 2011 women's World Cup. Still, it's a tiny fraction of the $529 million in TV ads paid to ESPN during the men's 2014 World Cup on ESPN. Meanwhile, the most recent women's final was the most-watched soccer match ever in the U.S.