The Funniest World Series Bets Made by Famous Mets & Royals Fans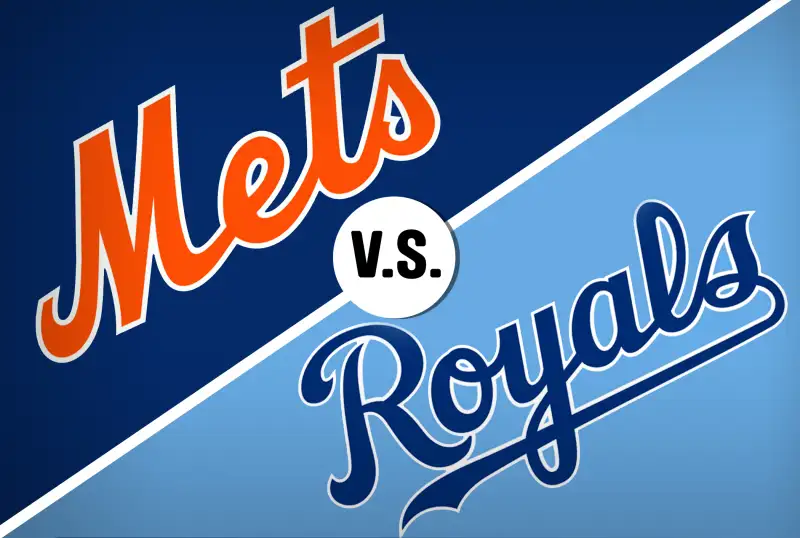 Even the libraries are talking trash. Whenever the World Series or Super Bowl take place, it's become standard protocol for the leaders of the two cities involved in the matchup to brag a bit about their local team's chances—and back up the claims with friendly wagers. This year, however, it's not only governors and mayors throwing down the gauntlets in support of their teams. Celebrity fans, district attorneys, local museums, and even YMCAs are getting in on the action too.
And yes, the public libraries are engaging in smack talk. Perhaps surprisingly, it wasn't New York taking the lead in that department. Instead, the Kansas City Public Library kicked off the battle of words on social media, with a tweet sent out yesterday with the message, "Well look what we found on the shelf …," along with a faded photo of the cover of The Worst Team Money Could Buy: The Collapse of the New York Mets. After the Royals won Game 1 on Tuesday night, the New York Public Library Twitter account responded with a pic featuring titles like Payback on book spines. (Somebody is groaning right now about their tax money going to pay employees who handle library social media accounts and spend their time doing this stuff.)
[UPDATE: Originally, we reported that the libraries weren't betting anything on the World Series outcome. But as it turns out, that's not true. A representative from the New York Public Library reached out and revealed that a friendly wager was indeed agreed upon, before the Series started. If the Royals win, New York will give the KC system copies of the five best books ever written about New York City and New York bagels, and the famous lion mascot outside the Fifth Avenue library in Manhattan will be decorated in Royals gear for one hour. If the Mets win, the New York libraries will receive a donation to its early literacy programs, plus books, coffee, and a feast of Kansas City barbecue.]
Here are some of the other high-profile individuals and organizations in Kansas City and New York City that are placing quirky wagers with their counterparts to support their teams.