Pete Carroll's Horrendous Play Call Cost Seahawks Players $3 Million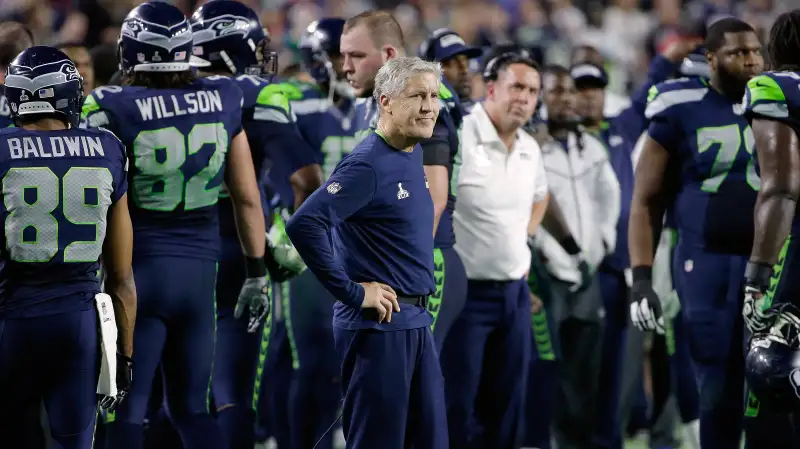 The "worst call in Super Bowl history." That's how the decision of Seattle Seahawks coach Pete Carroll to throw the ball on the 1-yard line rather than hand the ball to the NFL's best power running back, Marshawn Lynch, will be remembered.
The decision, which resulted in a stunning interception by the Patriots, lost the Super Bowl championship for the Seahawks. It also cost Seahawks players and the team as a whole a huge chunk of change. How much?
Last year, according to CNBC, 63 players on the Seahawks roster were collectively awarded $5.8 million in bonus pay after the team won the 2014 Super Bowl. On the other hand, the game's runner-ups, the Denver Broncos, received bonuses to the tune of "just" $2.9 million. The exact number of players that get playoff and Super Bowl bonuses varies because players on the injured reserve, and even some who are traded during the season but played a significant number of games with the team that year, receive bonuses alongside all of those on the official game-time 53-player roster.
This year, the salary bonus for players on Super Bowl teams has inched up a bit to $97,000 (up from $92,000 a year ago) for each winning player, compared with $49,000 for players on the losing squad ($46,000 a year ago). So the total gap between the game's winners and losers should be a bit higher than it was last year, when the difference was just under $3 million.
Then we must add in the fact that each of the 150 or so players and coaches on the winning team gets a blingy Super Bowl ring. The NFL allocates $5,000 per ring, but the winning teams are known to spend much more on them. Given how rare and collectible they are, a Super Bowl ring is easily valued at $50,000 to $75,000 and sometimes is worth in the hundreds of thousands if it's owned by a notable player or coach.
All in all, the Seahawks collectively just lost something north of $3 million—likely far, far more—because their coach, Pete Carroll, blew the game with a shockingly inexplicable play call.
Read next: Questions Surround Seahawks Coach After Super Bowl-Losing Play Call