How the Zika Outbreak in Florida Will Affect Your Travel Plans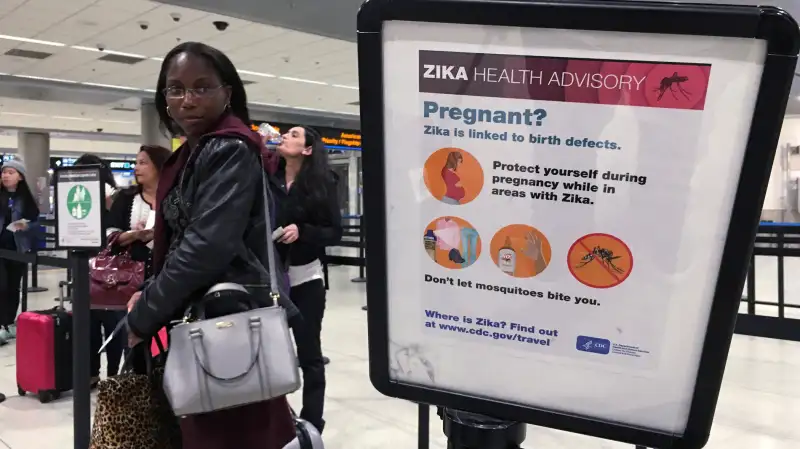 Art Pushkin isn't worried about the Zika virus — at least not yet. He's flying to Miami, where 14 new cases of the mosquito-borne virus have been reported.
"I'm aware of it," says Pushkin, who works for an electronics company in West Hempstead, N.Y. "But not too concerned."
That's a common sentiment among Florida-bound tourists. Some visitors hope the virus fear will spawn deals (and it probably will) while others are taking a wait-and-see approach. But travel companies haven't loosened their refund policies on a wide scale for now, meaning that canceling a theme park or beach vacation would be costly.
Florida Gov. Rick Scott has urged residents and visitors to drain standing water and wear bug spray. He's asked the Centers for Disease Control and Prevention (CDC) to activate a CDC Emergency Response Team to help Florida's Department of Health and other partners in their investigation, sample collection, and mosquito control efforts.
"We will continue to keep our residents and visitors safe utilizing constant surveillance and aggressive strategies, such as increased mosquito spraying, that have allowed our state to fight similar viruses," says Scott.
For now, the Zika cases are confined to Wynwood, a Miami neighborhood, according to the CDC. The agency recommends that pregnant females avoid travel to the area. It also has advised the women and their partners living in or traveling to the area to follow steps to prevent mosquito bites, including using insect repellent and covering up. Many people infected with Zika either have no symptoms or mild symptoms that last several days to a week. But Zika infection during pregnancy can cause birth defects, the agency warns.
Florida tourism representatives aren't very talkative when it comes to Zika. Officials from Miami, the Florida Keys, and Palm Beach — the areas most likely to feel the immediate repercussions from the Miami cases — either did not return messages or deferred to Visit Florida, the state's nonprofit tourism organization.
Visit Florida did not respond to multiple queries about its plans for Zika prevention and education efforts. However, it published an advisory on mosquito-borne illnesses in January that mentioned Zika. And it is reportedly partnering with the state to distribute repellant and Zika prevention kits to pregnant women visiting affected areas of the state.
Florida has already been hit with a recent series of disasters in Orlando that weakened demand from tourists, particularly the terrorist nightclub shooting that claimed 50 lives. Zika surely will make matters worse.
But for some travelers, Zika means one thing: deals.
"I'm actually waiting for prices to dump," says Stefanie Michaels, a social media consultant from Los Angeles. "Then I'll grab some deals to go east."
Zika is no big deal for most travelers, says Michaels. "For those not getting pregnant or not pregnant, it's fine. If you contract Zika, it's flu-like symptoms. With proper DEET spray, there should be no problems for travelers."
It's unclear how low the prices could drop during a full-fledged Zika outbreak. Florida is a popular family travel destination, and eliminating the women who either are pregnant or are considering getting pregnant, and their families, could decimate bookings. Experts say it's too soon to know.
So far, travel cancellation policies haven't been relaxed on a wide scale, as they were in March, when airlines allowed passengers heading to Zika-affected areas — mainly in South America and the Caribbean — to change their plans without penalty. The lack of action in Florida comes as a surprise to some would-be visitors, including Andrew Buckley, a TV producer from Boston.
"I can't imagine how this is not going to become a big deal for theme parks," he says. "I am truly amazed that Disney has not brought down the hammer on this in the form of state and federal action."
Disney World, the largest tourist attraction in Florida, did not respond to questions about its plans to deal with Zika should the outbreak reach Orlando.
Travel insurance can protect you, but only to a certain point. Zika is considered a "known event" in travel industry parlance, and it has been since January. That means you can't buy insurance that will cover you when you travel to an affected area. The exception? A pricier "cancel-for-any-reason" policy, which allows you to recover a percentage of your vacation if you decide to call off your trip.
So when will travelers start to worry — and possibly cancel? Pushkin says he needs to see more Zika cases.
"I think it needs to be much more widespread before I'd worry," he says. "Maybe 500 to 1,000 cases."