Dear Zillow, Please Don't Kill Trulia's Best Feature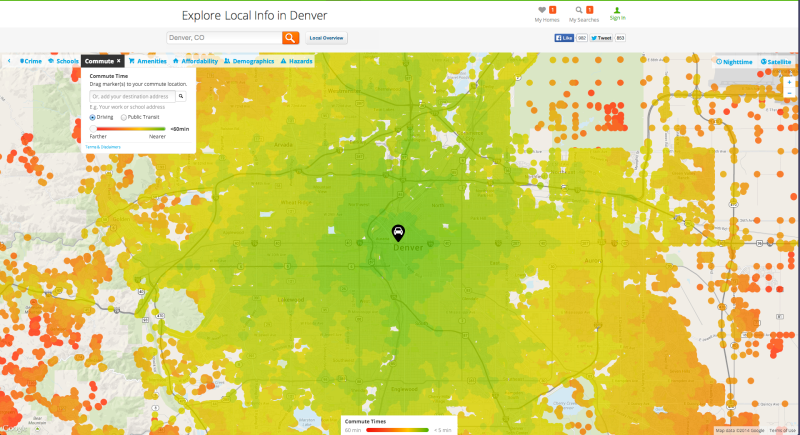 UPDATED—July 28, 4:25 P.M.
In case you haven't heard, rumors are swirling that real estate giant Zillow.com plans to purchase real estate slightly-less-giant Trulia.com. Both companies' stock have shot up on the news, and if the deal succeeds in going through, the new company (Trillow? Zulia?) will have almost 50% of the online listings market.
That's good for shareholders. What about for consumers? When two businesses decide to tie the knot, you never know what aspects of your favorite company will make it through to the other side. And in the case of Trulia, it would be a tragedy if a ZillowTrulia mashup killed its best feature: Trulia's amazing visualization of local data.
Sure, Zillow has local data too. And it's not bad. There's the average and median sales price, stats on specific neighborhoods (demographics, education, home prices over time), and even a nice little map showing the quality of schools in your chosen area. But Trulia takes all this to another level. Here's a Zillow data visualization on schools:
Trulia has pretty much the same thing. But it also has these.
Heat maps of crime rates:
Commute times:
Local listing price heat maps:
There's even a national home price heat map:
And that's not even all of the data maps Trulia offers (I just assumed you might be tired of scrolling). The site also has similar visualizations for hazards (like flood zones), demographics, and amenities.
It's hard to overstate how useful all of this is. When you're looking for a house in a large area, getting the big picture is absolutely essential in making the right decision. How far am I from work if I live here? How much cheaper are home prices if I move a few blocks that way? Which areas are safe enough to live in, and what kind of stuff is there do in this neighborhood? These are all questions every buyer asks, and Trulia makes it very, very, easy to get the answers. Its amazing maps have long been cited as a competitive advantage.
So Zillow, if you do end up buying Trulia, you're getting a pretty amazing product. Just please don't screw it up.
CORRECTION: A previous version of this article stated that together Zillow and Trulia received 90% of online listings web traffic. According to Zillow, that number is actually 48% (not including local sites).