10 Companies Hiring Right Now for the Holiday Season - And How Much They Pay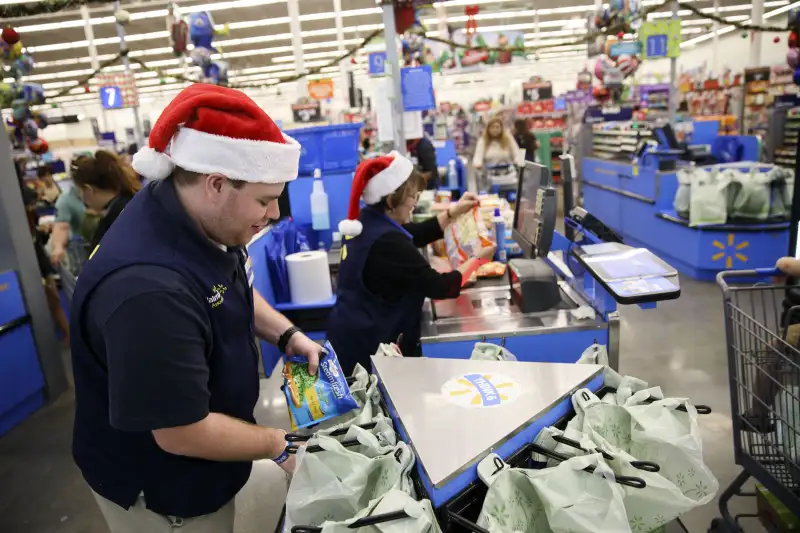 Patrick T. Fallon—Bloomberg/Getty Images
As competition for holiday shoppers heats up, a parallel battle for seasonal staff may have already reached its boiling point.
Retail giants have posted hundreds of thousands of holiday jobs in recent weeks -- and are offering pay bumps and other financial incentives to coax workers into filling them. On Monday, Target announced it would raise its minimum hourly wage to $11, up one dollar, for new workers. UPS is using weekly retention bonuses to swell its ranks.
Winning the holiday talent war won't be easy. U.S. unemployment is at 4.4%, a near 16-year low, and employers have a record number of unfilled job openings. But there's a bright spot for retailers: Walmart, a traditional destination for holiday job seekers, plans to divvy up the bulk of its extra hours to current employees, rather than ratcheting up seasonal hiring.
Here's everything we know, so far, about who's hiring for the holidays.
UPS
Gordon Chibroski/Portland Press Herald—Getty Images
Seasonal openings: 95,000
Pay: $10.20 & up
Perks: Some locations offer retention bonuses of $100 to $200/week
How to apply: Online
The United Parcel Service is hiring part time package handlers, full time drivers, and full time "driver helpers" (employees who help lift and deliver packages) for the 2017 holidays.
Seasonal workers start at $10.20 an hour, but many locations offer weekly "retention bonuses," of up to $200 for employees who work a full week without missing any shift, according to a spokesman. Driving jobs can pay up to $32 an hour, he says.
The company's peak season is longer than most: Holiday returns continue throughout January, so temporary gigs often bleed into the New Year. Over the last three years, about 35% of seasonal hires have become permanent, the spokesman says.
Target
Daniel Acker—Bloomberg via Getty Images
Seasonal Openings: 104,500
Pay: $11/hour
Perks: 10% merchandise discount, 20% "wellness" discount on items like fruits and vegetables
How to apply: Online; In-store hiring fairs (October 13-15th)
Target plans to hire about 100,000 seasonal employees in its brick and mortar stores, and an additional 4,500 workers at distribution centers and fulfillment facilities. That's nearly 35% more employees than the company brought on last holiday season.
New hires will start at $11 an hour, up one dollar from its previous minimum wage set in 2016. Current employees/team members will get the chance to add extra holiday hours to their schedules, according to a company statement.
Radial
Seasonal openings: 27,000
Pay: Up to $16/hour
How to apply: Online
Radial, a company that provides e-commerce operations for brands like GameStop and DSW, will quadruple its workforce this holiday season.
The available posts are in Radial's fulfillment and customer service centers, and are tasked with helping source and send the surge of orders the company is expecting over the holidays (last year, Radial fulfilled 21% of its orders between Thanksgiving and Jan. 2).
Wages for Radial's seasonal workers are still being finalized, but can go up to $16 an hour, a spokeswoman says. "Top performers" will get a chance to land a permanent job on the Radial team.
Walmart
Patrick T. Fallon—Bloomberg via Getty Images
Seasonal openings: "thousands" of warehouse roles
Pay: ~ $13.50/hour
How to apply: Online
Though Walmart says it won't bring on an army of seasonal employees for its in store operations, the company is hiring temporary workers to receive, pack, and manage the influx of orders that will come through its distribution centers, a spokeswoman says.
The company declined to disclose exactly how many employees it will to hire, but "several thousands" of seasonal hires will join Walmart's distribution workforce to meet increasing demand, according to the spokeswoman.
Williams-Sonoma Inc
Josh Brasted—Getty Images
Seasonal openings: 4,000
Pay: $10-$11.50/hr
Other perks: 40% employee discount
How to apply: Online
Williams-Sonoma Inc., the parent company of Williams Sonoma, Pottery Barn, and West Elm. will interview for about 4,000 seasonal positions in its stores and distribution centers, a spokeswoman says.
This year, the kitchenwares chain will also hire part and full-time work-from-home customer service employees. Those positions start at $11 to $11.50 an hour, and come with a hefty employee discount. The company will start training sessions for new hires on October 2. Pay for in-store roles vary by location, but tend to hover around $10 an hour, according to Glassdoor.
FEDEx
Seasonal openings: 50,000
How to apply: Online
The majority of FedEx's seasonal openings are within the company's "Ground," or package shipping, network. Pay and benefits are "competitive and dependent on location," according to a spokesman. According to Glassdoor data, package handlers make about $12 to $14 an hour, and drivers make about $16 an hour.
The company is also offering extra hours to existing employees in the run-up to the holidays, the spokesman says.
Toys 'R' Us
Peter Foley—Bloomberg via Getty Images
Hiring: ~13,000 positions
Perks: Weekend pay bonus, employee discounts
How to apply: Online
Toys 'R' Us, which filed for bankruptcy in earlier this month, is bulking up its sales and distribution ranks nevertheless. Retail roles are concentrated in major cities like New York and Los Angeles, but the company is also hiring nearly 1,000 work-from-home call center employees.
According to Glassdoor data, Toys 'R' Us seasonal sales associates make about $9 an hour, and seasonal warehouse associates make about $12 an hour.
The retailer declined to provide specific wage data, but says the company will offer more perks for seasonal employees than it did last year. "This season, we've sweetened our compensation packages to include weekend rates during peak weeks, additional Team Member discounts and special after-hours events for our store and distribution center team members," a spokeswoman says.
Macy's
Victor J. Blue—Bloomberg via Getty Images
Seasonal openings: 80,000
Perks: 20% employee discount
How to Apply: Online at Macysjobs.com or Bloomingdalesjobs.com; National Hiring Event (September 28-29).
Macy's is hiring seasonal positions for many of its Macy's and Bloomingdale's locations. The bulks of the openings are in traditional sales roles, but about 18,000 of the open jobs are in fulfillment facilities, 1,000 are online and over-the-phone customer service roles, and 1,000 support Macy's Thanksgiving Day Parade and other holiday events.
Macy's seasonal sales associates typically make about $9 an hour, and warehouse workers make about $10 an hour, according to Glassdoor. The company did not respond to a request for exact figures.
J.C. Penney
Hiring: 40,000
Perks: 25% employee discount
How to apply: Online; in-store job fair (Oct. 17)
J.C. Penney's is adding 40,000 temporary hires for the holidays; the same as last year. Like others on this list, the retail chain is primarily looking to fill customer service and sales positions -- including beauty consultants for its SEPHORA inside JCPenney makeup counters.
J.C. Penney declined to disclose wage data for temporary hires. According to Glassdoor, the average seasonal employee at J.C. Penney can expect to make $9 an hour.
Amazon
Last year, Amazon hired more temporary workers than any other retailer, but the ecommerce giant has yet to announce any hiring specifics for 2017.
To be fair, the company just held a massive hiring event in July to fill 50,000 distribution center vacancies. "I don't think it's a coincidence that the nationwide hire day coincided with the extreme front-end of peak-season hiring," Doug Hammond, president of Randstad US, told Dow Jones. "They want to secure that labor."
In recent weeks, the company has posted some seasonal warehouse and fulfillment roles, most of which pay between $10 to $13 an hour. Temporary customer service positions — work from home gigs that pay $10 an hour — are also available.