15 Companies Where Half the Employees Make $100,000 or More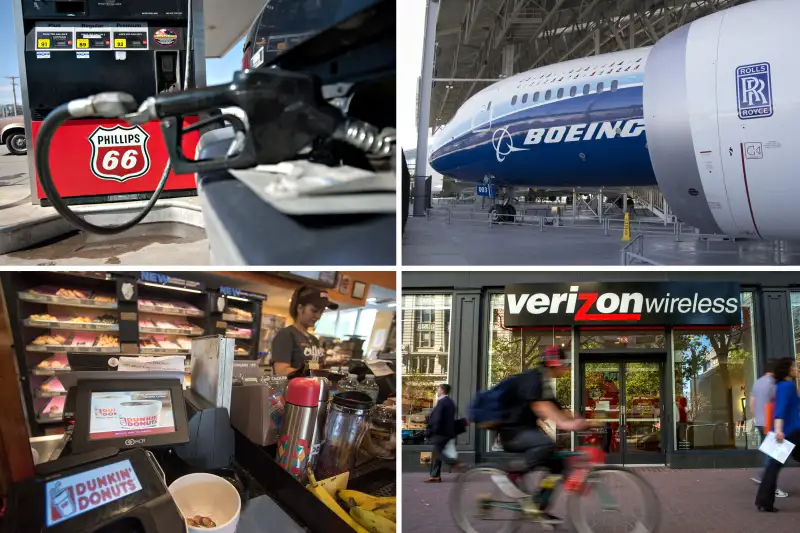 (clockwise from top left) Getty Images, Shutterstock, Getty Images (2)
Considering a career move and worrying about your wallet? Fret no more. Thanks to a new federal rule, you can now know for sure how much money the median worker makes at a certain company.
As part of the recession-inspired Dodd-Frank Wall Street Reform and Consumer Protection Act, public companies now have to tell the Securities and Exchange Commission about the pay ratio between their median employee and chief executive officer.
(In case you forgot this lesson from elementary school, a quick review: A median is a type of average derived from a group's midpoint. So in this case, it refers to someone who makes more than 50 percent of their coworkers and less than 50 percent of their coworkers.)
Companies that wrapped up their fiscal years in December needed to submit their annual compensation info by Monday. Looking at the data, some results were obvious — like the fact that Facebook's median pay is one of the highest — but others were surprising — like that the median pay at Molson Coors Brewing Co. is nearly $73,000. That's a lot for making beer.
Still curious? Here are 15 companies where half the employees make at least six figures, according to their respective SEC filings:
LogMeIn Inc.
David Culton—courtesy of LogMeIn
If you've ever had to patiently log on remotely to fix your parents' computer from hundreds of miles away, you've probably used LogMeIn. The median employee at the software provider makes $108,209, and reviewers on its Indeed page excitedly report that its offices have a roof deck and ping-pong table.
Dunkin' Brands Group Inc.
Ron Antonelli—Bloomberg via Getty Images
Even though the median employee makes $110,471, you're probably not going to pocket that much by slinging Munchkins in the local strip mall. In fact, according to the Boston Business Journal, the median here only factors in the Massachusetts-based chain's corporate workers who set menus and oversee marketing — not the employees at franchise locations. That's a lot less Coolatta.
The Boeing Co.
Alex JW Robinson—Shutterstock
When it's no longer time to make the doughnuts, check out Boeing, which brags on LinkedIn that it's "the world's largest aerospace company" with over 140,000 employees. Median worker pay is $111,204, and it just gave out $600 million in bonuses in Washington — the largest in company history.
Sirius XM Holdings Inc.
Jason Kempin—Getty Images for SiriusXM
Forbes calls this satellite radio giant one of the world's most innovative properties, and some 32 million subscribers would likely agree. The median employee at Sirius XM makes $114,841, which is enough to buy more than 10,000 online Mostly Music subscriptions. Howard Stern would be proud.
EBay Inc.
David Paul Morris—Bloomberg via Getty Images
The median compensation for employees at this online marketplace comes in at $122,891. Of course, that's not counting the people who have made selling items on eBay a career — like Linda Lightman, a Pennsylvania mom who earned an insane $25 million from the site in 2015.
Verizon Communications Inc.
David Paul Morris—Bloomberg via Getty Images
Verizon may have lost its "Can you hear me now?" guy Paul Marcarelli, but it still has about 155,000 employees. Its median employee pay is $126,623, meaning it's crushing rival AT&T — a status due in part to differences in the locations of their headquarters, their business priorities, store operations and numbers of contractors, the Wall Street Journal reported recently.
NewMarket Corp.
Alamy Stock Photo—Alamy Stock Photo
Now we're getting somewhere. At NewMarket, which oversees Afton Chemical and Ethyl Corporation, the median employee makes $128,030. Fun fact: The firm was founded in 1887 as a paper blotting company but now manufactures oil and fuel products to help car engines operate better, according to the Richmond Times-Dispatch.
Zynga Inc.
David Paul Morris—Bloomberg via Getty Images
Remember FarmVille? The staff at social media game developer Zynga sure does. It's moved on to other ventures recently — did you know there's a FarmVille 2? — but the median employee is no poor ranch hand. The average worker makes an impressive $140,382.
Phillips 66
Daniel Acker—Bloomberg via Getty Images
This isn't just a sign you see while you're sprinting from your car to the gas station bathroom — it's an energy company where the average employee earns $170,988. CNBC reported billionaire Warren Buffett is a fan of the company, as well: He owns just under 10 percent of it. But how does he feel about 7-Eleven hotdogs?
DTE Energy Co.
Forget DTF — DTE should stand for "Down to Earn." DTE Energy is a 23-year-old energy company that pays its average worker $173,839. It's also literally breaking new ground — it just got the OK to build a new gas plant in Michigan, according to Crain's.
Pandora Media Inc.
Travis P Ball—Getty Images for SXSW
Step aside, Spotify. Music streaming service Pandora is still around, and it pays its median employee about $175,138. Plus, according to SF Gate, the headquarters has a foosball table in the cafeteria. Give that a thumbs up.
Netflix Inc.
Are you still reading? This streaming service behind genius series Stranger Things and Orange is the New Black pays its median employee $183,304. The company also offers perks like a full year of paid leave for new parents and stock options, according to Recode. Talk about Netflix and chill.
Alphabet Inc.
Yichuan Cao/NurPhoto—Getty Images
You don't need to search to know that Google's parent company pays pretty well — its median employee makes $197,274. But getting hired is another story. Only a small fraction of the 2 million people who apply every year actually receive job offers. Statistically, it's roughly 10 times harder to land a Google gig than it is to be admitted into Harvard University, so good luck.
Splunk Inc.
David Paul Morris—Bloomberg via Getty Images
You may have never heard of Splunk, but if you're job-hunting you might want to — it pays its median employee $256,370. Not to mention the fact that the machine data platform has about 3,000 workers worldwide serving more than 15,000 customers. Not bad for a company that sounds like something you'd find in the shower drain.
TESARO Inc.
The average employee at this Massachusetts-based drug company makes an impressive $344,329 — more than double what the median worker earns at Phillips 66. At TESARO, though, workers aren't just making good money — they're also doing good for their target audience of cancer patients.