All the 2017 Oscars Nominees You Can Watch Online Now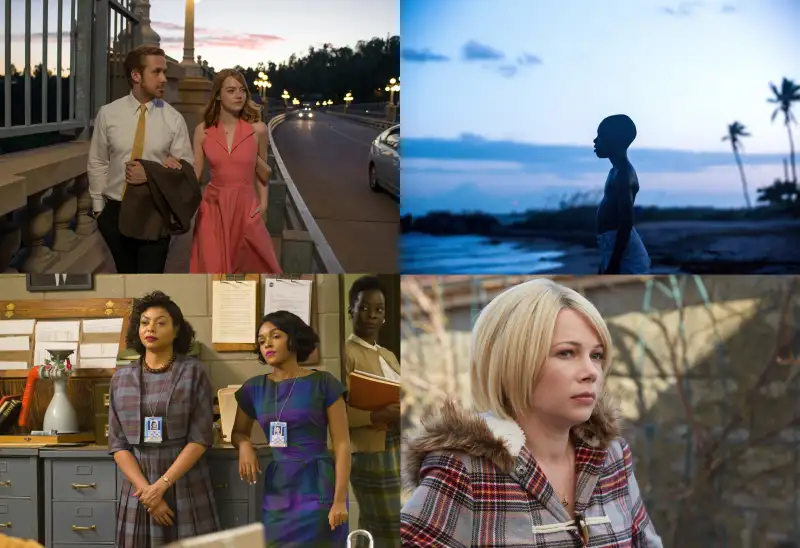 The 89th Academy Awards is about a month away, and it's sure to be a crowd-pleaser with late-night host Jimmy Kimmel hosting.
If you haven't been able to keep up with the films, or if you were just waiting to see which films were going to be nominated, you've got until 7 PM on February 26 to catch up. Like we did with the Golden Globes, we put together a complete guide of all the Oscars nominees that you can watch online. Many of the films aren't available for streaming – but it's a good start. Besides, tickets to the movies are expensive and you can't beat the comfort of your own couch.
So grab your favorite junk food and a cozy pillow and start catching up.
BEST PICTURE
"Arrival"
Not available for streaming
"Fences"
Not available for streaming
"Hacksaw Ridge"
Not available for streaming
"Hell Or High Water"
Available to rent from $4.99 on Youtube, Amazon Video, Google Play, iTunes, Vudu
"Hidden Figures"
Not available for streaming
"La La Land"
Not available for streaming
"Lion"
Not available for streaming
"Manchester By The Sea"
Not available for streaming
"Moonlight"
Not available for streaming
BEST DIRECTOR
Denis Villeneuve – "Arrival"
Not available for streaming
Mel Gibson – "Hacksaw Ridge"
Not available for streaming
Damien Chazelle – "La La Land"
Not available for streaming
Barry Jenkins – "Moonlight"
Not available for streaming
Kenneth Lonergan – "Manchester by the Sea"
Not available for streaming
BEST ACTOR
Casey Affleck – "Manchester By The Sea"
Not available for streaming
Andrew Garfield – "Hacksaw Ridge"
Not available for streaming
Ryan Gosling – "La La Land"
Not available for streaming
Viggo Mortenson – "Captain Fantastic"
Available for rent from $3.99 on Youtube and Google Play
Denzel Washington – "Fences"
Not available for streaming
BEST ACTRESS
Isabelle Huppert – "Elle"
Not available for streaming
Ruth Negga – "Loving"
Not available for streaming
Meryl Streep – "Florence Foster Jenkins"
Available to rent from $3.99 on Youtube, Amazon Video, Google Play, Vudu
Natalie Portman – "Jackie"
Not available for streaming
Emma Stone – "La La Land"
Not available for streaming
BEST SUPPORTING ACTOR
Mahershala Ali – "Moonlight"
Not available for streaming
Jeff Bridges – "Hell or High Water"
Available to rent for $4.99 on Youtube, Amazon Video, Google Play, iTunes, Vudu
Dev Patel – "Lion"
Not available for streaming
Lucas Hedges – "Manchester By the Sea"
Not available for streaming
Michael Shannon – "Nocturnal Animals"
Not available for streaming
BEST SUPPORTING ACTRESS
Viola Davis – "Fences"
Not available for streaming
Naomie Harris – "Moonlight"
Not available for streaming
Nicole Kidman – "Lion"
Not available for streaming
Octavia Spencer – "Hidden Figures"
Not available for streaming
Michelle Williams – "Manchester by the Sea"
Not available for streaming
BEST FILM EDITING
"Arrival"
Not available for streaming
"Hacksaw Ridge"
Not available for streaming
"Hell Or High Water"
Available to rent from $4.99 on Youtube, Amazon Video, Google Play, iTunes, Vudu
"La La Land"
Not available for streaming
BEST ADAPTED SCREENPLAY
"Arrival"
Not available for streaming
"Fences"
Not available for streaming
"Hacksaw Ridge"
Not available for streaming
"Hidden Figures"
Not available for streaming
"Lion"
Not available for streaming
"Moonlight"
Not available for streaming
BEST ORIGINAL SCREENPLAY
"20th Century Women"
Not available for streaming
"Hell Or High Water"
Available to rent from $4.99 on Youtube, Amazon Video, Google Play, iTunes, Vudu
"La La Land"
Not available for streaming
"The Lobster"
Available on Amazon Prime or you can rent from $4.99 on Youtube, Google Play, Vudu
"Manchester By The Sea"
Not available for streaming
BEST FOREIGN-LANGUAGE FILM
"A Man Called Ove" – Sweden
Available for rent from $3.99 on Youtube, Amazon Video, Google Play, Vudu, iTunes

"Land of Mine" – Denmark
Not available for streaming
"The Salesman" – Iran/France
Not available for streaming
"Toni Erdmann" – Germany
Not available for streaming
"Tanna" - Australia
Not available for streaming
BEST CINEMATOGRAPHY
"Arrival"
Not available for streaming
"La La Land"
Not available for streaming
"Lion"
Not available for streaming
"Moonlight"
Not available for streaming
"Silence"
Not available for streaming
BEST PRODUCTION DESIGN
"Arrival"
Not available for streaming

"Fantastic Beasts and Where to Find Them"
Not available for streaming
"Hail, Caesar!"
Available on HBO Go or you can rent from $9.99 on Youtube, Amazon Video, Google Play, iTunes, Vudu
"La La Land"
Not available for streaming
"Passengers"
Not available for streaming
BEST COSTUME DESIGN
"Allied"
Not available for streaming
"Fantastic Beasts and Where to Find Them"
Not available for streaming
"Florence Foster Jenkins"
Available to rent from $3.99 on Youtube, Amazon Video, Google Play, Vudu
"Jackie"
Not available for streaming
"La La Land"
Not available for streaming
BEST MAKEUP AND HAIRSTYLING
"A Man Called Ove"
Available to rent from $3.99 on Vudu, YouTube, Amazon, Google Play, iTunes
"Star Trek Beyond"
Available to rent from $3.99 on Vudu, YouTube, Google Play, iTunes
"Suicide Squad"
Available to rent from $3.99 on Vudu, YouTube, Amazon, Google Play, iTunes

BEST ANIMATED FEATURE
"Kubo and the Two Strings"
Available to rent from $4.99 on Youtube, Amazon Video, Google Play, iTunes, Vudu

"Moana"
Not available for streaming
"My Life As A Zucchini"
Not available for streaming
"The Red Turtle"
Not available for streaming
"Zootopia"
Available on Netflix or you can rent from $2.99 on Youtube, Amazon Video, Google Play, iTunes, Vudu
BEST VISUAL EFFECTS
"A Monster Calls"
Not available for streaming
"Arrival"
Not available for streaming
"Doctor Strange"
Not available for streaming
"The Jungle Book"
Available on Hulu or you can rent for $3.99 from Youtube, Amazon Video, Google Play, Vudu or iTunes
"Kubo and the Two Strings"
Available to rent from $4.99 on Youtube, Amazon Video, Google Play, iTunes, Vudu
"Rogue One: A Star Wars Story"
Not available for streaming
BEST ORIGINAL SONG
The Empty Chair, "Jim: The James Foley Story"
Listen on Spotify and iTunes
Audition (The Fools Who Dream), "La La Land"
Listen on Spotify and iTunes
City Of Stars, "La La Land"
Listen on Spotify and iTunes
How Far I'll Go, "Moana"
Watch the music video on YouTube or listen on Spotify, and iTunes
Cant Stop The Feeling, "Trolls"
Watch music video on YouTube or listen on Spotify and iTunes
BEST ORIGINAL SCORE
"La La Land"
Listen on Spotify and iTunes
"Lion"
Listen on Spotify and iTunes
"Jackie"
Listen on Spotify and iTunes
"Moonlight"
Listen on Spotify and iTunes
"Passengers"
Listen on Spotify and iTunes
BEST DOCUMENTARY FEATURE
"13th"
Available to stream on Netflix

"I Am Not Your Negro"
Not available for streaming
"Fire at Sea"
Not available for streaming
"Life, Animated"
Available to rent for $3.99 on Vudu, YouTube, iTunes, Amazon Video, Google Play
"O.J.: Made in America"
Available on Hulu and Watch ESPN with subscription
BEST DOCUMENTARY SHORT SUBJECT
"4.1 Miles"
Available on NYT
"Extremis"
Available on Netflix
"Joe's Violin"
Available on the official website
"Watani: My Homeland"
Not available for streaming
"The White Helmets"
Available on Netflix
BEST SHORT FILM (ANIMATED)
"Blind Vaysha"
Not available for streaming
"Borrowed Time"
Not available for streaming
"Pear Cider and Cigarettes"
Not available for streaming
"Pearl"
Not available for streaming
"Piper"
Not available for streaming
BEST SHORT FILM (LIVE ACTION)
"Ennemis Intérieurs"
Not available for streaming
"La Femme et le TGV"
Not available for streaming
"Silent Nights"
Not available for streaming
"Sing"
Not available for streaming
"Timecode"
Not available for streaming
BEST SOUND MIXING
"13 Hours: The Secret Soldiers of Benghazi"
Available on Hulu and to purchase for $12.99 on Vudu, iTunes, Amazon, Google Play, YouTube
"Arrival"
Not available for streaming

"Hacksaw Ridge"
Not available for streaming
"La La Land"
Not available for streaming
"Rogue One: A Star Wars Story"
Not available for streaming
BEST SOUND EDITING
"Arrival"
Not available for streaming
"Deepwater Horizon"
Available to rent for $4.99 on Vudu, YouTube, Google Play, iTunes
"Hacksaw Ridge"
Not available for streaming

"La La Land"
Not available for streaming
"Sully"
Available to rent for $3.99 on Vudu, YouTube, Amazon, Google Play, iTunes