Here's How to Bet on March Madness 2019 Legally — and What States Allow Online Sports Betting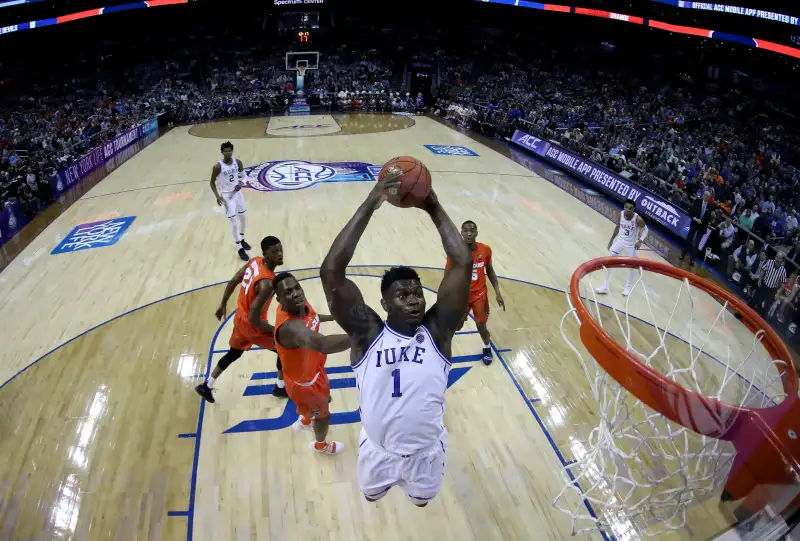 Streeter Lecka—Getty Images
Have you filled out a 2019 March Madness bracket yet? The field of 68 teams earning bids to the NCAA basketball tournament has been finalized, and even though March Madness office pools are technically illegal, millions of Americans will fill out brackets and make bets.
According to the American Gaming Association (AGA), an estimated 40 million people will fill out 149 million March Madness brackets this year, wagering $4.6 billion in the process. In addition to office pool brackets, plenty of other sports bets will be placed on the NCAA March Madness tournament, including the results of individual games, what teams make it to the 2019 Final Four, and so on. A grand total of $8.5 billion will be bet on March Madness 2019, the AGA says.
While most March Madness bets will be illegal, placed perhaps through bookies or illegal offshore sports betting sites, the 2019 NCAA basketball tournament is the first to take place since the arrival of legal sports betting in several states. Last spring, a Supreme Court ruling opened up the advent of legal sports gambling outside of Nevada, and this past summer states like New Jersey and Delaware opened their first Las Vegas-style sports books. Some states allow online sports betting as well.
Here's everything you need to know for legal sports betting on the 2019 NCAA March Madness basketball tournament.
When Does March Madness Start?
There are four preliminary March Madness games scheduled this week before the classic field of 64 teams is determined. On Tuesday, March 19, it's Fairleigh Dickinson vs. Prairie View and Belmont vs. Temple, with the winners earning spots as the 16th and 11th seeds, respectively, in the tournament's East bracket. On Wednesday, March 20, the two play-in games for the West part of the March Madness bracket are North Dakota State vs. North Carolina Central and Arizona State vs. St. John's.
By Thursday, March 21, there will be 64 teams left, and March Madness proper will begin, with 16 college basketball games scheduled that day and 16 first-round games set for tipoff on Friday, March 22. The 2019 Final Four will be held in Minneapolis, with the final March Madness games scheduled for Saturday, April 6, and the championship game set for Monday, April 8. Here's an official printable NCAA March Madness bracket for the 2019 tournament if you're interested.
Virginia, North Carolina, Duke, and Gonzaga received No. 1 seeds in this year's tournament. Duke, which recently welcomed back superstar Zion Williamson after sitting out several games for an injury, is the overall favorite to win the 2019 NCAA basketball championship.
What States Have Legal Sports Betting?
As we summed up in our story on sports betting on the Super Bowl, gambling on sports is now legal in eight states: Delaware, Mississippi, Nevada, New Jersey, New Mexico, Pennsylvania, Rhode Island, and West Virginia.
The legal sports books accepting bets on March Madness are generally found in casinos and racetracks in each state. In some cases, sports books such as Dover Downs in Delaware are hosting special extended hours for the 2019 NCAA March Madness basketball tournament.
Check the hours, rules, and regulations at each sports book to navigate the legal sports betting scene. Sports betting may be restricted in certain situations. For example, in New Jersey, it's illegal to bet on any games involving college teams based in the state. So you can't bet on any Seton Hall or Fairleigh Dickinson games. (It's also illegal to make bets in New Jersey on any college sporting events taking place in the state, but there are no March Madness games being hosted by the Garden State this year.)
In most situations, no matter what the state, you must be physically present in the sports book establishment in order to bet on March Madness or other sports. But a few states allow online sports betting as well.
How Can I Make March Madness Bets Online Legally?
For the time being, online sports betting is legal in the U.S. only in three states: Nevada, New Jersey, and West Virginia.
In order to bet online legally on March Madness or other sporting events, you must register with one of the state's official sports book sites or mobile apps. You must prove that you are of legal age to gamble (21 or over), and you must place your bet from a device that's physically located within the state where online sports betting is allowed.
In other words, to make a legal online bet on March Madness, you have to be in Nevada, New Jersey, or West Virginia while placing your wager.